You can support underprivileged kids build a character, and a career, by participating in a mentoring programme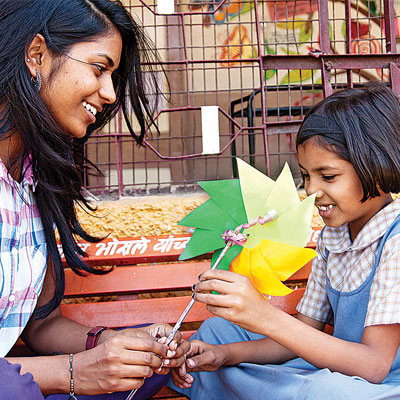 It was during one of her trips as a volunteer at a centre for street children when Dayoung Lee decided to star an organisation to mentor kids from low-income group. She was going around the country to find effective programmes to educate out-of-school children as a development consultant and realised that too many children lack a caring adult in their lives with the time and resources to guide them out of a cycle of poverty. And that's gave an impetus to form Mentor Me India,
The purpose
"There are many promising kids but their parents are often daily wage earners who did not go through the education system themselves, working round-the-clock ensuring the next days' survival," says
Aurelie Faugier, recruitment manager of the NGO. The teachers too often have 40-60 students in class and cannot give personalised attention to all kids. "We partner with municipal schools and ask them to recommend us children whom they think need mentoring," she says. These kids are mentored not only academically but also in other activities. "We look into the interests of the children and try to help them hone their talents," adds Faugier.
The team
There are many motivated adult role models who can be transformative forces in the lives of these children. The organisation invites such young professionals who are eager to give their time and talent to society and connect with those who are less privileged. "The primary focus of our mentors is to help these kids, who have a lot of potential but lack opportunities, grow in different aspects. The mentors try to give them a friendly and encouraging atmosphere which lacks at their respective homes," she explains. Right now the organisation has 16 volunteers and 30 mentors for this year's programme.
The future
MMI plans to scale to over 100 mentor-mentees this year in Mumbai and to thousands across six cities in the next five years. "Next year, we plan to partner with several non-profits similar to Akanksha Foundation to recruit mentees, and partner with several large corporations to recruit mentors and raise funds," Faugiers says adding that, "Research evaluating formal mentoring programmes in developed countries show that mentoring is effective in improving social, educational and career outcomes. Yet mentoring is in nascent stages in India. Indian children from poor homes can greatly benefit from programmes that focus on building a strong one-to-one relationship with an adult role model, which has shown to be most effective in a community setting."
(The registration process is still going on. One can register as a mentor at mentormeindia.org)