After Hrs puts together some of the most envy-inducing names who spell incredible power and wealth. Read on...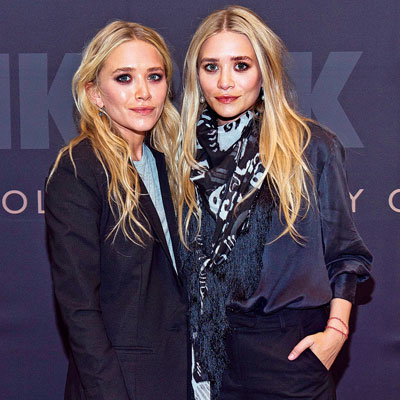 The Olsen twins
The ultra-chic Mary-Kate and Ashley have taken the fashion firmament by storm with their label — The Row. At the age of six, they began starring together in TV, films, and video projects, which continued to their teenage years. Through their company Dualstar, the Olsens joined the ranks of the wealthiest women in the entertainment industry at a young age. The New York Times hailed Mary-Kate as a fashion icon for pioneering her signature homeless look. Oversized glares, boots, slouchy sweaters and fluid skirts have dazzled the red carpet. The twins were the faces of Badgley Mischka in 2006.
Isha Ambani
She is a rare combination of beauty and brains. At 16, she was already holder of a stake worth about $80 million in Reliance Industries. The work-a-holic daughter of Mukesh Ambani was student body council president in school, part of the football team and a trained pianist. At present, she is a sophomore at Yale and majoring in Psychology and South Asian Studies. Life coach Chhaya Momaya, who's a family friend, says, "Isha works 14 hours a day in NYC and doesn't even take breaks over weekends. She cleans her room and lives like a New Yorker. Also, she's always calm and composed about everything." In an interview with HELLO! India she had shared, "My mom is my role model in every way, but what I really think is the fact that she embodies this incredible energy, and manages to play so many different roles to the tee..." May her tribe increase!
Vanisha Mittal
She is the second child and only daughter of steel baron Lakshmi Mittal. Her $60-million week long wedding in 2004 to banker Amit Bhatia in Paris was the ultimate talk of the planet. The lady also serves on the board of directors of her father's $103 billion steel company Arcelor Mittal. Her corporate involvement and small family (she has only one brother) puts her in good stead to inherit a sizeable chunk of her father's fortune. With a bachelor's degree in Business Administration from the European Business School and a master's degree in South Asian studies under her belt, her name spells undiluted luxury.
Delphine Arnault Gancia
The daughter of Bernard Arnault, Delphine is by far one of the richest women in the world. Part of her fathers LVMH group, in 2010 she held a stake worth $3.9 billion in the company. At the age of 28, she became the only woman to become the director at LVMH. A graduate from the London School of Economics, she is often called the Napolean of the luxury product business in France. Delphine has contributed a lot towards the development of Dior's perfumes.
Pia Singh
The daughter of real estate magnate KP Singh is a Wharton graduate. And wait till you hear this. The heiress has a $400-million stake in India's undisputed biggest real estate firm. If you thought her resume ends there then you're mistaken. The young and dynamic achiever also heads DLF's entertainment venture, DT Cinema and the retail business of the group as its managing director. Pia has also learned film making for six weeks at New York University.
Ashni Biyani
The daughter of the Future Group founder and CEO Kishore Biyani has been an integral part of the family business for four years now. She is involved with the company's innovation and incubation division and works with anthropologists, mythologists and sociologists. And the litany of accomplishments doesn't end here. The young billionaire heiress has also studied design management at Parsons and done a business programme at Stanford.
Isheta Salgaocar
This talented daughter of Raj and Deepti Salgaocar is currently studying at Columbia University. This news junkie, author and founder of storysouthasia.com tweets regularly about everything under the sun — from politics to economics. Chhaya says, "Isheta is very well informed about everything — be it politics or religion. She speaks very well and is passionate about writing." Her thought-provoking columns in different Indian and international publications prove that.
Ivanka Trump
The daughter of American business tycoon Donald Trump and Czech model Ivana Trump is bound to have varied interests. Ivanka Trump is a business woman, a model, and of course a billionaire heiress. She graduated from Wharton School of Business and is the executive vice-president of development and acquisitions at the Trump Organisation. She is also one of the boardroom judges on her fathers reality television show The Apprentice.
Holly Branson
The daughter of Richard Branson studied medicine and went on to join her father in his new business venture, Virgin Healthcare. Moreover, she has his daredevil spirit and for his 60th birthday, the father-daughter duo went kite surfing from England to France across the English Channel. Holly also intends on becoming the first billionaire heiress in space when she joins the first commercial suborbital spaceflight aboard the Virgin Galactic Enterprise.
Akshata Murthy
This MBA from Stanford is the daughter of Infosys co-founder Narayan Murthy. She has branched out of the family business. Post an experience at the venture capital firm Siderian Ventures, she discovered her love for fashion. Akshata has about a `2,000 crore stake in Infosys.
Tamara and Petra Ecclestone
Back in 1997, Bernie Ecclestone deposited £3,000,000,000 (over $3.5 billion) in a trust that Tamara and Petra would have full access to when they reached the age of majority. Tamara has been involved in fundraising for the Great Ormond Street Hospital and other activities to benefit sick children. She also posed for an anti-fur advertisement for PETA. In July 2011, Petra purchased The Manor, in the Holmby Hills neighbourhood of Los Angeles, for $85 million, with $82.4 million borrowed from her mother. The 57,000-square-foot mansion was the former home of Aaron and Candy Spelling , and is the largest residence in Los Angeles County.
Roshni Nadar
The daughter of Shiv Nadar graduated from Kellogg School of Management and went on to become the CEO of HCL group at the age of 28. Besides, she is also involved in the VidyaGyan School's initiative and oversees the educative initiatives of the Shiv Nadar Foundation as well.