Twenty-two-year-old, Pratik Doshi, who wants to aims to make holding an umbrella a fashion statement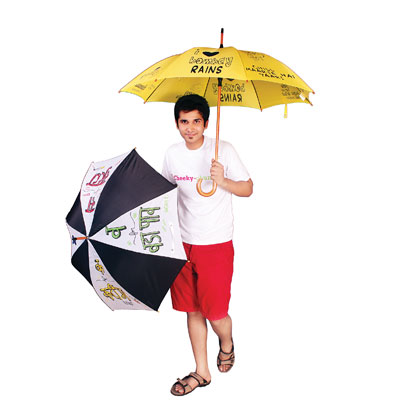 As the rain gods play truant, and we spend time sighting dark clouds hoping for some respite from the heat, 22-year-old, Pratik Doshi is waiting on the sides hoping to make a splash with his innovative designs and cheeky content. Doshi, who has an MBA under his creative belt plans to foray into the business of making and selling umbrellas. He says, "After I completed my post graduation in media and entertainment, I was clueless on what to do. There was no direction in my life. I was passionate about marketing, public relations and creative writing. However, I could not bare the burden of a nine to five job. I wanted to do something where I could be independent, express my creativity, as well as not work under someone else. I would spend all my time on social media and the internet during this phase. I followed various websites that sold designed products and was intrigued by the idea of making the day-to-day boring things, exciting! Hence, I felt like starting up a company that sold 'cheeky' products."
Implementing the idea
The first step was getting the designs made, which Doshi did by hiring a few freelance designers. So what can you expect from Cheeky-chunk? Doshi reveals, "My designs depict the city in all its glory and the associations we make with the monsoon season. Whether its depicting foods we associate with the rain, or a cup of cutting chai, a sutta, vada pav or hot pakoda. I thought it would be cool to walk around in a designed umbrella having such a doodle and sipping a cup of tea."
Getting cheeky with umbrellas
Doshi adds, "I have always believed that entrepreneurship is about finding your niche and doing something that's never been done before. With these thoughts in mind I got the idea of selling designed umbrellas to flag off Cheeky-chunk. It's a thing that hasn't been done before, and I've always wondered why? There is a huge demand in the flea market for products that make you look 'cool' or 'different' from the others. The concept retail stores are growing all around the country. So Cheeky-chunk is my attempt to bridge the gap between being useful and being cool." Doshi has a special range designed specifically for those who swear by Mumbai rains. He adds, "Bambaiiyaa dialogues, mundane doodles that stand out as they depict feelings every girl has during the rainy season and things you love and associate with the city are what you will find depicted on our umbrellas. We aim to make holding an umbrella a fashion statement among youth."
Cost: Rs 500 each. Doshi delivers free of charge across the city
Log onto www.cheekychunk.com