If you haven't yet, then better watch out for Chef Rohan D'Souza, whose global fusion food is like no other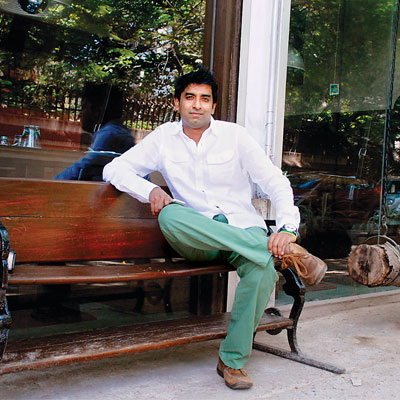 It's not easy to understand all the brouhaha around this new name in the food world. Not until you've eaten his food. Till then, his career graph would have to do. For it took Chef Rohan D'Souza all but three years to become the much-in-demand, high flying chef, who works the way our Bollywood biggies do. Read on to know more about what we mean…
Goa, where it all began
Chef Rohan D'Souza may have travelled the world, but at first impression you'll know he's Goan. "A 'true' Goan," he beams. And it was at Taj Goa, where he got his first insight into the hotel industry, he tells us. "I was in high school when I got a holiday job with Taj that took youngsters on board during summer vacations. I took it up for pocket money, and the glamour of a five star," he says candidly. A job that involved picking up guests from the airport among other things, was hard work, but chef Rohan says he knew it then that it was the world for him. And by the time he appeared for his entrance exams for hotel management, his parents knew that too.
Scholarship on high seas
His stint at the hotel management institute in Hyderabad was followed by an industrial training at the Oberoi Bangalore. "That's where I saw the real scene of how a hotel runs. We were meant to train, so we did it all - right from cleaning the lobby to peeling 100 kgs of onion, and doing 18 hours-a-day at banquets," he spells it out. This is when (as per statistics) most hotel management students decide if that's the place for them. "I overcame that, and went back to college for campus recruitments," that's when the real journey began, he says.
That year was the first time international cruise company P&N came to look for talent in India. "They came to pick up students for a chef's graduate programme in UK while working on board the cruise." Chef Rohan made it on that ship.
Boss from Hell
Well, not literary, or figuratively either! On board, chef Rohan worked with two big names, celebrity chefs James Martin and Hell's Kitchen's Marco Pierre White. "I was performing well, and soon got a break at James Martin's restaurant on the same cruise," he says. Two and half years later, recession hit UK, and changed his course, but only upwards. "Recession had hit UK, so one of Jame's restaurants shut down, but as a goodwill gesture, I was transferred to another restaurant on the cruise," that happened to be celebrity chef Marco Pierre White's.
Chef Rohan gives them both the credit for shaping his outlook towards food and flavours. "Theirs were two different styles. James was trendy, flamboyant, and very particular about cooking techniques. Marco is the God Father of modern age cooking, who believed in keeping food very simple," he shares.
Break turns into a big break
It's rather amusing even for chef Rohan that his career trajectory often finds fuel where others find trouble. If recession brought him to chef White, a back niggle brought him back to India. "Nine years after working on the cruise, I came back to India on a vacation. I had a slight back issue, and it required a lot of rest. That's when I noticed that the food scene in India had changed. Since I had some time to myself, I thought why not do something here," and soon enough he came across his partner in Bangalore and started the Pepper Cafe. "It was a small, niche café, not very flamboyant," he says of his first stint in India, which had on the menu, 'African style croquettes, Peruvian grilled prawns, and fish in Brazilian marinade. As Pepper Café earned rave reviews, so did chef Rohan, who then flew off to Delhi after a restaurateur approached him to set up a restopub. "From there, I realised I was getting opportunities. I thought let's spread to other cities too. So, I started my chef consultation brand Chef Rohan Gourmet," he recounts.
Making his own rules of the game
Chef Rohan has his plate full. He's busy with two brands in Bangalore, two in Mumbai, a no-frills pizza kiosk in Goa, which is a co-venture with his sister, and one of Kolkata's current favourite, The Corner Courtyard. A new new approach is what helps him juggle these multi city projects, he says. "My new theory in every restaurant is that I don't like to partner per se. I don't invest. I work mainly on a residency; a working partner with a share in profits," à la our Bollywood biggies.
Conductor of gourmet symphonies
Obviously his travels – from North America to South America, Panama Canal, Iceland, Greece, Cyprus, Norway, Madira, a small island near Portugal, Dubai and more recently, Sri Lanka – have influenced his food. But his strength is marrying flavours from these diverse countries onto one plate. He says, "I learned this stuff from James. That's when in the trend in UK was experimenting with Asian flavours in Italian and British modern food, and came about what we call as Eurasian food. That's my key strength actually," he stresses.
For his project in Versova, "in the city of dreams," as he calls Mumbai, he's working on a "global, funky food menu". "The idea is to have Indianised funk to the menu, with food like the Shimla mirch stuffed with Amritsari chole, and Bombay bhel puri as a salad. I love bringing together various flavours," he says. It something that's also earned him the moniker, 'Conductor of gourmet symphonies'.
Book marked!
Next on chef Rohan's agenda is to write a book on modern, global cooking. Hope he includes in the book how to make at home the extraordinary fare that includes paper thin pita tofu rissoles, baked feta tarts, and his famous African sauce.