All across Bangalore, designers are up in arms as far as recycling and reusing is concerned — and it's making one style statement…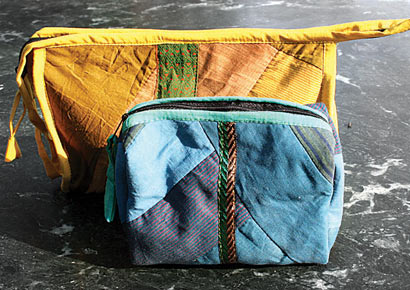 The traditional Indian way of life has been about effortless green living. And as we've moved away from it, we have had to make conscious efforts to be ecologically responsible. Recycling and upcycling are but the logical ways for us to ensure responsible, green living. And now the effort has moved beyond living into lifestyle.
There have already been designers like Omi Gurung who are working extensively on recycled products and city initiatives like the Daily Dump, spearheaded by Poonam Kastoori, have changed the way Bangalore thinks about recycling. But does that translate into more consumers for recycled products?
Anshu Arora Sen of Small Shop, who is working with a self-help group in Hampi, says, "It's difficult to say whether the Indian consumer in one body is interested in recycled products. Some people are interested, some are not and yet others are interested but may not make an effort to go out of their way to buy such products. But Bangalore, as a city, is more aware. If such products are available, people here would respond to it." The recycled products she has designed are made from fabric, plastic straws, tin cans, etc. That Bangalore is more aware when it comes to green products is a point that Omi has also emphasised time and again earlier. He feels, "People in Bangalore are well educated and aware of what is happening to the environment."
Fashion designer Julie Kagti is very optimistic though, judging by the response she has got for her designs that make use of waste fabric. "I get a great response to my cutout and patchwork stoles. Even the clothing line gets a new edge and texture with the patchwork over dyed fabric, which appeals to my clients. I feel the Indian consumer is responding well to this trend provided its usable and innovative," she says.
Kagti, attributes her passion for recycling to her grandmother. "As a young girl I used to watch and tease my grandmother who saved everything (usually under her huge four poster bed) and found a use for it at a later date. From little bits of string, rubber bands, old newspapers, brown paper bags, old biscuit tins etc. But as time went by and I became more aware about the environment, I realised the value of what she was doing and now practise it at home and at my workshop," she reminisces.
For paper engineer Arun Desai, it is not enough just to have the passion. One must find a way to educate others too, so that they respect the privileges that they are squandering away. A paper engineer by profession, Desai makes use of tetra packs and waste paper to craft many things including toys and waterproof jewellery. He gets his creative fulfillment from these products. "To create something moving, to depict action, to create something three-dimensional from a two - dimensional paper is challenging and exciting," he says but goes on to emphasise, "My motive is to introduce people to the practice. They have to do these on their own. Once they see the possibilities, only then can they respect paper. I want to sensitise people to their ecological responsibilities and do something to stop the juggernaut of our use and throw culture." But then he rues, "I do not even know where to start from."
Well, small yet visible initiatives are enough to get people in the city interested in the idea and reaffirm their environmental pledges. And to prove Bangalore's commitment to recycling, a flea market — ReFlea — is being held at Olive Beach. It will showcase products that have been crafted out of recycled material. Apart from Anshu Arora Sen, Julie Kagti, Devika Krishnan and Jenny Pinto, there will be several self-help groups and NGOs with a range of products that use recycled plastic, tetra packs, glass, cloth, tins, waste paper, etc. The products range from bags, baskets, jewellery, footwear and trinkets to greeting cards, paper products, stoles, lampshades, home accessories and much more. The ReFlea is part of the very first Bengaluru Recyling Habba 2011 being held in Bangalore.
One of the participants here, Anshu says, "I end with a lot of waste fabric - silks, muslin and so on. When the idea of the flea night came up we thought it would be a good space to provide the women with a platform. They can learn on the job, creating products and this would be good exposure."
Expect jewellery made out of waste fabric and paper, brought by outfits like the Delhi-based Jugaad and the Kirana Self Help Group; bags made of patchwork fabric, terra pack cartons and cement bags showcased by organisations like Anu's Women's Unit, Creative Merchandise Innovation (and also Jugaad); paper lights created by Jenny Pinto from waste agricultural fibre; clothes and stoles created by Julie Katgi from waste fabric, toys from waste material created by Arun Desai and a selection of children's books that create awareness about recycling and organic cleaning products from Daily Dump. Then there's Wellpaper from Auroville Wellpaper with their range of woven baskets, tea coasters, jewellery and mats using newspaper and recycled material; Glasshopper with their stained glass products and much more besides.
While ReFlea night is only on till this evening, the Medmosaic — aLTERNATE cURRENT exhibition is on till November 13.
At Olive Beach, 16, Wood Street, Ashok Nagar