From furtive glances to digital winks, passionate shouting matches to grumpy-looking smiley posts, tickle-triggered laughter to LOLing and ROFLing — love, today, is virtual reality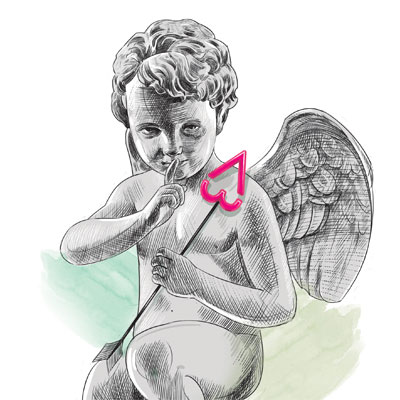 Hot-shot cricketer, Shikar Dhawan, met his wife Ayesha via Facebook, and they're just one of goodness-knows-how-many couples out there for whom Facebook played cupid. The way we live and
love is changing, and how! Care for a walk down memory lane?
Love is just a click away
Then: You'd see her somewhere and have to either follow her home or keep wondering who she was until you saw her again (if you ever saw her again, that is).
Now: She's probably just a click away, if you're one-tenth the detective Sherlock was.
Remember, espionage is fair in love and on Facebook.
The Stalking
Then: You were the roadside romeo incarnate; your sauntering down her lane was well-timed to match her arrivals and departures.
Now: You stalk her online through updates, posts, likes... If she's in the habit of 'checking-in', even if it's just into her own home, that's a bonus.
The Intro
Then: You'd spend weeks rehearsing the best way to approach her. She would probably wait patiently for you to make the first move.
Now: You could unceremoniously 'poke', casually 'add a friend' or if you've been raised with better manners, 'inbox' her and introduce yourself.
Getting to Know You
Then: You'd be on your best behaviour, until you knew she was falling for you, and then you could relax into your own skin.
Now: You just might have to live up to your online persona, even if that's not exactly who you really are.
In Adoration
Then: You gazed into each others eyes, and the world disappeared. "I love you," was a whispered sweet something or yelled from a rooftop.
Now: Secret love! What's that? More often than not, the world wide web is privy to declarations of love, lust and loathsomeness.
Etiquette
Then: Opening doors, helping old ladies with their groceries, and generally being chivalrous could get you a much-awaited peck on the cheek.
Now: Opening doors, helping old ladies with their groceries, and generally being chivalrous may prompt her to upload a Bitstrips panel in your honour.
'Allo! 'Allo!
Then: With the hours you spent on the landline, you became your telecom service provider's favourite customer, and you still wanted to call her back.
Now: You're constantly connected on Whatsapp, but you wish it didn't reveal when you were 'last seen'. Woe betide you if you're online and forget to message her.
The First Fight
Then: There's silence from both ends until the more mature of the two picks up the phone and says, "let's go for a walk", or "we need to talk", or something similar. Only your best friend knows exactly what happened, and she won't tell.
Now: Status messages go from 'In a Relationship', to 'It's Complicated', to 'Single' to 'In a Relationship' again. And depending on your privacy settings, either just your friends or the 'public' knows you're at war.
Love, Love me Do
Then: From a handwritten message or a blank call with your favourite love song playing, to flowers from a secret admirer— courting was filled with much mystery.
Now: Love letters have been reduced to a keyed-in <3, while laughing together is simply LOLing or ROFLing.
Miss you! Not
Then: If he, or you, were a traveller you would have to wait patiently for a telegram, or the postman or a trunk call, depending on which decade you were born in.
Now: As long as there is wi-fi or you've got a great data plan, you can whatsapp anytime, anywhere. Or if you're missing his voice, place a Viber call.
GPS
Then: You could tell him you're visiting a sick friend and go see a movie instead.
Now: He's tracking your online activity.
Uh oh! You're in trouble.
The Wedding
Then: You had to wait weeks while the official photographer processed your photographs.
Now: There's live broadcasts from your wedding.
Honeymoon Antics
Then: We never heard a peep from the couple until after the honeymoon.
Now: We get hourly updates complete with visuals, all the way up to the petals on the bed. We're just waiting to see how explicit you dare to go.
Happy Anniversary
Then: This was a cherished date, reserved for spending time with each-other and family.
Now: Thanks to Instagram and the fact that you didn't forget to 'check-in', we know where you're having dinner and exactly what you're eating. Are we invited?
Do Note: While we've used gender references at random, what works for 'him', works just as well for 'her'.
As observed by Rama Sreekant and Averil Nunes