Everybody deserves a good send-off is his mantra. Roshni Nair meets John Pinto, the world's only MBE undertaker for whom body preservation is both art and science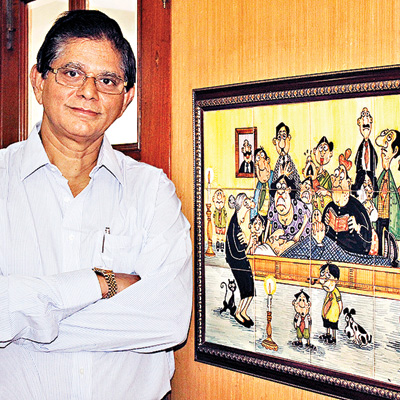 Byculla's Y-Bridge is a prominent feature in the cult classic Jaane Bhi Do Yaaro. In one of the film's – and indeed Bollywood's – most memorable sequences, a drunk Om Puri converses with a dead man (Satish Shah) in a coffin. Call it coincidence or just irony, this is the area that also houses John Pinto International Pvt. Ltd, the eponymous embalming firm run by the world's only undertaker who is an MBE (Member of the Most Excellent Order of the British Empire).
Established in 1981 by John Pinto, this family-run business is renowned for its repatriation and embalming services. Pinto wears his MBE accolade – bestowed on him by Queen Elizabeth in recognition of his services after the 26/11 attacks – with great pride, and rightfully so.
"Everyone deserves a good send-off," he smiles as we sit at a round table for a mid-morning chat. Pinto's office is bedecked with antique furniture, a passion he shares with wife Edna. A handcrafted oak wood coffin lies nearby, accompanied by an-all metal portable morgue. Above the freezer is a long carton marked Handle with Care –which is exactly how John Pinto treats the deceased.
"Embalming isn't taken seriously in India. Not even by hospitals," he rues as he recounts how embalmed bodies have turned black at JJ Hospital. Its taboo status notwithstanding, body preservation is both an art and science for Pinto. The painstaking process can take anywhere between a few days to almost a month depending on factors like cause of death and extent of bodily damage. Reconstructive surgery is even used in extreme cases, or if families want open casket funerals. All embalming fluids and equipment used by Pinto are imported. He even had to study the courses abroad because the options in India were next to none.
The hurdles were many but they failed to deter Pinto. He remembers his first office in Saat Rasta and how difficult it was to transport bodies during the rains. "The base of my office was four feet of granite," he chuckles, "so that the rising water wouldn't come in and damage the bodies." Things took a turn for the better when he shifted to Clare Road and acquired A. Edward Jones, the city's oldest funeral services business. The year was 1992, and more people were sitting up and taking notice. Edna says it was their service which set them apart. "We were the only ones who worked round the clock. If we got a call in the middle of the night, we'd rush to the office and start funeral preparations immediately."
Pinto's reputation makes him the go-to man in the wake of mass tragedies. Whether it was the 1993 serial blasts or the 2013 INS Sindhurakshak disaster, he is entrusted with the job of preserving the bodies of the deceased. Many hospitals are apathetic about cadaver preservation, with some even storing bodies on slabs without any temperature control. It is a sorry state of affairs, especially for aggrieved relatives who want a fitting farewell for someone they love. Pinto also repatriated many victims of the 2008 Mumbai attacks to their home countries.
Every day is a busy one for the Pintos. My time with the patriarch is punctuated by people calling in from Kochi to Congo to follow up on funeral arrangements. But Pinto beams despite the frenzied, morbid nature of his work. This is a man who is deeply aware of the difference he can make, even if others don't. Being in the funeral services business means one must also lend an ear, and wife Edna is all for it. "Counselling people is a very important part of what we do," she says.
Pinto's sons John Jr. and Ainsley are also proficient in embalming and, from the looks of it, set to take the family business forward. Their employees are extensively trained to craft everything from coffins and fabric from scratch. But the workshop and embalming room remain out of bounds for outsiders. "Harmful chemicals," Pinto reasons.
India isn't a country where undertakers need to be certified. The sector, if one can call it that, is unregulated. Creating and maintaining standards doesn't top administrators' lists. Pinto says it will take a long time for things to change in the country, but he isn't gloomy about it.
Instead, he cites an anecdote as a mark of his optimism. "Somebody from the Health Ministry once told me 'There was no DGCA (Directorate General of Civil Aviation) when JRD Tata flew the first plane. It came about much, much later. It's the same with you. You have to pave your way and get the work done.'"