If you have not had a chance to explore these water bodies in 2013, add them to your travel itinerary in 2014.
They say that if it's good, keep it a secret. And rightly so, these lakes are so pristine that only those who truly cherish nature and understand the importance of these breath-taking places deserve to get a glimpse of these beautiful lakes. The journey to some of these locales is extremely difficult, and will test your physical and mental endurance . After Hrs tells you what to expect when you plan a trip to these destinations.
Pangong Lake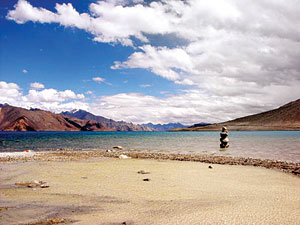 Made famous by the movie 3 Idiots, in Tibetan it means "long, narrow, enchanted lake". Ensure that you have necessary permits before you set off. Besides the fact that this lake is extremely enchanting and has lots of accommodation options, it can be reached within five hours from Leh city. The brackish water of the lake has very low micro-vegetation. The road crosses Shey and Gya villages and leads across the Changla pass. After the pass, there are other smaller villages, and a crossing river known as the Pagal Naala (The Crazy Stream), which locals say has got this name because its fills up unexpectedly resulting in a lot of trouble for vehicles needing to cross it. The spectacular lakeside is open during the tourist season, from May to September.
Tso Moriri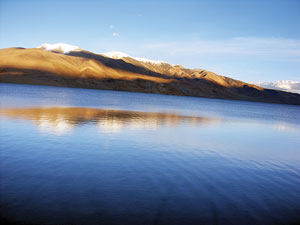 Around 250 kilometres southeast of Leh lies the high-altitude late Tso Moriri. Located in the Rupshu Valley, Tso Moriri is around 4,595 metres above sea level. That means you better be in good physical shape before you decide to take a trip here. Home to various birds and animals, you are likely to spot many marmots during your trip to this destination. While travelling you will also come across the Chumthang hot sulphur springs that are considered to have medicinal properties. You may need permits to visit Tso Moriri, so make sure you have your paperwork in place at Leh.
Gurudongmar Lake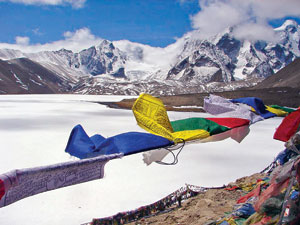 This is not just one of the highest lakes in India, but it's actually one of the highest lakes in the world. In the district of North Sikkim, close to the South of Chinese border, lies this beautiful lake. The lake remains completely frozen from November to mid-May. Legend has it that at the local people's request for water, Guru Nanak, with his dang (a long stick) broke the upper layer of ice and assured people that the water at that spot will never freeze. Locals named this lake Guru Dang Mar meaning created with the dang of Guru Nanak. Locals believe that it's because of Guru Nanak's blessings that one portion of the lake never freezes. Many tour operators provide packages so that locals can make the journey to this beautiful locale. They will take care of the required permits, but ensure that you carry your documents. The lake can be reached by road from Lachen via Thangu.
Tso Kar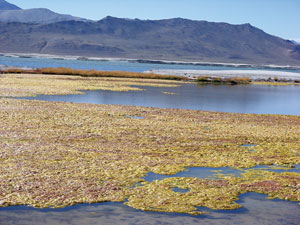 Around 50 kms from Tso Moriri is the smallest of the three high-altitude lakes (the other two being Pangong and Tso Moriri) in Ladakh region. Tso Kar when literally translated means white lake, because of the salt deposits on the bank of the river. Situated at an altitude of 4,660 metres, it is the highest brackish water lake in India, and is popular among birdwatchers as you can spot Brahmni ducks, bar headed geese and great crested grebe. However, the main attraction are the black-necked cranes. Most visitors stay at Tso Moriri and make a trip to Tso Kar as it doesn't have many accommodation options.
Chandra Taal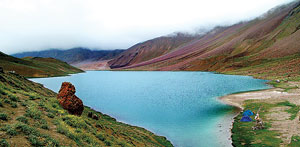 File Pic
Chandra Taal that is at an altitude of 4,300 metres is located in the Spiti district of Himachal Pradesh. The name of the lake, which means Lake of the Moon, originates from its crescent shape. It is close to Batal as well as Kunzum Pass, and is accessible from May to mid-September. Visitors will find camping sites around the lake. The unique quality of this lake is that though there is an outlet, there's no visible source of water, which has led people to believe that the water to this lake comes from an underground source.
The Suraj Taal lake, which is around 30 kms away, also makes for a great visit.
Tsongmo Lake or Changu Lake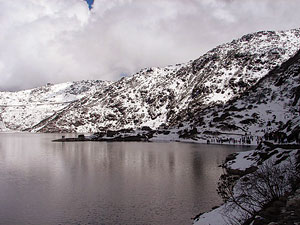 This glacial lake is located in East Sikkim, around 40 kilometres away from Gangtok at altitude of 3,780 metres. The lake that freezes during the winter months is a tourist hub sees lots of visitors from mid-May to August.