As Lakme Fashion Week (LFW) begins, Manish Mishra looks at what is working, and what is not.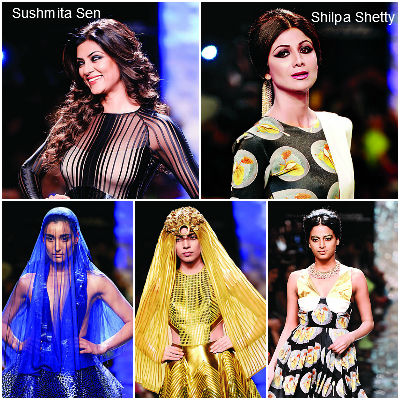 Amit Aggarwal
Vibe: Furturistic bride
What we loved: Amit Aggarwal's bride is an extra-terrestrial creature who even though shrouds herself in a stripped veil yet is warrior like. Her ear lobes are painted and she wears hologrammed gajra. The designer's signature metallic moulding and beading was the leitmotif of this seminal offering. Goddess gowns with metallic sculpted bustiers had wing-like sleeves enveloping the arms. A palette of black, gold, red, midnight blue and peacock green wreaked a multi-sensory assault as his phalanx of models took to the ramp.
What didn't work: Some outfits seemed restricting the model's movement. Also, some pieces reminded us of his last LFW outing.
Masaba Gupta
Vibe: Free-spirited
What we loved: Masaba cleverly picked mundane motifs like dishes and spoons and transmogrified them into delicious prints on tunics, dresses, pantsuits, crop tops, skirts and sari gowns. 60s cheery prints, striking florals, dots, capsules, bagels were beautifully replicated into cutesy separates invoking joie de vivre vibe. Perhaps one of her most refined collection till date.
What didn't work: The jewellery seemed totally off and didn't go with the ensembles at all especially the jewelled headgears. In fact, there wasn't need of much accessories as the garment were quite vibrant and evocative. Also, the shoes were a major let down.