A pant suit is a powerful red carpet in a sea of ball gowns.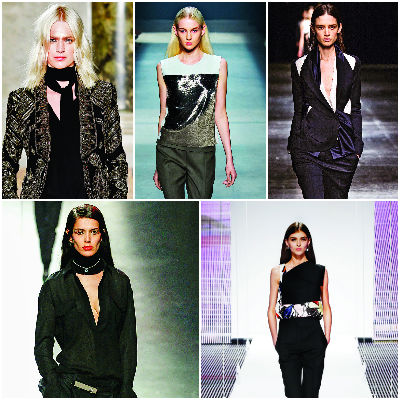 When a model at Raf Simon's Dior cruise show walked out in a sharp T-shirt and a pair of high-waisted pants, it sent out a strong message across the style spectrum. A sharp pant suit or a tux or a tank paired with a pair of structured trousers is as formal and sexy as a ball gown. Not long ago, Sonam wore a pin-stripped Jean Paul Gaultier suit. Supermodel Cara Delevingne's sassy Stella McCartney stood out in a sea of big ball gowns at the Met Gala and Altuzarra elevated his black tank and tailored trousers combo with a pop of colour. Recently Gia Coppola wore a crisp Saint Laurent tuxedo at the Tribeca Film Festival and Angelina Jolie opted for a le smoking in Saint Laurent by Hedi Slimane at BAFTA Awards. We ask our designers if a woman's tux is as sexy and formal as a sequinned ball gown...
As formal as a ball gown
Designer Namrata Joshipura, who for her Wills finale showed an asymmetrical top, jacket and pants feels that the pant suit has nothing to do with the cliched intellectual feminism. In fact, this look was supposed to be the showstopper look for Kagnana however the actress opted for a gown.
"The jacket paired with structured trousers and worn with a confident, powerful vibe and attitude is the new language which today's sharp and experimental dresser wants to communicate. Angelina Jolie's look at BAFTA with an open bow tie was a very sharp look. I think a pant suit combo has the same formal vibe which an evening gown does. However it's a complimentary silhouette as long as you learn to rock it. Showing skin is not necessarily sexy, you could be in a suit from head to toe and yet radiate sexiness," she says.
No submissive creature
Designer Wendell Rodricks says, "Ever since Chanel in the 30s put women in tweed jackets, Yves Saint Laurent put them in a smoking tuxedo in the 70s and Armani reinforced the jacket and trousers in the early 90s the so called power suit has been empowering ladies the world over. While Chanel and Armani went for a softer sculpted feminism, YSL and later Thierry Mugler went for the jugular, making shoulders that right angled at the sleeve. It is the androgynous look of a mixed feminine masculine look that makes the suit on women sexy. By defying outright feminism, women tend to look powerful yet seductive in a role play change. This is no submissive creature. She is on too it all. In the board room, red carpet and in the bedroom...quite literally."
Tailored androgyny
Designer Rina Dhaka says, "My fave pant suit look from the past has to be Bianca Jagger in YSL. In the 90s I I enjoyed wearing white suits, ankle exposing trousers and tail coats. I am all in favour of tailored androgyny."
Designer Dhruv Kapur of label DRVV says, "I do have a problem with bright coloured gowns and I think tuxedos for women are a welcome change on the red carpet. However, the tux has to be sharp and not slouchy. Also, most women like to wear it with a pair of heels even though it kills them. Otherwise wear them with men's shoes."