Indian Jewellery is evolving and how! Smita Balram Kumar presents the latest jewelbox trends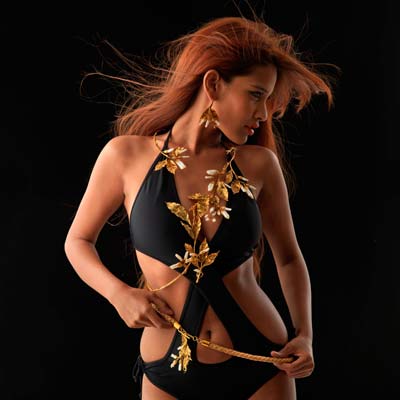 Jewellery has been an intrinsic part of India's rich heritage. Be it the Patiala Maharaja's iconic diamond necklace commission to Cartier, the pearl and polki tehzeeb of the Hyderabadi nizams' jewels, Rajasthan's timeless jadaau settings, the intricate nakshi temple jewellery from Southern India or the fearless spirit of tribal designs–the many moods of Indian jewellery have been deservedly captured and chronicled time and again. So what's changing now?
Tell a story with power-packed symbols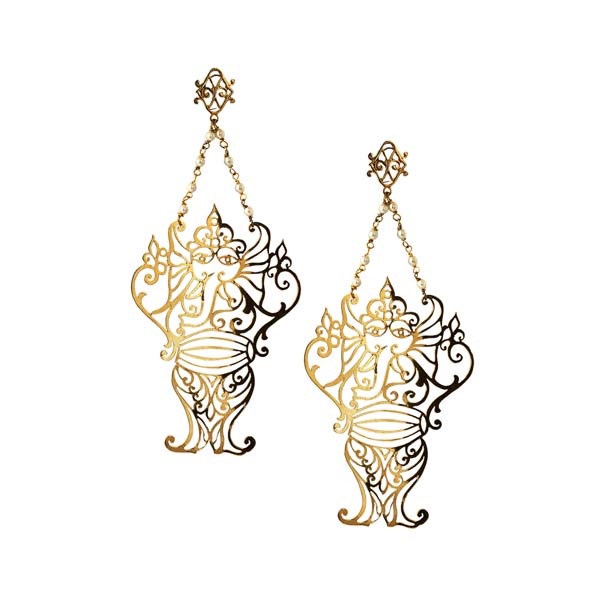 Eina Ahluwalia
Until now, our jewellery designs have reflected a deep respect for tradition that epitomises beauty but could border on boredom. However, new-millennium India is witnessing a dynamic shift in the sparkling district. The country is home to a whole host of new-age jewellery designers who are changing the very grammar of the language of jewellery design. These designers have new inspirations, concepts, materials and constructions, yet are firmly rooted in Indian ethos. Herald the epicenter of luxury–the era of bijoux and baubles in India. This new-age jewellery goes beyond precious tradition. Each piece narrates a story and makes a statement.
Take a look at our fashion runways or red carpets with Sonam Kapoor, Deepika Padukone, Alia Bhatt, Vidya Balan and Shraddha Kapoor. The jewel designs are bold, brazen, bright and quirky. Styles reflect geometric forms, art-deco patterns and architectural feel. Circles, squares, rectangles, arcs and pyramids promote sparkling style today. Design influences include strong symbolisms like gods and goddesses, angels, dragons, fairies, zodiacs, pagan, Egyptian, Kaballah to talisman – yet all presented in a modern format. Indian designers are carving out unrestrained imaginative jewellery for the quasi-cosmopolitan Indian woman of today. Each piece bridges fashion and art. Each exudes a sense of power.
Let it be a declaration of who you are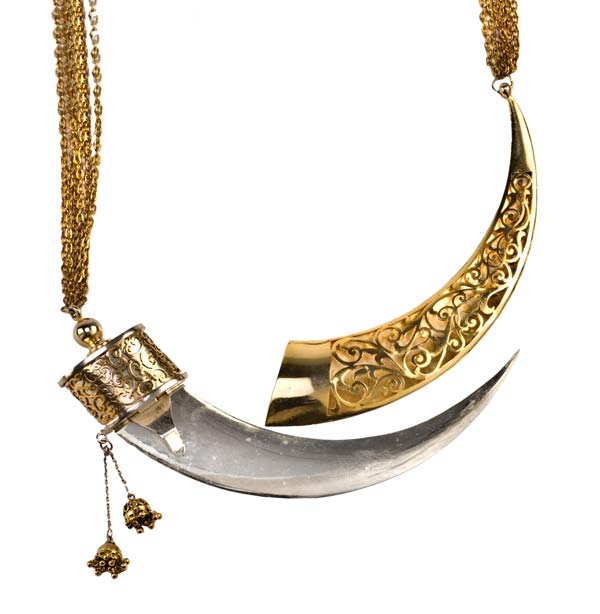 Eina Ahluwalia
Eina Ahluwalia is a conceptual jewellery artist whose award-winning 'Kirpan' necklace made it to the prestigious international book titled 'Showcase 500 Art Necklaces'. Traditionally, a Kirpan is a small sword worn on the body as a religious symbol for the Sikhs. Eina made the Kirpan necklace an opening piece, when she dipslayed her Wedding Vows collection, a stand against domestic violence. Eina says, "The Kirpan Necklace is one of my favourite pieces. I never expected it to sell. But I suppose the symbolism in the piece is so strong that women across the world identify with it". Handmade in silver, the Kirpan necklace has emerged as a collector's item. Eina has many such thought-provoking pieces. "Conceptual jewellery is where the concept is primary and the jewellery is just a medium to tell a story. Therefore the functionality of jewellery is also subverted from ornamentation to self-expression for both the creator and the wearer," she says.
Find inspiration in architecture and religion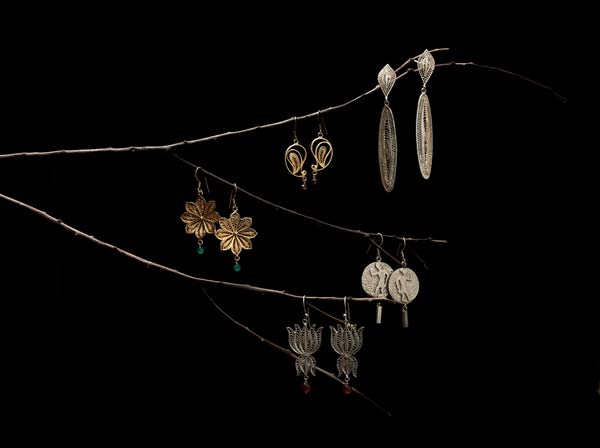 The Jewlery Project
Like Eina, history as a subject beckons another jewellery designer Deepti Sudhindra. Deepti's latest jewellery line—the 'Hampi Project'—is a modern ode to the Shiva temple art of the historic city of Karnataka. Right from the 'Shiva-ling' as a pendant, Shiva's signature 'trishul' as a talismanic charm on a neckpiece, and floral temple motifs as a theme that runs through the jewellery line–Deepti's jewellery leaves no stone unturned in imbibing the pulse of Hampi. The rescue worker says, "Art is a creative expression of a free mind. Fashion is contemporary urban culture. All are part of the human experience, and everything is interlinked. What is most important is creativity". Deepti's label, 'The Jewelry Project', beautifully embodies the confluence of tradition, history, mythology, art and fashion with a global viewpoint. The age-old 'karimnagar' filigree techniques, Hampi temple art motifs, Rajashthan's mythical stories and remote Warli craft in pure silver and natural gemstones, that feature in this Bengaluru-based designers work has drawn clients even in Japan and Europe.
Go bold with colour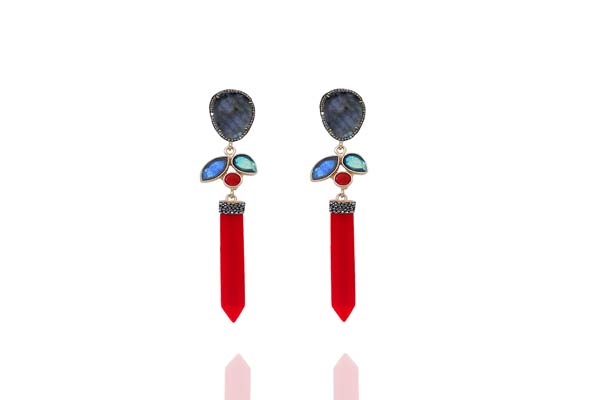 Atelier Mon
Bold colours in jewellery have emerged as an important trend. Ace couturier Manish Arora has been wielding his creative pen for some colourful and futuristic statement designs for Amrapali. One more to embrace it is jewellery label 'Atelier Mon' by Monica Sharma. Her passion lies in combining semi-precious stones with unique stones sourced from across the world to create a confluence of versatile organic jewellery. Her designs bring a little fun, a splash of colour and do not weigh heavy on your pockets. Monica says, "In the last three years, I have noticed a big difference in Indian women's attitude towards natural stones. Now they understand and appreciate semi-precious and natural stones, thanks to the influence of television and media exposure of the western world. They want colour and want to match jewellery with their clothes. It's no more the boring simple colourless diamond jewellery." Monica's inspirations for her line of necklaces, brooches, bracelets, cuffs, earrings and rings come from elements of nature, geometry, kitsch colours and candy.
Wear art! Au naturally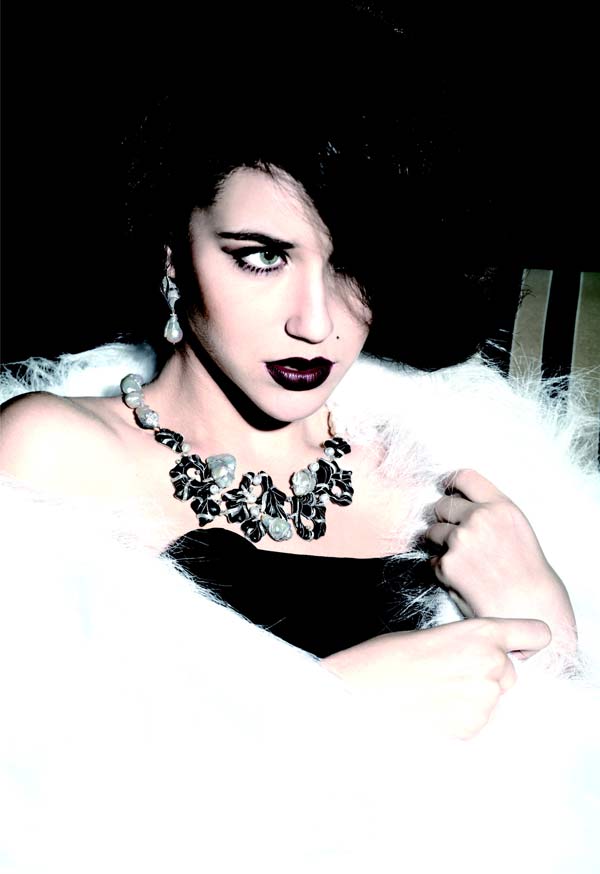 Pallavi Foley
Avant-garde jewellery artist Pallavi Foley has been creating waves for her strong sense of aesthetics, form and innovative styling. Her recent runway success with jasmine-bud inspired collection titled 'Shezmin' won her accolades. The fragrance of the jasmine was represented through 18 karat gold, diamonds, silver and fresh water pearls entwined and draped into an imaginative collection comprising body pieces, necklaces, earrings, bangles and waist chains. Some of her popular pieces include Frost–a pearl and diamond necklace inspired by the way frost settles on the world around us. The Lombok Moonlight, inspired by the palms seen in the moonlight on the beach, is another precious necklace by Foley made with Karnataka's craft called 'bidri'. Foley says, "Jewellery is wearable art. Jewellery has to be rare and priceless–not only for the precious stones and metals it uses but even for the design and craftsmanship it employs." She draws inspiration from her experiences, travels and books.
Build reference to cultural context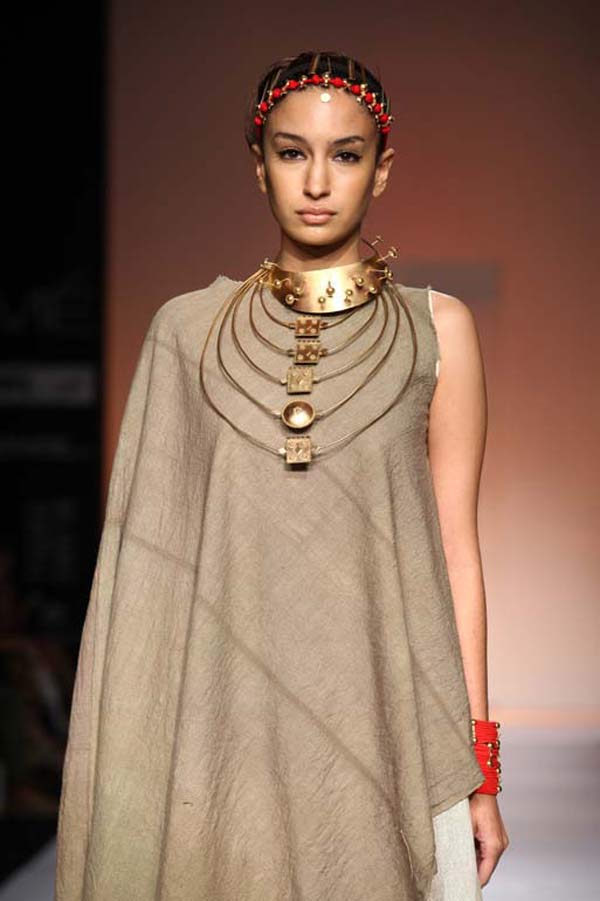 Suhani Pittie
While fine jewellery is taking new routes to success, costume jewellery too in India is upping up its ante. Firstly, it is earning the designer tag. Secondly, costume jewellery is not 'fake' jewellery anymore. Designer costume jewellery today represents experimentation with atypical materials as well as newer and bold design sensibilities with aplomb. Designers are experimenting with high-quality brass, polished white metal, acrylic, glass, beads and synthetic colourful stones. Hyderabad-based designer Suhani Pittie is a top runner in this genre. "I use brass, copper, steel, wire, zipper, silver, acrylic—anything that catches my creative fantasy. Our traditional jewellery is the most beautiful in the world. Nothing can steal its thunder. My only idea is to create beautiful work, which is an offering to the landscape and the craftsmanship of India and giving it my own language," says Suhani, who designs earrings, ear buttons, nose pins, cuffs, bracelets, rings, necklaces, hairbands and belts. Enchanted by the past, Suhani's collections resonate the Charminar, the 200-year old ancestral haveli, the dancers on the streets, the bangle maker, the local kumhaar (potter), the by-lanes, old photographs to pantheism and paganism. "I do not follow trends. I follow my heart. My work is an unexpected combination of contradictory elements. Fiercely individual and fiercely honest. The mood is modern, but the DNA is old. Each piece should be a dialogue. It needs to have a cultural reference. It needs to originate in history and transcend into today. The jewellery needs to be unapologetically individualistic," states Suhani, who has been enlisted in the top ten inventive and ingenious jewellery designers in the world by the World Gold Council.
Get your Quirk On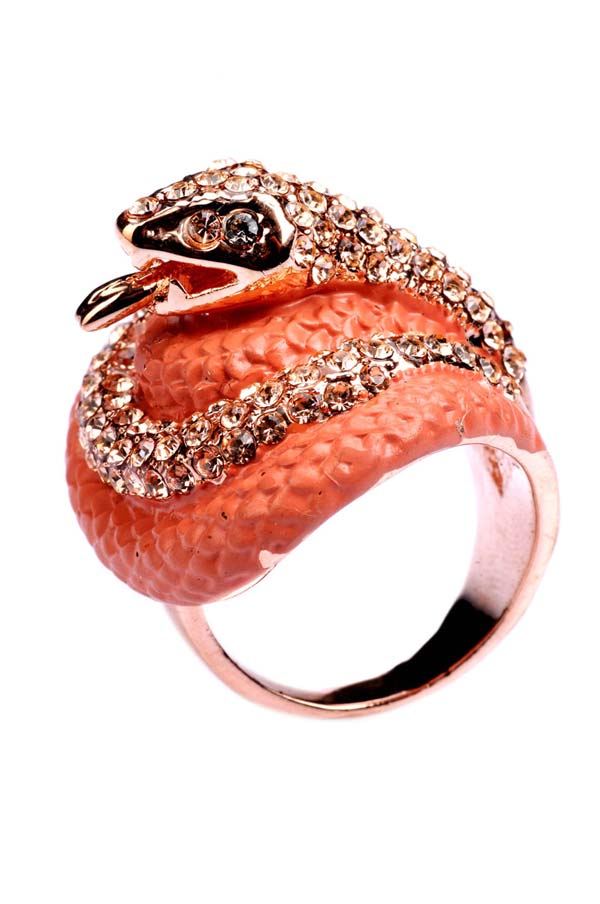 House of Chic
All that glimmers is not gold, today. It's colourful, crystallized and impactful. And this is the philosophy followed by label 'Outhouse' by Delhi-based sisters Sasha and Kaabia Grewal. Edgy, funky, fearless, audacious and avant garde–Outhouse jewellery is not for the shrinking violets. Colours, stones, skulls, textures–each piece of their jewellery has it all to create intense style drama. Bold multi-coloured neckpieces, ear cuffs to hair jewels–this label has caught the celeb fancy.
Another head-turning label in this genre is 'House Of Chic' by Jinali Sutariya and Heena Surani. The designer duo showcased the dark fantasy side of jewellery. Titled 'Dark Angel', the Gothic collection made with alloy came embellished with skulls, crosses, black ties, lace and gunmetal paintings for the modern-day princess. Intricately crafted hoops for the ears, necklaces with multi-pendants, chokers with pointed tendrils, cuffs with crosses, hand ornaments with finger-covers, tasseled stone necklaces, shoulder-dusters and multi-bracelets completed their eye-catching line of jewellery. The collection was rocker-chic aesthetic all the way and pushed the boundaries of jewellery design for modern Indian women.
To sum it up jewellery today is ruled by the three R's – Runway, Red Carpet and Real Life. Take your timeless and trendy pick and make more than just a statement.