A promising start on day one of the fashion week as young and established designers took to the ramp.
Lakme Fashion week Winter/Festive 2012 started on a positive note with the Gen Next show that delivered much promise. Seven young designers were mentored by stylist Aki Narula which he called his "three-month-long labour." Some of the standouts included creations b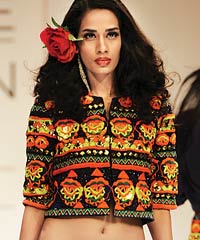 y Asa Kazingmei, Sneha Arora and Aastha Sethi and Siddharth Arora. The fashion week kicked off, with less chaos than expected and most shows were running 15-20 minutes late. The small turn-out of celebs was surprising, but as the week proceeds, many more fashionistas are expected at this glamorous do.
Some key trends were spotted on the ramp on opening day. While Pia Pauro drew inspiration from the Mayan and Aztec empires of Mexico for tribal prints, Asa's line was a tribute to the beauty of the Naga tribe's textiles of Tngkhul. Crop tops, a typical summer trend, was spotted in Pia's show as well as in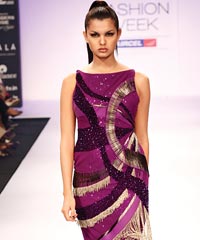 some of the new designers' work. Jatin Varma's Dark Angels were heavily dressed in gothic elements, with a predominance of metallic hues and fringe. The flapper dresses and slinky maxis with mosaic patterns, trailed with fringe along the plunging backs.
A few ramp mishaps caught our eye. While a shoe strap flapped at a model's foot at the Gen Next Show, a male model tripped while walking out in one of Pia's printed creations. Pallavi Jaikishan displayed an elegant collection, though some of the saris were tied too high spoiling their subtle daintiness.