While the ancient Silk Road may have disintegrated, the cultural diversity that it brought to China and the relics from its rich past are still alive in Xinjiang, finds Rahul Warrier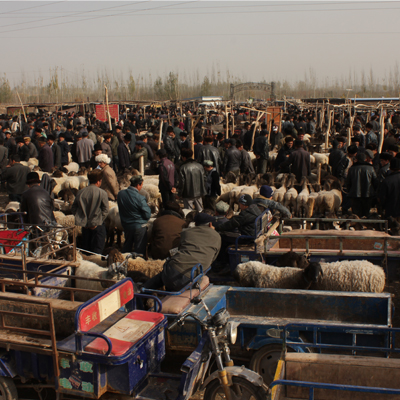 From my airplane window, I could see a vast and arid landscape, dotted with snow-capped mountains on the edge of the horizon. But on landing, Urumqi felt like a typical Chinese city, booming in all directions with factories in the outskirts and giant commercial buildings downtown. Urumqi, the capital of China's autonomous region—Xinjiang, is farthest from any ocean or sea in the world. Soon, I discover that it's also a good place to watch ethnic minorities, including Uyghurs (a majority in Xinjiang, often considered its original inhabitants), mix with the Han Chinese (a majority in the rest of China). Erdaoqiao market's Da Bazaar (the grand market), one of the city's main attractions, is a glorious attempt at modernising the traditional markets of Xinjiang; its traditional buildings run on a modern modus operandi, selling everything from carpets and dry fruits to handmade knives and jade jewellery. In the evening, the streets around the market go abuzz with activity and transform into a street-food haven with kebabs, roasted chicken, samsa (almost like samosa), some noodle-based snacks similar to Indian chaat and more.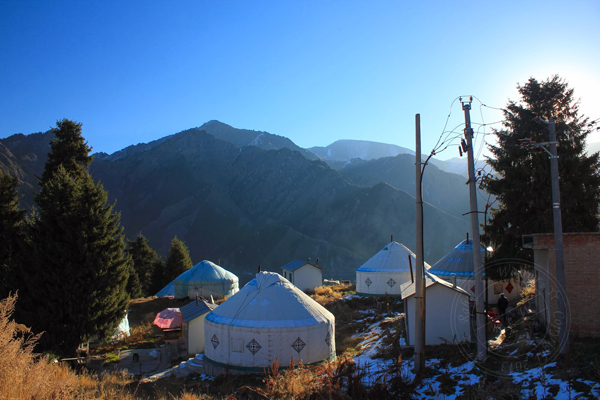 Yurts, tent-houses of Kazakh and Mongol nomads
A two-and-a-half-hour drive from Urumqi takes us to the alpine paradise of Tianchi (Heaven Lake), nestled at 2,000 m in the Tian Shan mountain range. In a small Kazakh village near the lake is our homestay; a yurt, which is a traditional tent-house of the Kazakh and the Mongol nomads, made of plastic and cloth. Not only the wooden floor, but also the walls and the roof of the tent are decorated with beautiful carpets. The coal fireplace in the centre protects us from the near-zero-degree temperature outside and we're offered brightly-coloured, heavy blankets too. Unlike the Uyghurs of Urumqi, Kazakhs are more fluent in Russian than Mandarin or Uyghur. They host with great hospitality and offer amazing home-cooked food–home-made bread and soupy noodles for breakfast, noodles with lamb and local veggies like bamboo shoot and carrots for lunch, and Polo (rice mixed with spices and lamb) for dinner. The Kazakh tea is a strong green tea with a pinch of salt. A day's stay here will give you a glimpse of the wonderful Kazakh mountain life, but for a taste of urban Kazakh lifestyle and a view of Sayram Lake, one of Xinjiang's largest alpine lakes, head to Yili/Yining by the Yili river. The small city borders Kazakhstan in northwest China.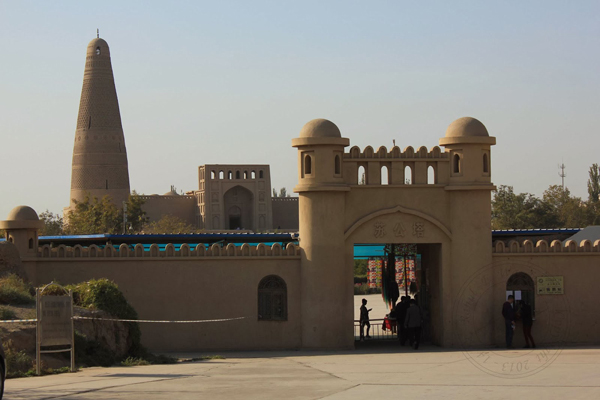 Emin Minaret
From the high of the mountainous Tianchi, it's time to experience the lows of Turpan—a small Uyghur city near the Turpan depression, one of the lowest points on the earth's surface–famed for its sweet grapes and local Hami melons. We crane our necks to see Emin Minaret and reflect on the ruins of the ancient Buddhist city of Jiaohe. Flaming Mountains, named so because of the colours they take on during summer afternoons are a lovely sight too, however the allure of Turpan lies in the Mazar village of Tuyuk Valley, housing brick and mud homes with huge courtyards, little tiled alleyways, a negligent number of vehicles, an old mosque in the village centre and the mazar (tomb) after which the village gets its name. The village packs a history of 2,600 years and gives a glimpse of the traditional Uyghur way of life with most people involved in agriculture. Here, life is slow and locals are warm; seeing us an old man offered us some of the Hami melons he was cutting, invited us home and showed us around. He has a simple one-room arrangement and his floor and walls are covered with red carpets. After lunch at a street-side restaurant serving Laghman (pulled noodles) with veggies and meat, we end the day with a visit to an ancient underground canal system and the local market. When the curious locals learn of our Indian nationality, they immediately think Bollywood and Shah Rukh Khan. During my bus journeys I realise the popularity of his movies and other Bollywood movies, because they are dubbed into the local language.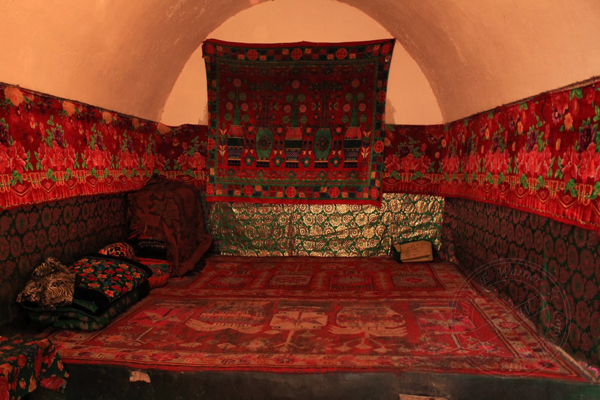 Inside view of red-carpeted Turpan home
On the way to our next destination, Hotan–in central Xinjiang, we first halt at Korla, home to China's largest freshwater lake–Bosten. Every evening, locals gather at the public square and dance to the tunes of Uyghur music. Maintaining minimal physical contact even though they're dancing in twos, they perform a graceful set of circular moves with profound hand gestures. It's not as simple as it looks. Turkish or Arabic-looking girls wear western dresses and some also deck-up with matching caps with a white feather in front. After Korla, we halt at Kuqa, an important junction on the modern Silk Road that's rapidly losing its charm to developement and cross one of China's biggest deserts–the Taklamakan, before reaching Hotan.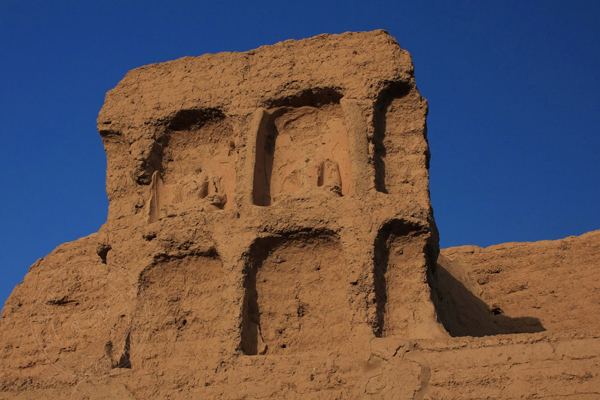 Turpan Ruins
A major center for jade trade and an important city on the ancient southern Silk Road, Hotan is like the Uyghur heartland. The city, famous for its woven carpets is a bit slow in comparison to Xinjiang's other major urban centres, but its Sunday market has a more authentic feel than Urumqi's. The market covers a large area and the sheer number of traders spread over big shops and street stalls give you a lot of choice. You'll see more Uyghur than Han Chinese faces, but that's rapidly changing. And although the night food market is like Urumqi's, it offers several dishes unique to Hotan–a sweet consisting yoghurt and honey, a snack of cooked rice wrapped in a leaf, and lamb barbeques. My journey to Hotan's Mazar (tomb) of Imam Asim, on the edge of the desert outside the city, turns out as interesting as the tomb itself. One of the locals left his lunch midway to drop me to the right bus stop and explained my destination to the driver, while another almost dropped me to the gates of the Mazar. Despite witnessing hordes of followers on Thursdays, the Mazar is amazingly quiet with only soft sounds of chanting. Xinjiang sees a lot of foreign tourists, but few settle down here. So I was delighted to meet a Malaysian couple, who run a cosy café here for the last eight years; their authentic Malaysian offerings loved by locals and travellers alike. Tourists leave notes of their experiences in a journal that some travellers had left behind.
The ride to Tashkurgan, which at 3,000 m is the last town in this part of China, via the Karakoram Highway is a bumpy one, but the view of the Pamir mountains of the bordering Pakistan is wonderful. What differentiates Tashkurgan from the rest of Xinjiang is not only the military checkpoints, but also the Tajiks (a majority here) who have distinct features and lifestyle. Both men and women wear doppas (hats), young women wear head scarves and embellished doppas, while older ones use pristine, white head scarves with black hats. We travel to the only village where foreigners are allowed, and are surprised to be invited to an ongoing family function (possibly a wedding). We are offered green tea and snacks, and our interactions with the guests resulted in yet another invitation–this time for tea. After enjoying some hot tea and naan, we head to Kashgar in time for the Sunday animal market.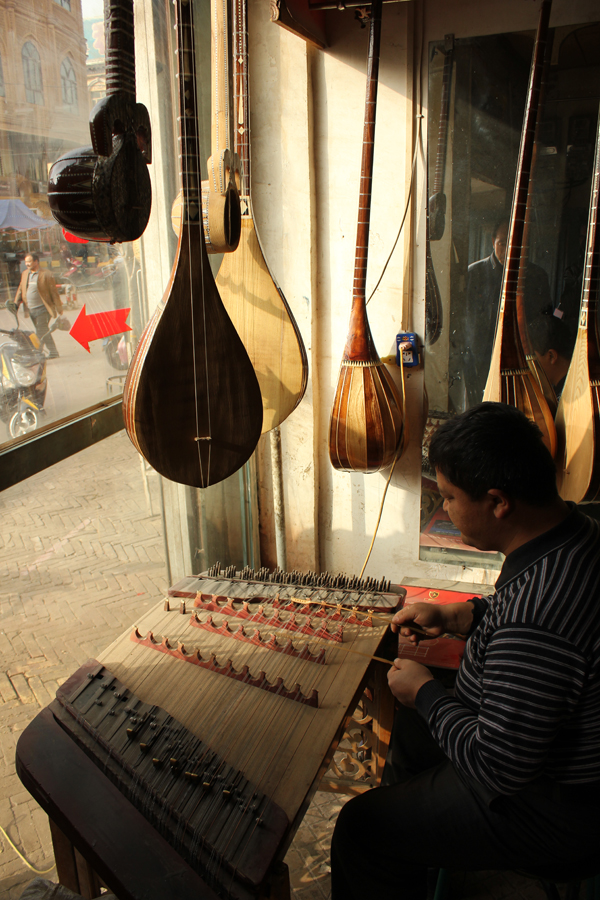 Making traditional musical instruments in Tashkurgan
It's probably the most unique experience of my trip. All kinds of animals: cows, calves, sheep, donkeys, horses, gigantic double-humped camels and bulls that stand as tall as a full-grown man, are traded here. The activity starts early, crowds grow as the day progresses and the bargaining is so heated that you may mistake it for fighting. Kashgar is a true melting pot of cultures, besides the local Uyghurs and Han Chinese, we meet traders from the neighbouring Pakistan, Tajikistan, Kazakhstan and Russia, in the market. Interestingly, Kashgar also sees tourists from all corners of the world—a tourist in my hostel bicycled here all the way from the UK, while I also encountered travellers from Germany, Czech Republic and France. For shopaholics, the local market offers silk scarves, leather shoes, dry fruits, Turkish chocolates and much more. A stroll around the old town is a must. It takes you back a few decades with its small mosques, family restaurants, hat shops and workshops where traditional music instruments are meticulously made by hand. While several traditional buildings are being bulldozed to make way for 'development', you should take a trip here soon to see the remaining ones. Ending my day in peace, I make a final stop to the iconic Id Kah mosque near my hostel.