Kochi-Muziris Biennale 2014 opens in December. Curator Jitish Kallat talks to Gargi Gupta about his role as a purveyor of ideas and concepts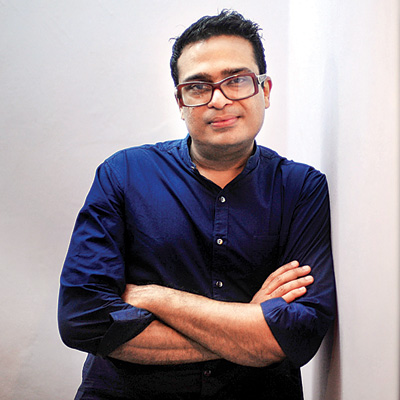 When the first Kochi Muziris Biennale (KMB) opened its doors to the public nearly two years ago on 12/12/12, it was an unknown beast – India's very first artist-led contemporary art biennale held far away from the metropolitan art centres of Mumbai and Delhi, in a coastal town in Kerala.
Corporate sponsors, who help relieve the birth pangs of experimental start-ups in the cultural sphere, were not enthused. There were organisational glitches and whispers of corruption. But when curtains came down on the event three months later, KMB was a thumping success. Nearly 400,000 visitors, many of them from far off places in India and the world, had trooped down to see the artworks by 89 artists from 23 countries displayed in over 60 spaces spread across 14 sites for 96 days.
KMB's second edition begins this December, and there's real expectation – not least because of the reputation of its curator Jitish Kallat.
One of India's most acclaimed contemporary artists, Kallat is perhaps best known for Public Notice 3, an installation in which the text of Swami Vivekananda's historic speech to the first World Parliament of Religions in Chicago, spelled out in large, multi-coloured LED alphabets, was mounted on the Grand Staircase of the Art Institute of Chicago. The artwork's location in the city where Vivekananda spoke, its unveiling on September 11 and its unusual display, ensuring people had to actually walk over Vivekananda's words invoking the unity of all religions, made it a striking piece of installation art. But then Kallat, who began as a painter armed with a degree from Mumbai's JJ School of Art, has emerged as Indian's foremost conceptual artist who uses a variety of media – photography, painting, sculpture, new technology – to shine upon artworks driven by the strength of their ideas.
It is as a purveyor of ideas, of concepts and themes that Kallat sees his role as curator, a hat that the 40-year-old is wearing for the first time in his career. "My methodology has not been to send artists a curatorial note ...but a set of images and ideas as visual, conceptual or historical cues," he explains.
"I began by taking early morning walks. If you are in Fort Kochin early enough, you could easily be 500 years back," says Kallat, whose family is from Trichur in Kerala, though he himself grew up in Mumbai. The walks gave rise to a cluster of ideas centred around two historical episodes – one, the Kerala group of mathematicians who in the early 15th century were working on complex astronomical problems, and two, the arrival of Vasco da Gama and Pedro Alvares Cabral on the coast off Calicut in 1498. "That arrival, navigating a hitherto unknown territory, reoriented the known geography of the planet for the first time. And in that new geography was a sharp turn in history so that the re-organisation of maps also meant a re-organisation of power. So, in the very location of Cochin one can see a nodal point in the evolution of history."
It's been tough since that day in November when a phone call informed Kallat that he had been the unanimous choice to curate the biennale. It has meant travelling incessantly, says Kallat, meeting artists from Tokyo to Brazil. Then there were long email and Skype conversations with artists, discussing ideas and possibilities.
His own work has been affected, but Kallat, who is working without remuneration, had decided early that if he was to do justice to his role as curator, then he had to "stop a lot of other things". In fact, he's kept himself free until the Biennale ends in March before starting any new work. "It has been really rewarding... a time of hard thinking and the flux of conversation with 80 artists from around the world."
Kallat is excited about the possible addition of a new venue, the historic Bastion Bungalow, and a "student's biennale" this year. He finds it exciting that the biennale has catalysed an artistic resurgence in Kochi. "Artists are moving back, collectives are forming such as a recording studio, cafe and artists workshop called Springer and another called Papaya Cafe."
Funds, however, still remain a problem for the KMB organisers, with the money promised by the Kerala government yet to start flowing. But Kallat is not worried."The strength of the biennale is its fragility," Kallat says, "of doing what you can with what you have. The uncertainties of the project make it absolutely rewarding."