A new Bihar government headed by Jitan Ram Manjhi as the 32nd Chief Minister was sworn in here today.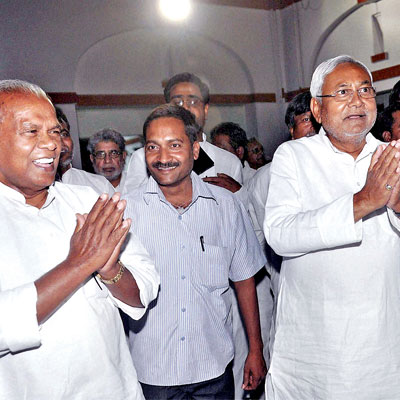 A new Bihar government headed by Jitan Ram Manjhi as the 32nd Chief Minister was sworn in here today.
Governor D Y Patil who administered the oath to Manjhi and 17 ministers at a function at Raj Bhawan directed the new government to seek a trust vote on the floor of the House on May 23.
The new Cabinet comprised all ministers of the Nitish Kumar government.
Vijay Chaudhary was the first to take oath after the Manjhi. Vijendra Prasad Yadav, Narendra Singh, Brishen Patel, Ramai Ram and Bhim Singh followed.
The Cabinet has one woman member, Lessi Singh and a Muslim, Shahid Ali Khan.
Two Independents Dulal Chand Goswami and Binay Bihari were rewarded for supporting the government after it became a minority after parting of ways with the BJP.
Four Independents had voted for Nitish Kumar on a confidence motion he had sought on June 19 last year.
They were Dulal Chand Goswami, Binay Bihari, Pawan Jaiswal and Som Prakash Singh.
Minutes after Jitan Ram Manjhi was sworn in as Chief Minister of Bihar today, Prime Minister-designate Narendra Modi greeted the JD(U) leader and assured support in development of the state.
"Congratulations to Shri Jitan Ram Manjhi on taking over as Bihar Chief Minister....I wish him the very best and assure support in development of Bihar," Modi tweeted minutes after Manjhi took over as Chief Minister.
BJP president Rajnath Singh and the senior party leader Sushil Kumar Modi also congratulated Manjhi.
Nitish Kumar had resigned from the chief ministership two days ago taking moral responsibility for the JD(U)'s poor performance in the Lok Sabha elections winning a meagre two seats as against 20 it had won five years ago.
Emerging from nearly 45-minute swearing in ceremony, Manjhi told reporters that he would seek a trust vote of his government on May 23.
He would expand his cabinet after the trust vote on May 23, he said.
Manjhi said that his priority would be to complete the development work started by the party government under Kumar.
All the ministers after taking oath shook hands with Kumar first.
Kumar seated in between Manjhi and state JD(U) President Basistha Narayan Singh congratulated the ministers.
Legislators from BJP, RJD and Congress attended the ceremony.
Congress which was 4 members in Assembly and 3 in Legislative Council earlier in the day gave a letter of support to the Governor pledging "unconditional" support to the new JD(U) ministry.
BJP MLA and its Chief Whip Arun Sinha said, "It was a state function and not an event of a political party. So to maintain parliamentary tradition many BJP MLAs attended the function."