Singer Isheeta Ganguly fuses Rabindra Sangeet with jazz, gospel music and R&B. She talks to Joanna Lobo about reinterpreting tradition so that it satisfies the purists and excites generation now.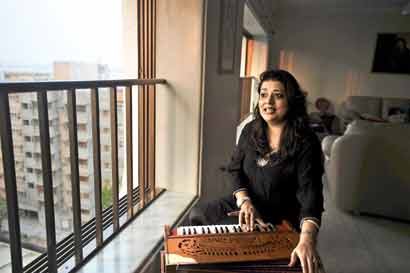 Isheeta Ganguly has a theory about Rabindranath Tagore. "If he was alive today, he would've sat in an East Village café [in New York City], jamming and rapping with other musicians and creating a new sound," she said. The thought of Nobel laureate Rabindranath Tagore jamming offend the more austere Bengali sensibilities, but this doesn't bother Ganguly. She's spent years studying and practicing Tagore's music and that's what makes her imagine Tagore almost as a personal friend as well as eager to challenge the "moralistic Bengali attitude toward traditional art forms".
Ganguly's last album, Damaru— I Feel Your Rhythm, was her seventh. Her first came together when she was just 15, at the behest of her guru, Suchitra Mitra, who is a legendary figure in the world of Rabindrasangeet. In Damaru, Ganguly collaborated with Bollywood music producer Shantanu Moitra and Grammy award winning percussionist Tanmoy Bose. Even the purists were won over by the way pop, gospel music and elements of lounge, hip-hop and electronica were mixed with Rabindrasangeet. Adding a little star power was a guest performance by actor John Abraham on Bande Mataram which Ganguly mixed with Tagore's famous poem, 'Where the Mind is Without Fear'.
The melodies of the Rabindrasangeet don't change in Ganguly's interpretation, but the arrangement does and often, she adds English lyrics. One of her more popular numbers Ekla Cholo Re (Walk Alone) — she did it before Kahaani, incidentally — has inputs from electronica producer Phil Levy and Ganguly added a few hip-hop style lyrics of her own. "Given that Tagore himself was a big fan of African music and their instruments, I think he would have loved the jazz elements used with his work. He was, after all, all about pushing the boundaries," she said.
And this Sunday, as Ganguly takes the stage at The Kala Ghoda Festival, she hopes her renditions of Ekla Cholo Re, Damaru and Where the Mind is Without Fear (featuring a recitation by actress Shabana Azmi), she hopes her music will make the audience rediscover Tagore.