Jantar Mantar, Hava Mahal, Amer Fort, City Palace, Albert Hall Museum — when you skip the usual tourist destinations, you're in for a treat discovers Averil Nunes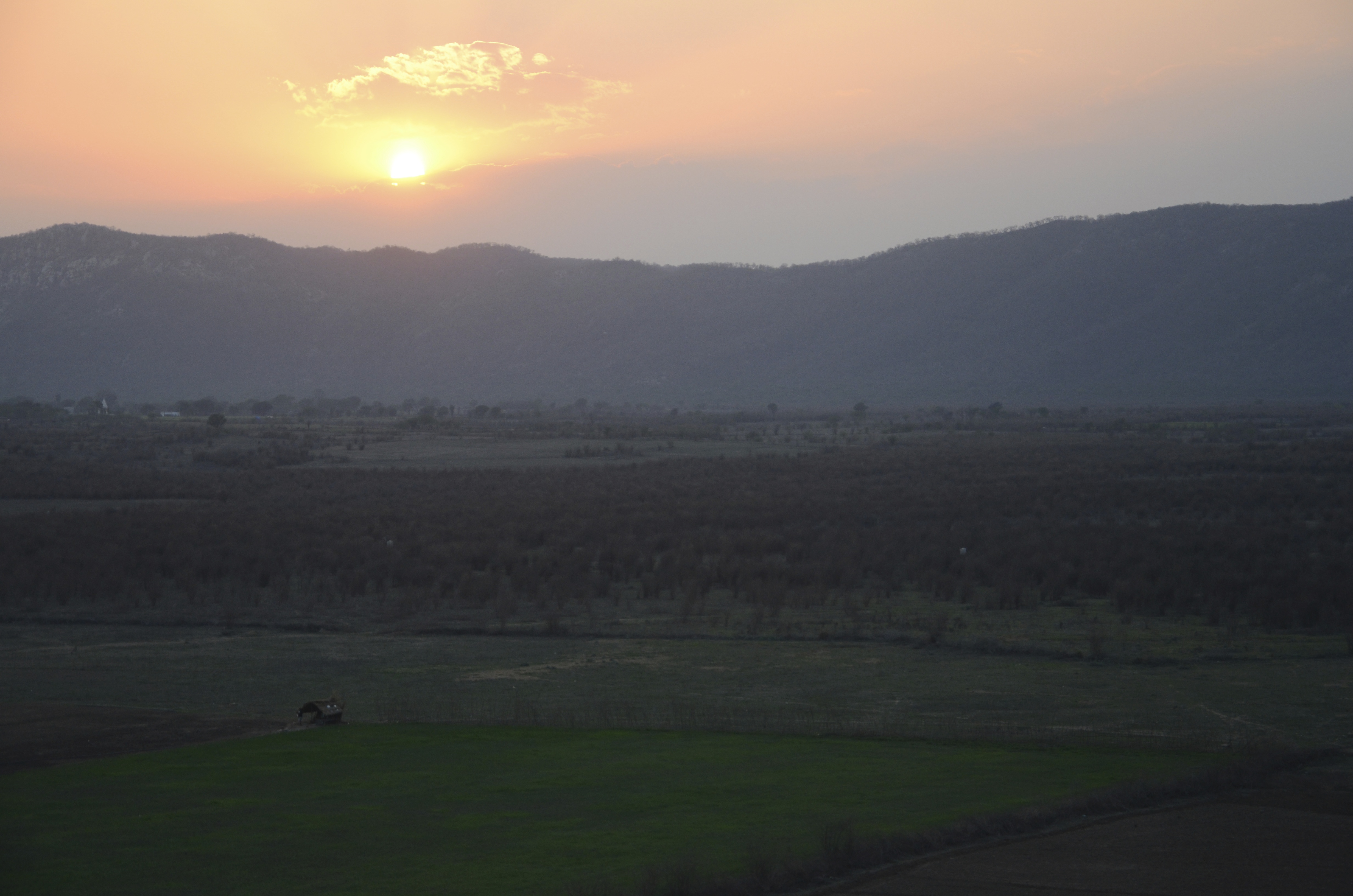 Above: The manmade lake that once hosted the watersports in the 1982 Asian Games has dried up beyond recognition. Vegetable fields are what you'll find in its stead
The Jaipur Airport is truly international, perhaps not so much in terms of size, as ambience. As the taxi zooms out of the airport along wide roads uncluttered with traffic, it's easy to draw comparisons that show Mumbai in a not too favourable light. But since we've escaped Mumbai, at least for the weekend, lets steer clear of comparisons and focus on the road ahead. And right in time, for here's a camel crossing the street with all the composure of the Queen of England. Her long lashes blink nonchalantly as she carts two men and what looks like a load of chopped wood. Chopped wood? Wait a minute! Isn't logging banned?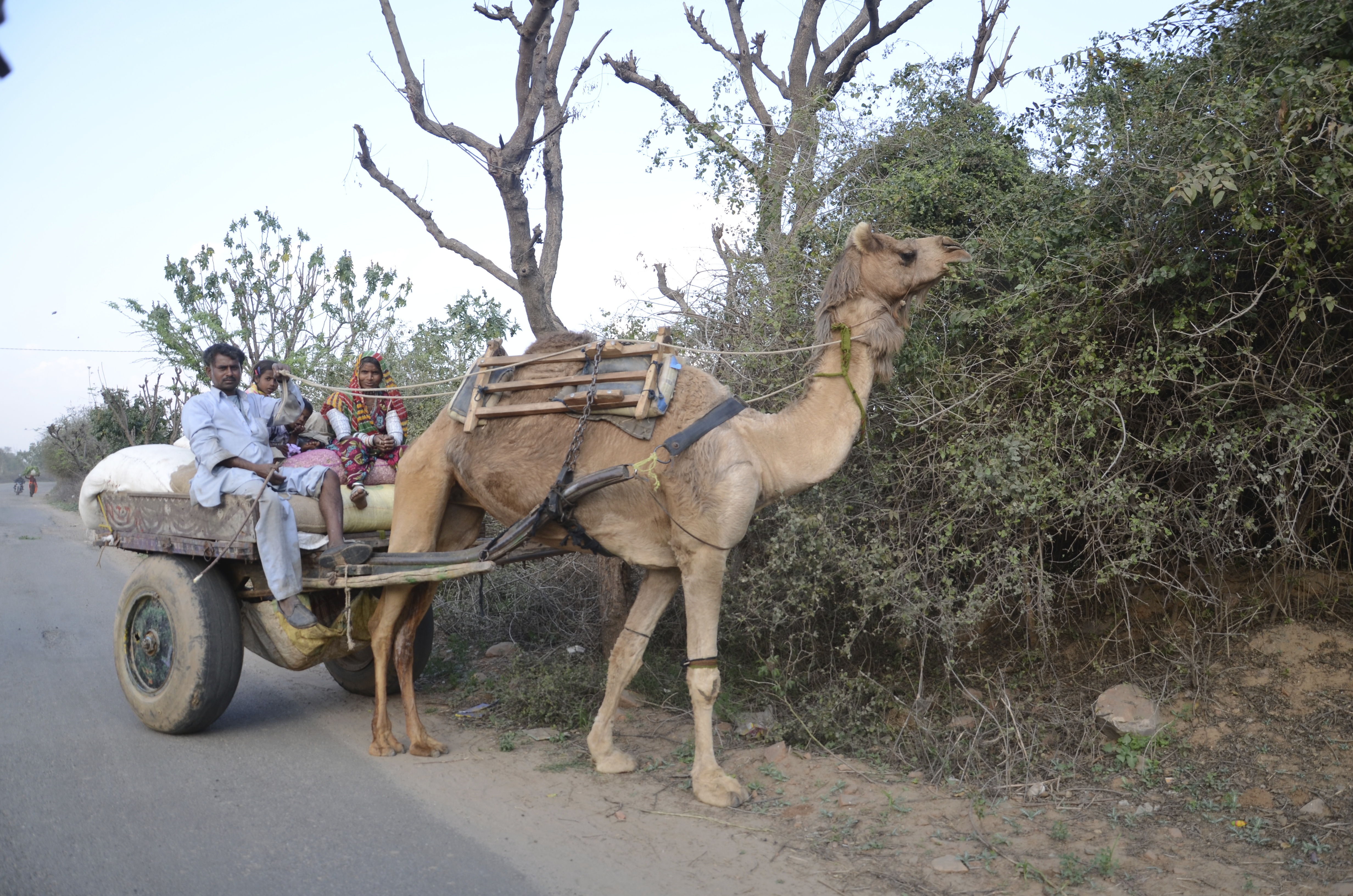 A camel with a Banjara (gypsy) family visited the mela with salt
The smooth roads that we were envying, give way to more pitted, scarred ones, the further we get from the city. I sink into the most comfortable position for window watching. It's going to be a long drive to what was once the hunting lodge of the Jaipur Royal family, in Jamwa Ramghar. We pass trucks of cattle making their way to and from market, homes where cows are being milked and children are inventing their own games. Villages come and go at their own sweet space. Perhaps the best part of steering clear of the city is the miles of uninterrupted sky that soars above us.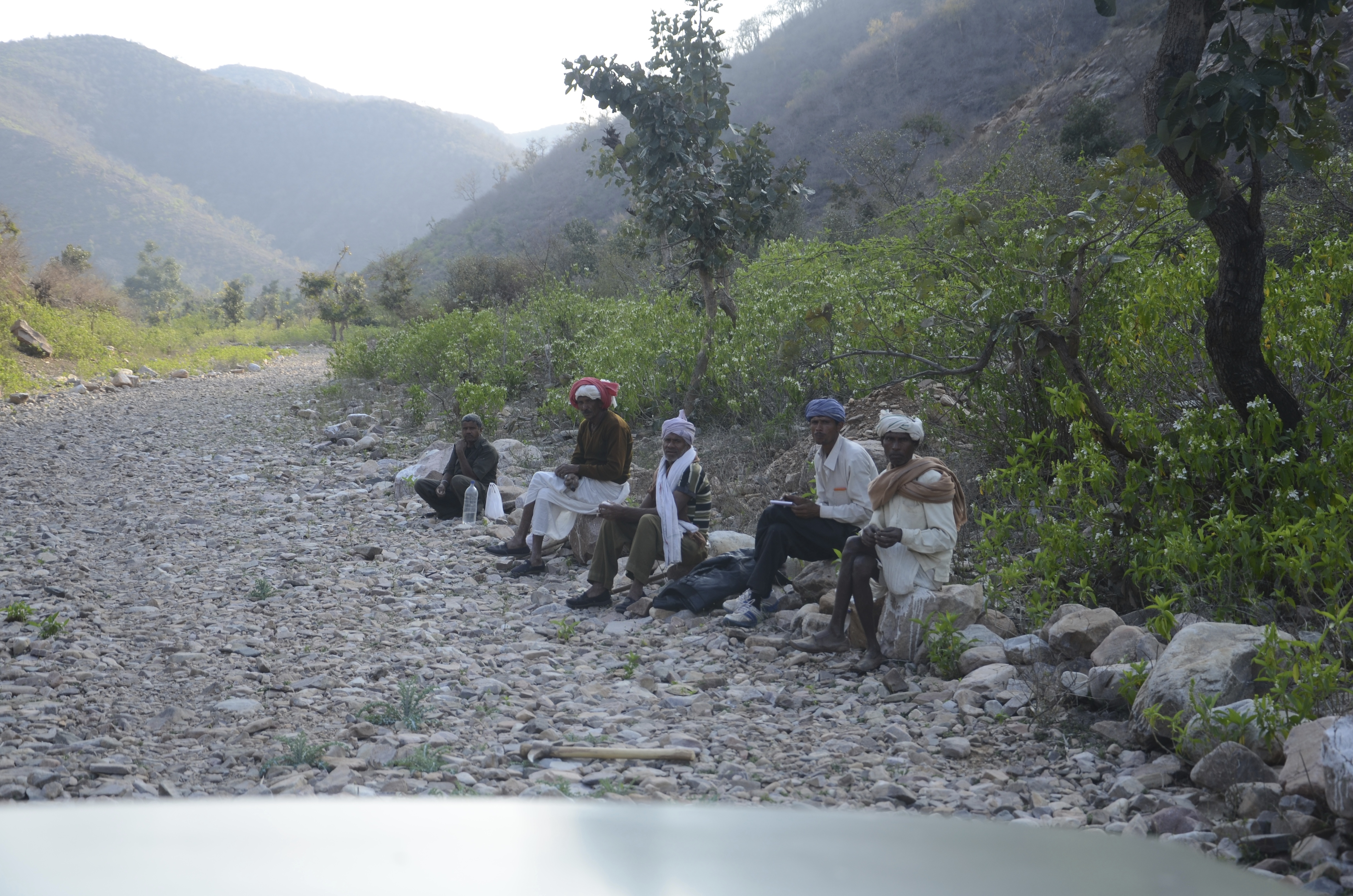 Taking a break from work
The monkey population increases the closer we get to our destination; the primates appear to be quite at ease, living in such close proximity to humans. We drive past a dam, which bears the customary notices about not swimming past 7.00, though the dam hasn't really had much water for many years now.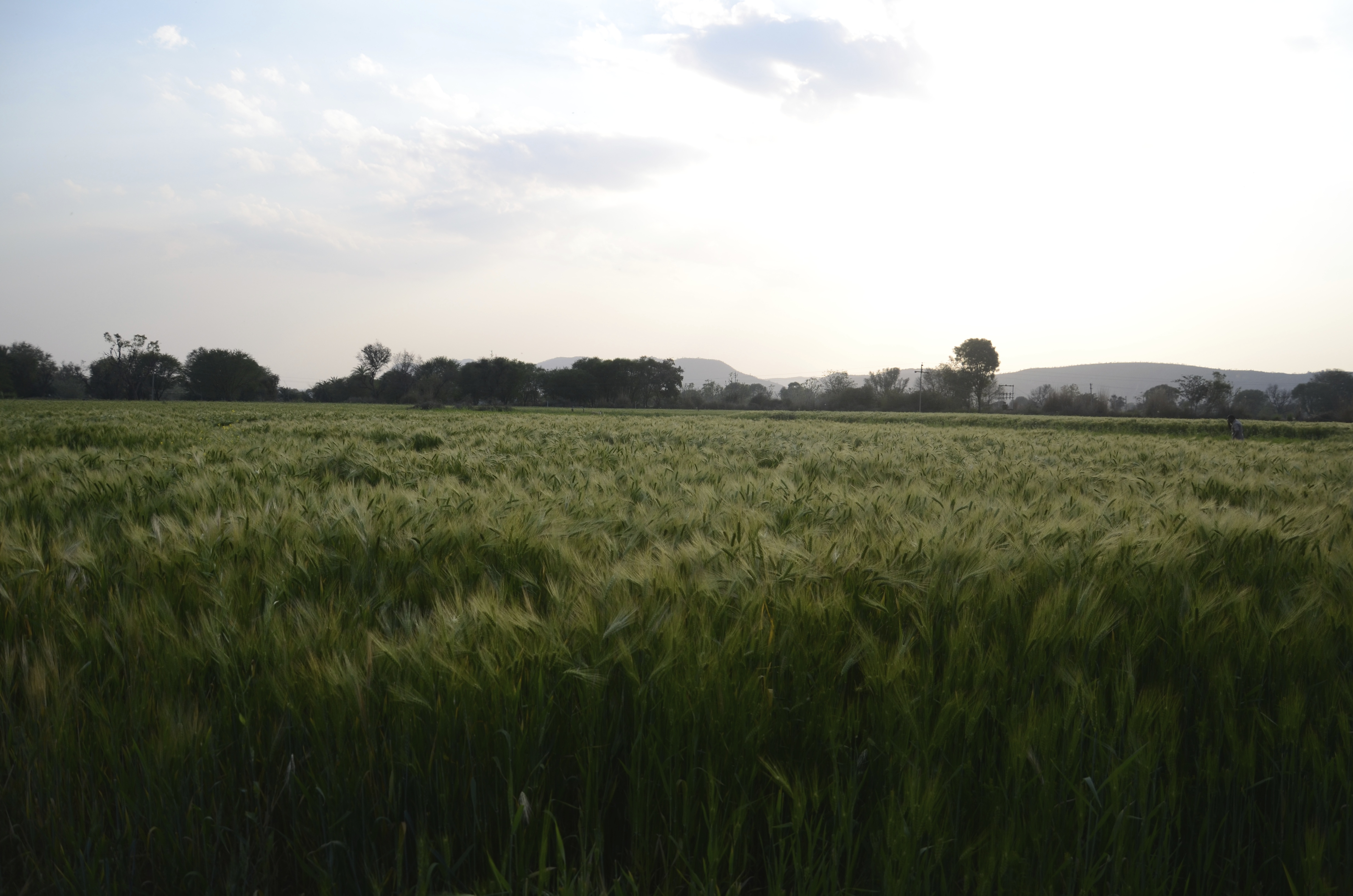 Fields of gold and green
A few seconds later, Ramgarh Lodge, now a Taj Gateway Hotel, bears an understated yet warm welcome. Here, it's the sheer expanse of space, both within and outside our suite, that spells luxury. Stuffed lions and bears in glass cases, tiger skins stretched across walls, mounted heads of rhino, dear and a whole lot more... there's no doubt that this lodge, which often hosts corporate conferences, has housed it's share of hunters and huntresses. Cooch Behar 1-4-45 reads the paint below a stuffed head. This one seems to have come from the homestretch of Maharani Gayatri Devi.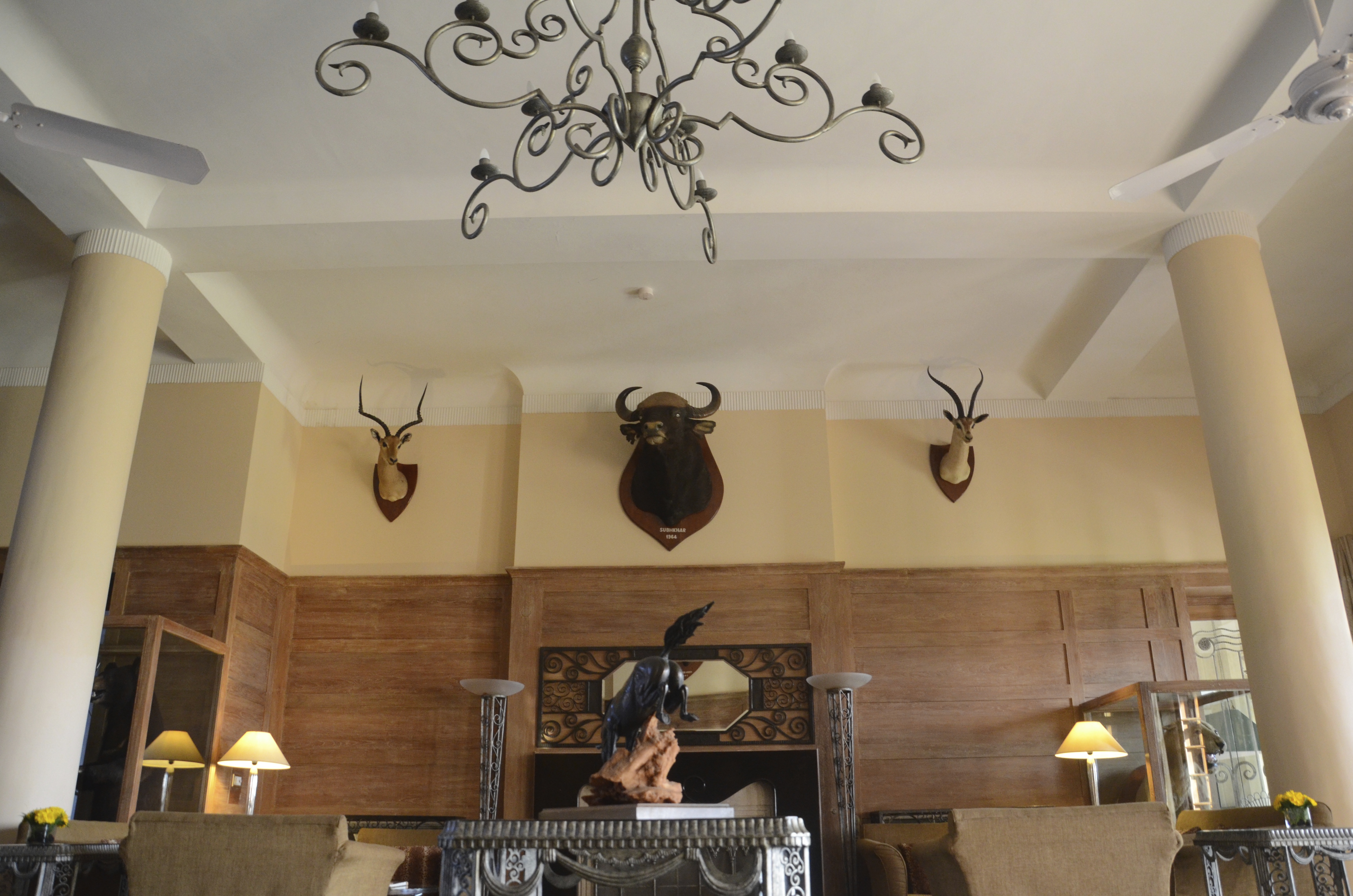 The reception of The Gateway Hotel, Ramghar Lodge, Jaipur
After a few sips of cooling lime water, we head to the local school. A peek from the jeep reveals a crocodile sunning himself at the edge of a rocky pond. A few minutes of riding through the rickety lanes of the village and we're at the school which teaches children aged 4 to 17. Today, six of the eight, teachers who usually manage the children are on election duty elsewhere. Left to themselves, the younger kids sit and entertain themselves on a circle of cement surrounding a not-too-old tree, while the older ones are engrossed in teaching themselves how to navigate around the two functioning desktops (a third awaits an engineer's attention) that the school has; none of which are wi-fi equipped. Not that the kids miss this. Surprisingly, there is no squabbling.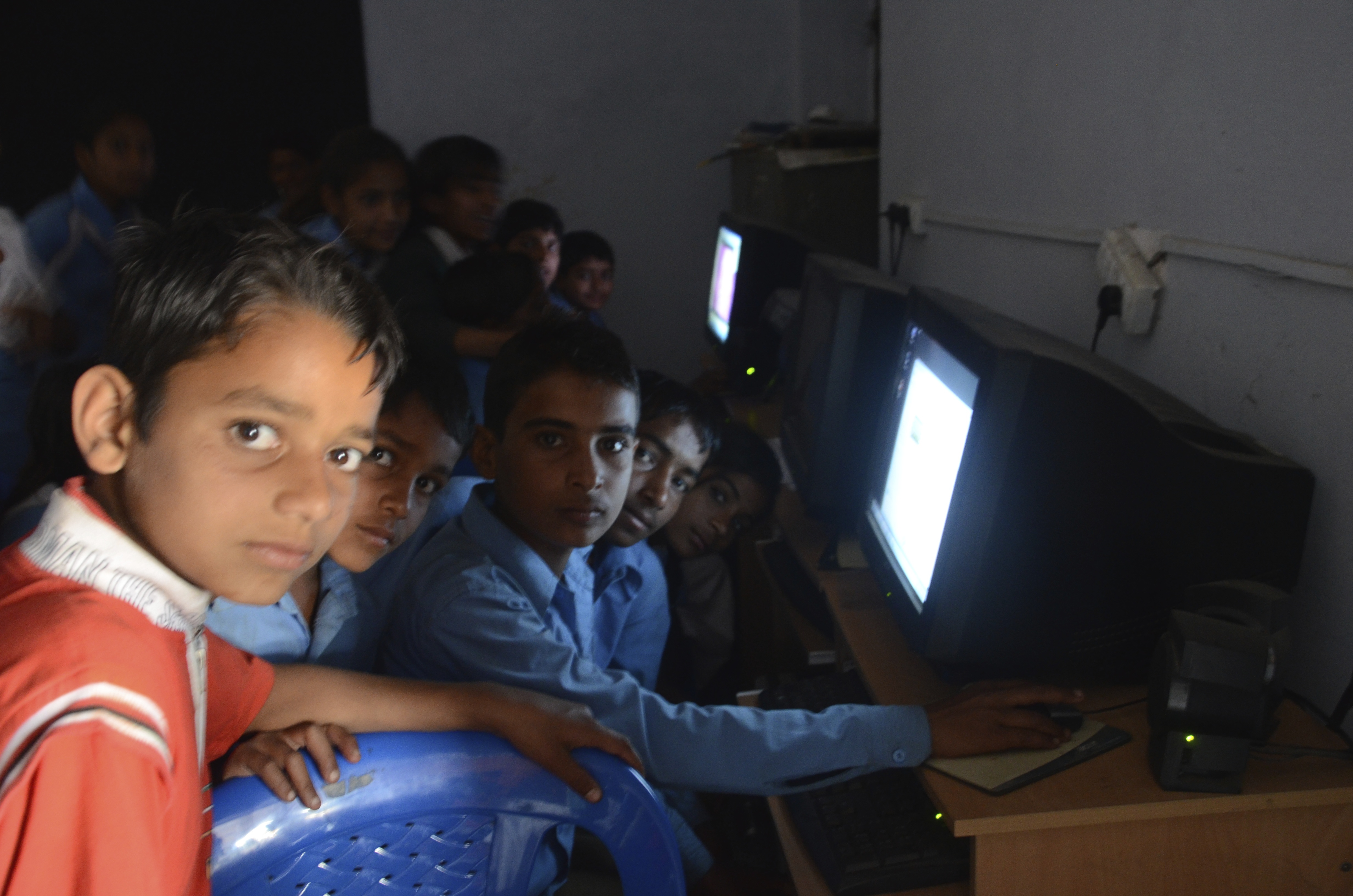 Teaching themselves how to navigate through the digital world

In another class, extra lessons are underway in preparation for the boards; though given the elections, no one is quite sure whether the boards will actually happen on the designated dates. With harvest season determining migration patterns, quite a few of these children will be miles away from here in a few months; perhaps in another village, which may or may not have a school. The education cycle breaks without so much as a sigh, leaving us to wonder if the cycle of poverty will ever do so.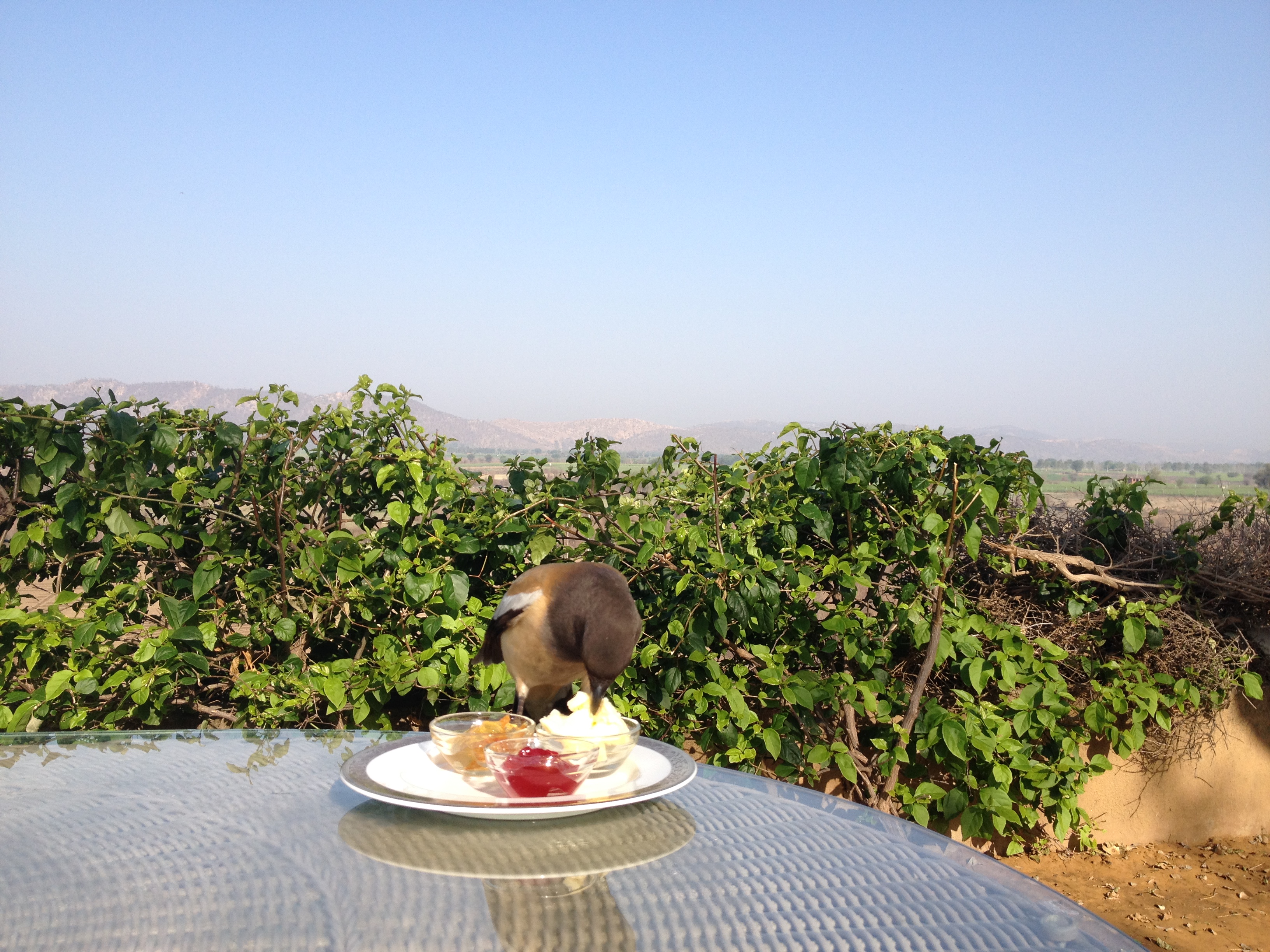 A treepie steals my butter
Peacocks, wild boar, a red-wattled lapwing, a treepie stealing your butter... this is the sort of place where you'll see a lot if you're paying attention. Look carefully and you'll notice that paths are being cut into the surrounding hills, which are still home to wild animals. Are we just paving the way for more destruction?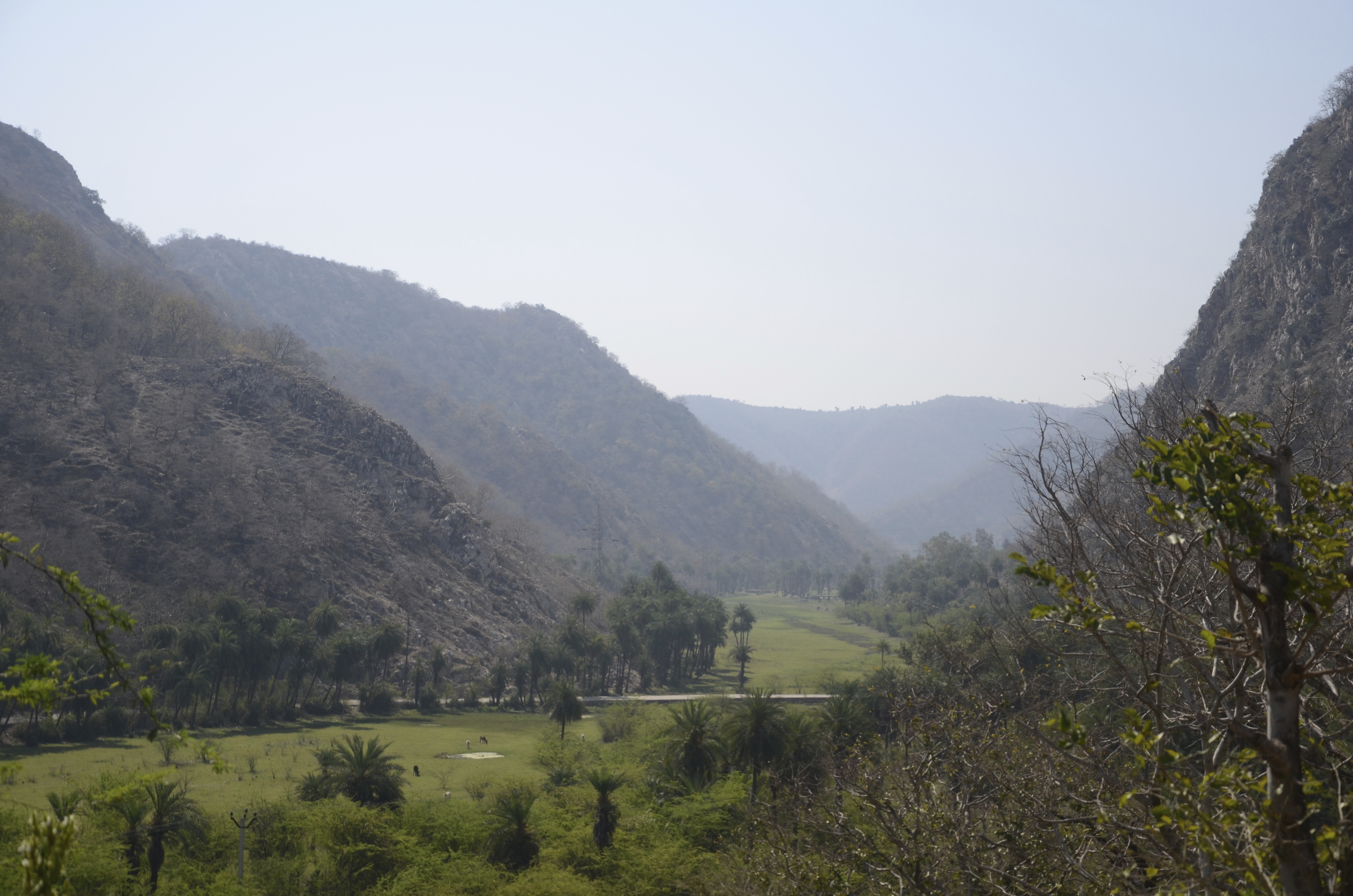 A valley that runs through the Aravallis
We head back to the lodge in time to catch the sun sinking behind what was once the man-made lake that hosted the watersports for the 1982 Asian Games. Where 32 years ago there were rowers flexing powerful shoulder muscles as they pulled towards the finish line with all their might, there is not a drop of water. The lake which once overflowed in abundance, ran dry somewhere around 2000. Now, fields sowed with the hope, stretch all the way to the Aravallis, as temple bells toll into the twilight. Poor water management and thoughtless exploitation of groundwater resources, through tube-well could well be the next big threat to agriculture here.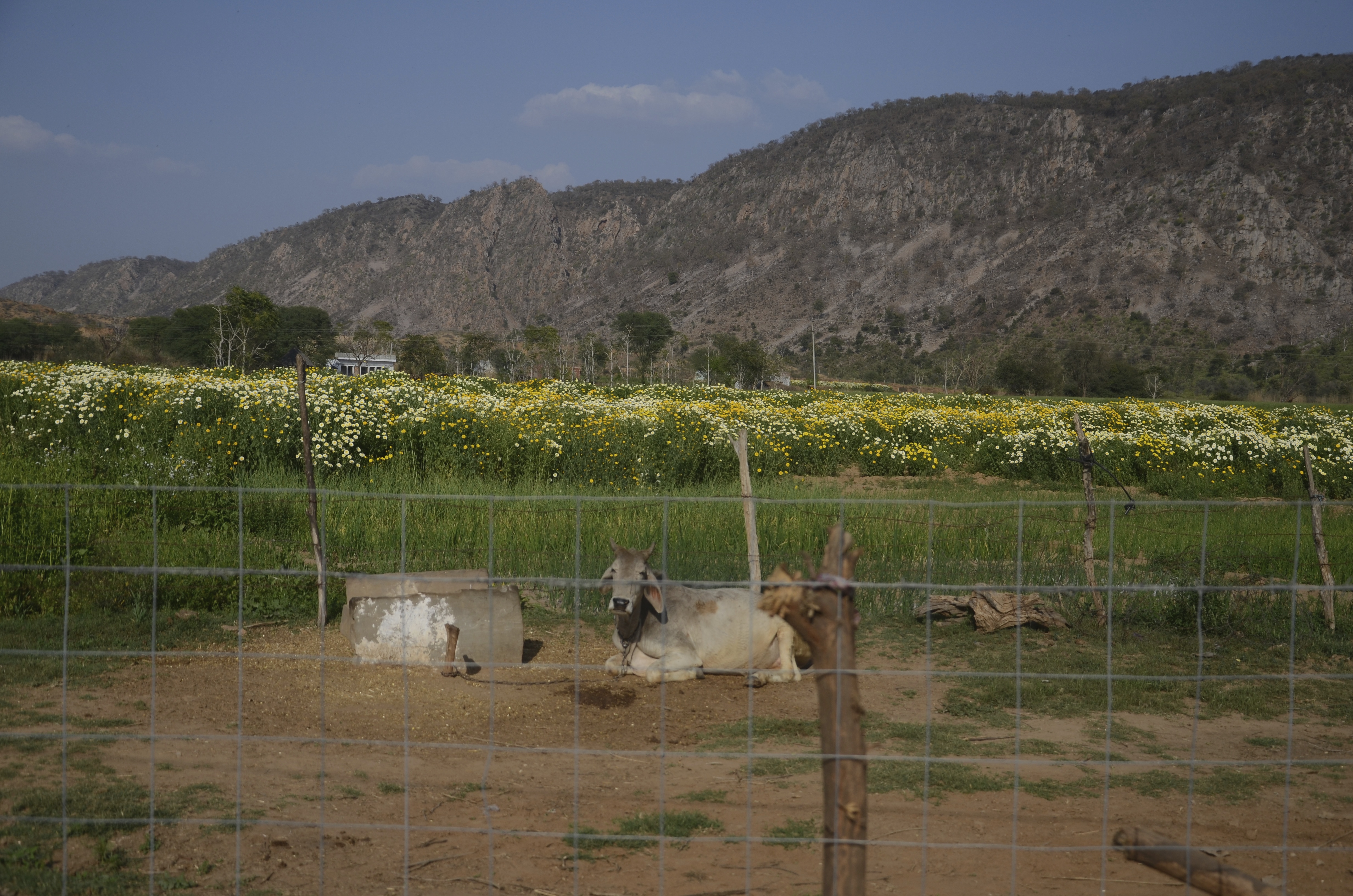 Resting among marigolds
A ride through the villages the next day takes us past fields of marigolds and roses, not to mention organic farms that grow everything from carrots to Chinese cabbage. Need an organic way to keep pests at bay? Cow pee, neem, soapnut and garlic amongst other things are the ingredients of the natural pesticides used here.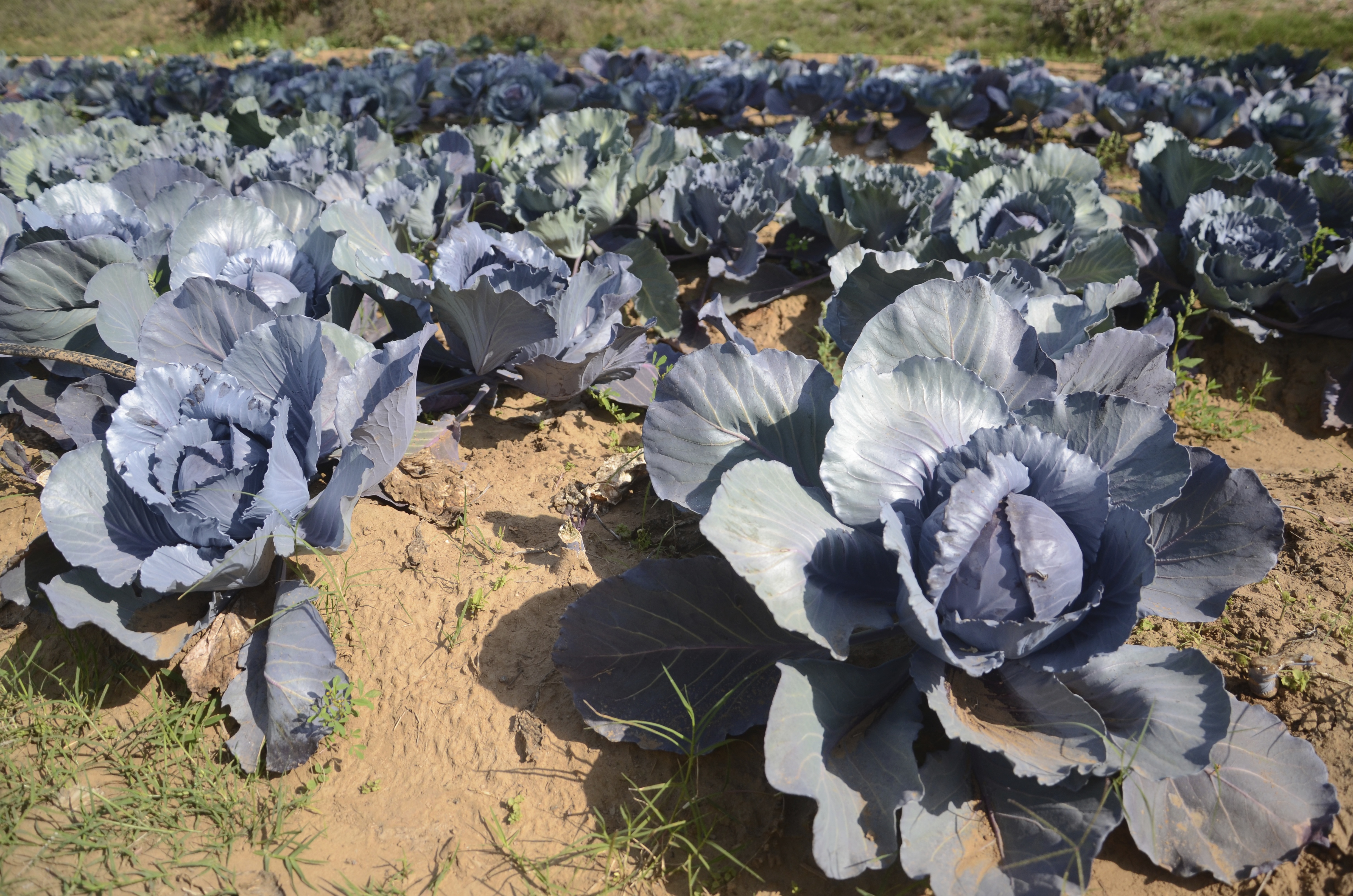 Organically grown Chinese cabbage
At the mela held in honour of Baki Mata, in the village of Raisar (about 20 minutes away by jeep), girls and women who are usually not allowed to go anywhere without a male companion, walk about with a freedom unusual for this conservative locality, buying everything from mangalsutras to iron sickles.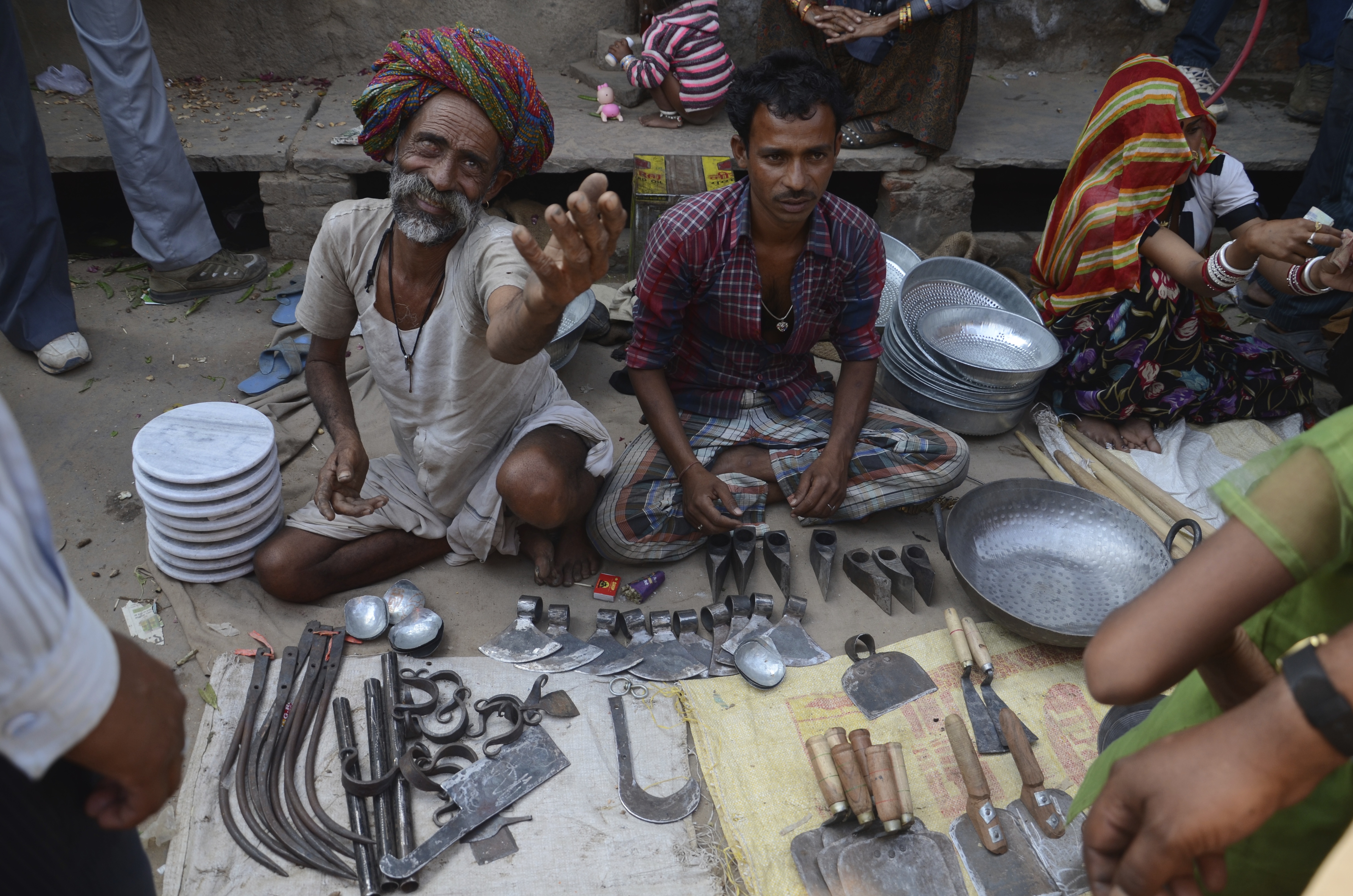 Iron on sale at the Baki Mata mela
Speaking of iron; every other blanket spread out here appears to sell iron in some form or another—locks, keys, knives, sheaves... Then there is a lac bangle maker, the usual toy-sellers and more.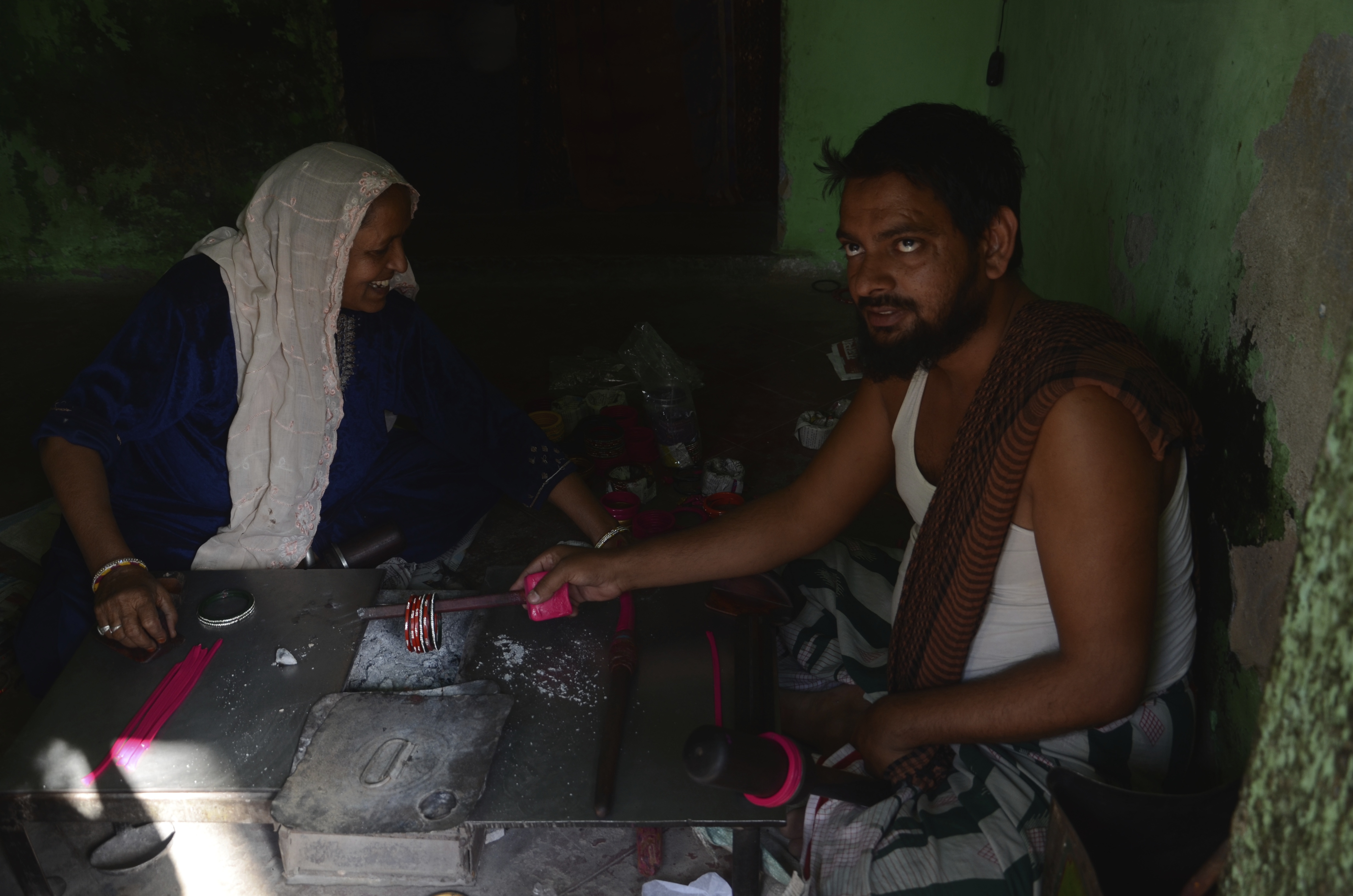 A traditional bangle maker
Oddly, there's no sign of the carpets, like the one we saw on a loom outside a village home last evening. But then, those would probably earn more if they find buyers outside the village. The balconies that line each side of the street are as crowded as the lanes hosting the mela—people-watching is clearly a village hobby.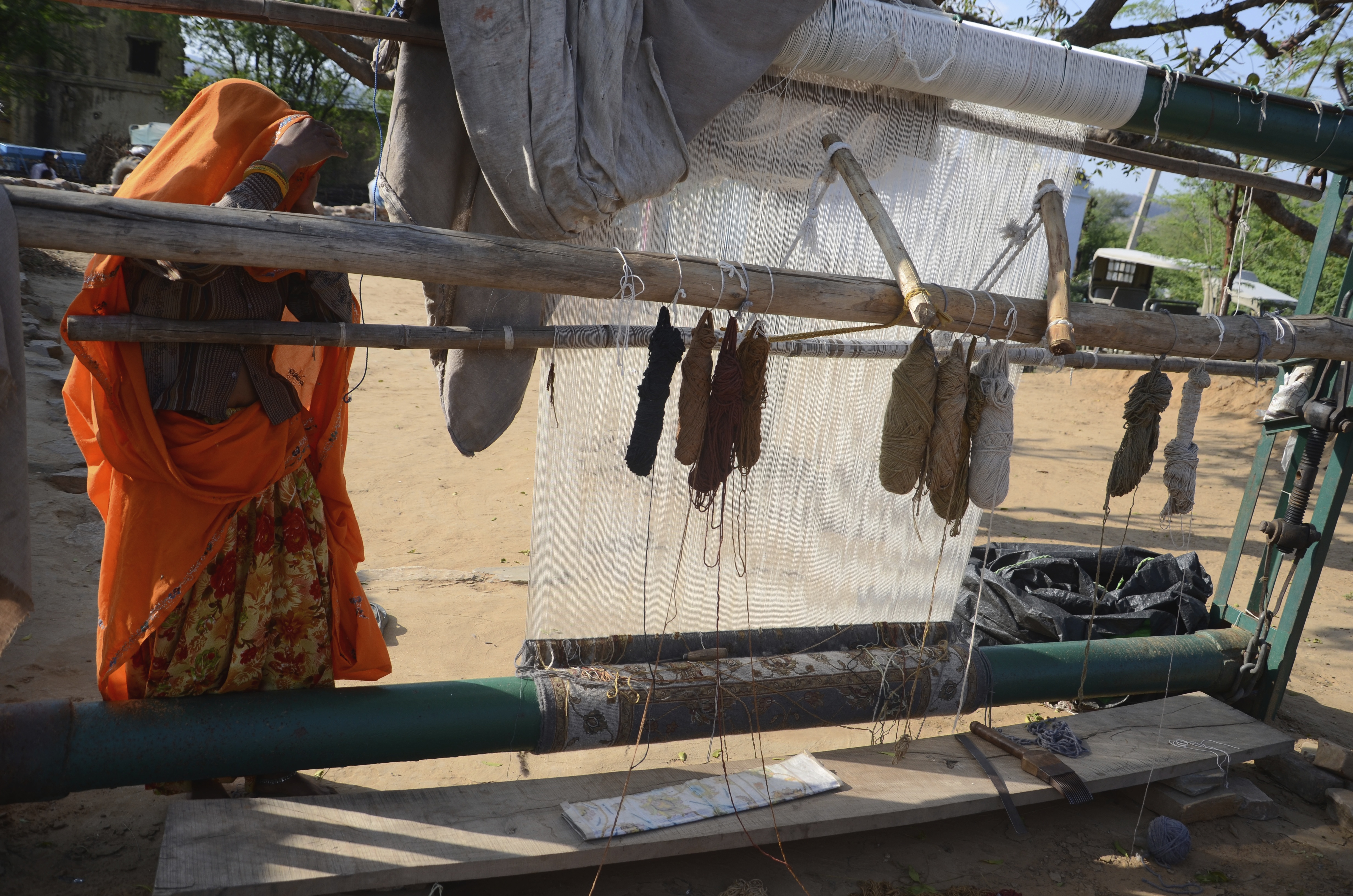 About 200 rupees a day is what you can expect to earn for spending a month or two making a carpet like this one
As we find a short-cut out of the fair and back to the main road, it's hard not to see the beautiful homes that have fallen into disrepair. Fading paint, weathered architecture, nary in soul in homes that were once brimming with people and laughter. A story that would ring true in a lot of Indian villages.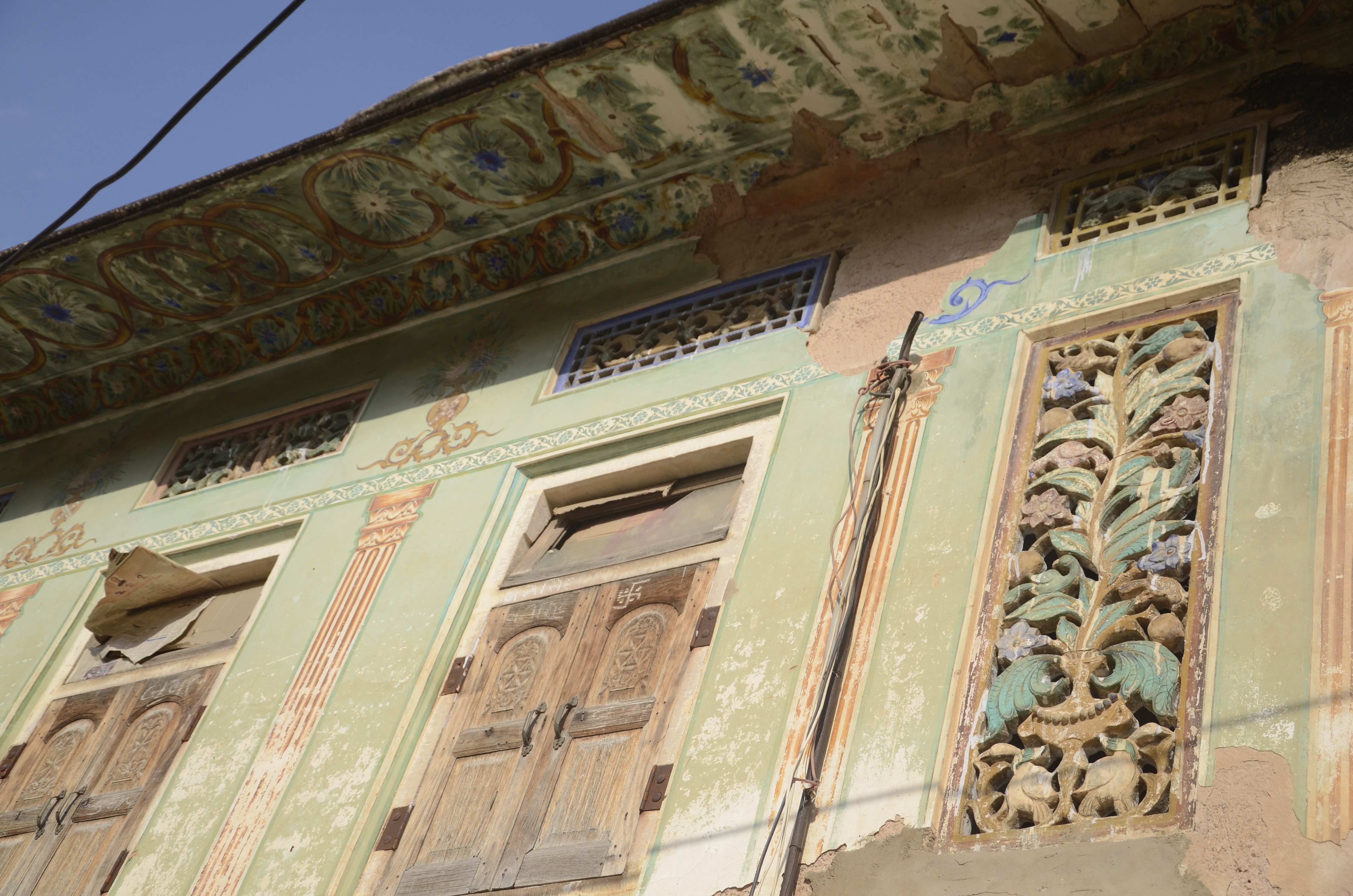 Beautiful old homes lie vacant and forgotten—innocent victims to time and neglect
Back at the lodge a traditional dinner awaits us. Lal maas, ker sangri, methi mangodi, gaata ka saag, kadi, hari dal, bati, churma, kheer, papad ka sabzi, pitod, cheelda, tarpole, chilli garlic paste... that's a culinary overload designed to send me straight to sleep on a sated stomach; but not for long.
The stars are close to the earth when I leave for the airport before dawn the next day, making me glad that this trip to Jaipur, did not follow the typical tourist path.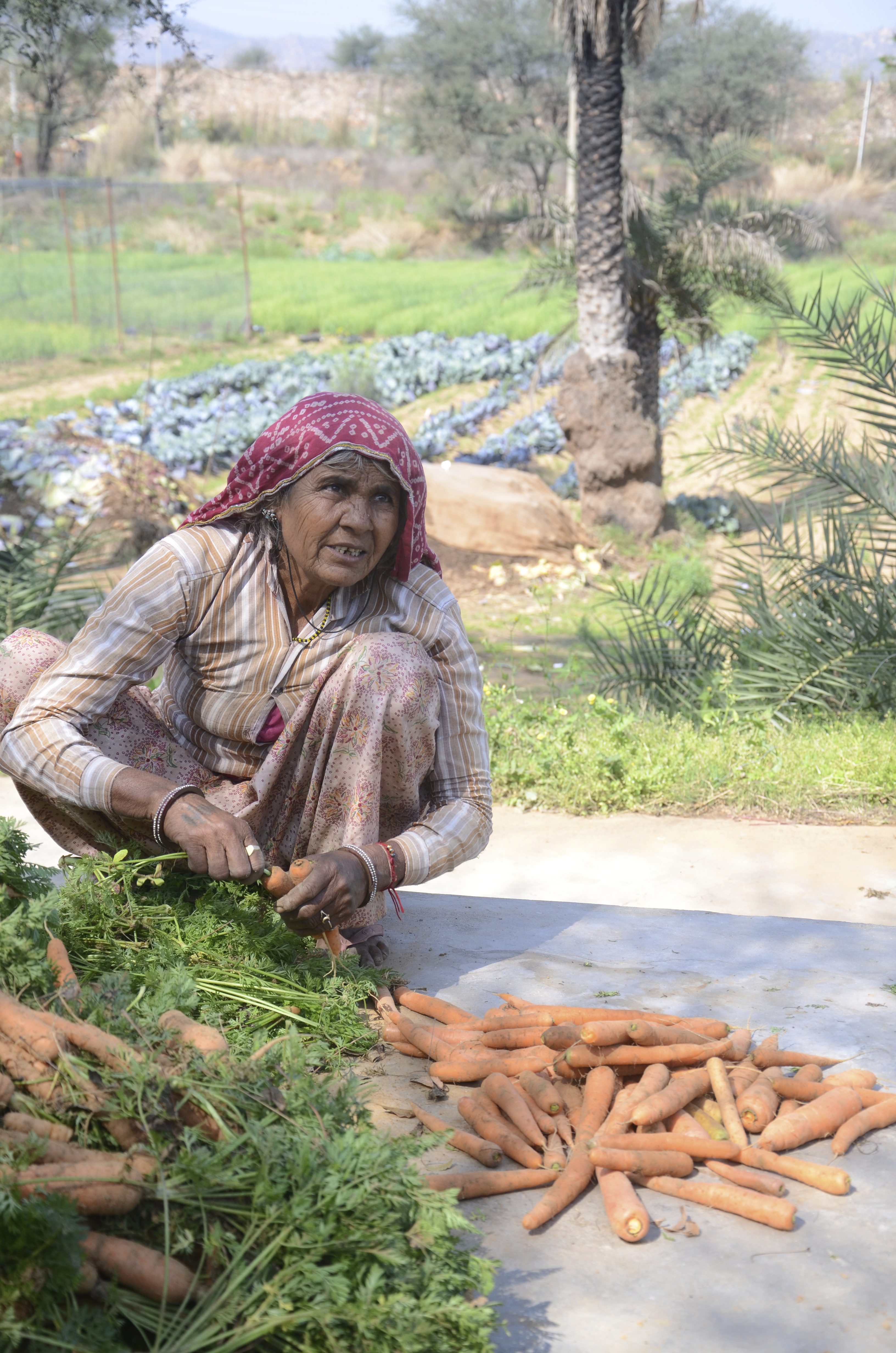 Choice pickings from the carrot patch