Showing the inherent racial streak running just below the surface of Indian society, a 'collaborative' film turns the lens on Delhi's urban village, Khirki, the home of many an African expat, Gargi Gupta reports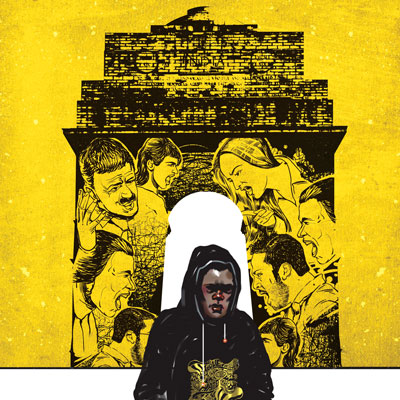 Driven out by the civil war in his country, 33-year-old Ivis, an Ivory Coast national, came to India in 2007 and settled down in Khirki Extension, the south Delhi locality where most of the capital's African community lives. "India is a cheap country," he explains, cheaper than Europe or the US where he could have gone under the United Nations refugee settlement programme, and it was easier to get an Indian visa.
That was the calculation. What Ivis hadn't bargained for was the everyday racism that would make life so tough in India's national capital.
"The other day, I was in an auto when a boy came asking for money. I gave him Rs10; then his mother came along, so I gave her Rs20 too. Soon, there was a crowd all asking for money. When I said that I didn't have any more, they turned on me and started calling me kalloo, kalloo c****," Ivis says, his face twisted in disgust and anger.
His testimony is part of Cry Out Loud, a 'collaborative film' made by Ethiraj Gabriel Dattatreyan, a PhD scholar in anthropology at University of Pennsylvania, and four Somalian youngsters who live in Khirki — Hassan Abdi, Ahmed Ex, Young Hafes, Abdullahi Idris, and Abdul Abdulkhadir. A rough cut of the film has been shown at Khoj, the experimental arts space located in Khirki.
This is the community, and this is the locality at the centre of a massive controversy early this year when Somnath Bharti, law minister in Delhi's short-lived Aam Aadmi Party government, conducted a midnight raid on an apartment where he alleged African nationals were running a sex racket. It caused a furore, with accusations of racism levelled at Bharti (he had to step down) and residents of Khirki Extension, who alleged in turn that the Africans fought on the streets, peddled drugs, and ran prostitution dens in their apartments.
One of the many 'urban villages' that dot the national capital, Khirki Extension has seen rapid change in the past four-five years because of four upmarket malls that have come up nearby. Though it retains much of its semi-urban look, with narrow, potholed lanes lined with ill-planned, badly constructed multi-storey buildings, there has been an influx of new residents — labourers from the rural hinterland who work in the malls, call-centre employees who can afford the moderate rents here and expats, primarily Afghans, but also Nigerians, Congolese, Somalians and Ethiopian. While the house owners have benefited, because they get higher rents from the foreigners, especially Africans, the changes have perhaps been too rapid for their conservative mindsets. And it is the Africans — perhaps because of Indians' inherent bias against the dark-skinned — who have got the worst of it.
The issue hit the national spotlight after Bharti's raid. But that wasn't the first time relations between the Indian and African residents of Khirki Extension became rancorous. Dattatreyan, who has been working on the documentary for the past 18 months, shows one earlier incident in May 2013 when the police had to be called in because the original residents objected to African 'restaurants' staying open after 11pm.
Restaurant is a grand name for these casual eateries, run mostly by women in a room of their apartments with sofas lined against the walls and some tables where they dished out home-style fare for students and single men, and some beer on the side. Needless to say, these have closed down now, as have the hair-styling joints catering to African nationals.
One young man from Somalia has lived in India since 1998, and speaks Hindi and English much better than he does Somalian. This aspect of the documentary — exploring their lives here, detailing where they shop, where they meet socially, what they do for a living, and their general fascination with Bollywood — is interesting but it gets overshadowed by the more sensational bits about the shamefully racist jibes.
One thing the 'outsiders' in Khirki Extension all agree on — Delhi is worse than other Indian cities like Pune and Hyderabad. That should give Dilliwallahs something to think hard about.