Fusing contemporary relevance with traditional aesthetics, young designers are giving everyday furniture a quirky twist by using Indian motifs and craft techniques. Gargi Gupta takes a look at the luxury of the unusual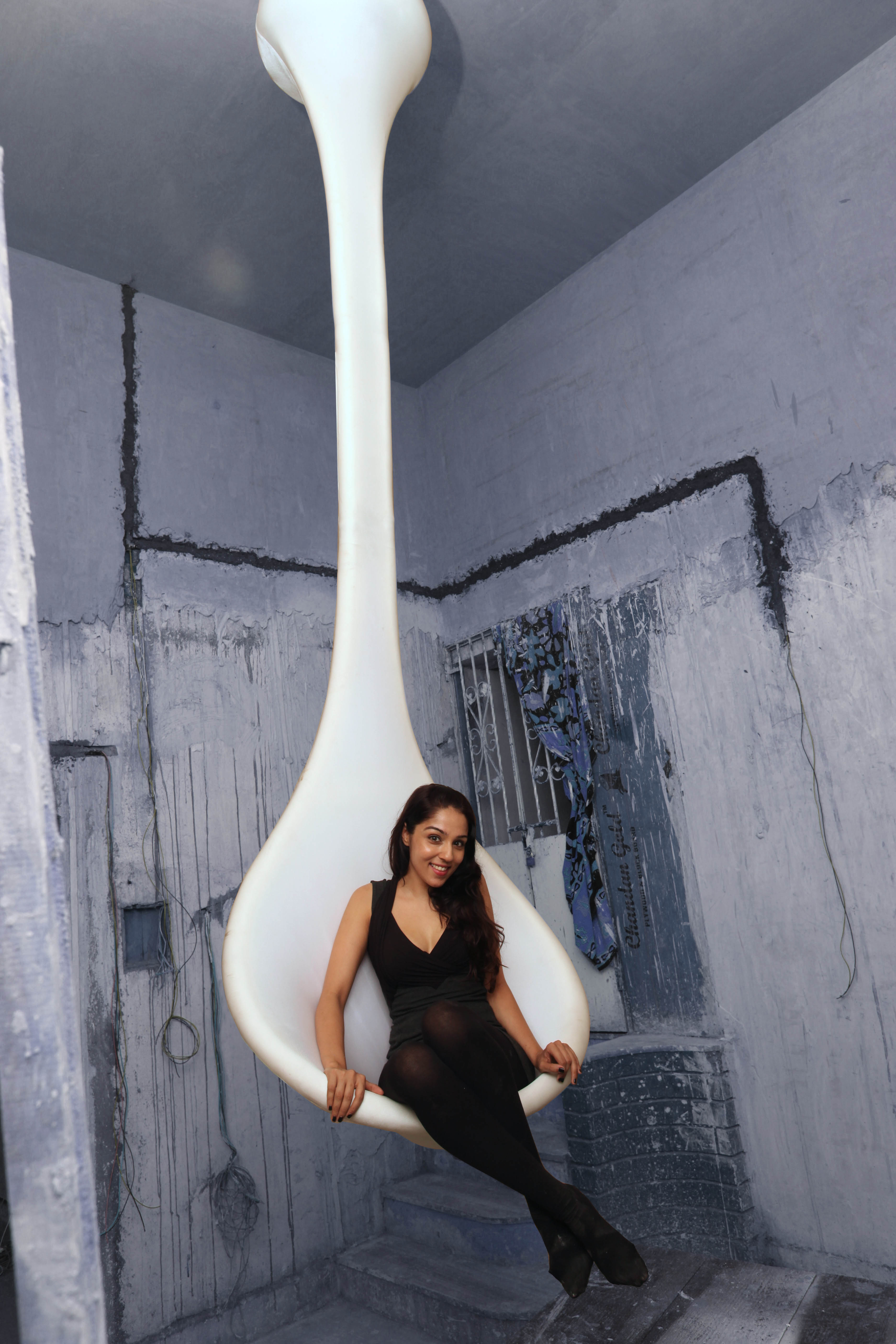 A chair is a chair, a table is a table...but in the hands of Ayush Kasliwal, Gunjan Gupta, Srishti Bajaj, Lekha Washington and Spriha Chokhani, they approximate works of art. This bunch of young Indian designers, trained at NID or at design schools abroad, look at furniture as more than purely functional objects. They inject it with quirkiness and playfulness, and use and fuse unusual materials to give a fresh twist and new vigour to commonplace objects. The five are also united by their clever use of Indian motifs and craft, not just to decorate or embellish objects but as an integral part of their creation. The result—their products stand out in the international market for being 'Made in India' and the artisans benefit too; these 'designer' products are tools of empowerment, opening up a world of new opportunities for crafts that have been dying for lack of a market.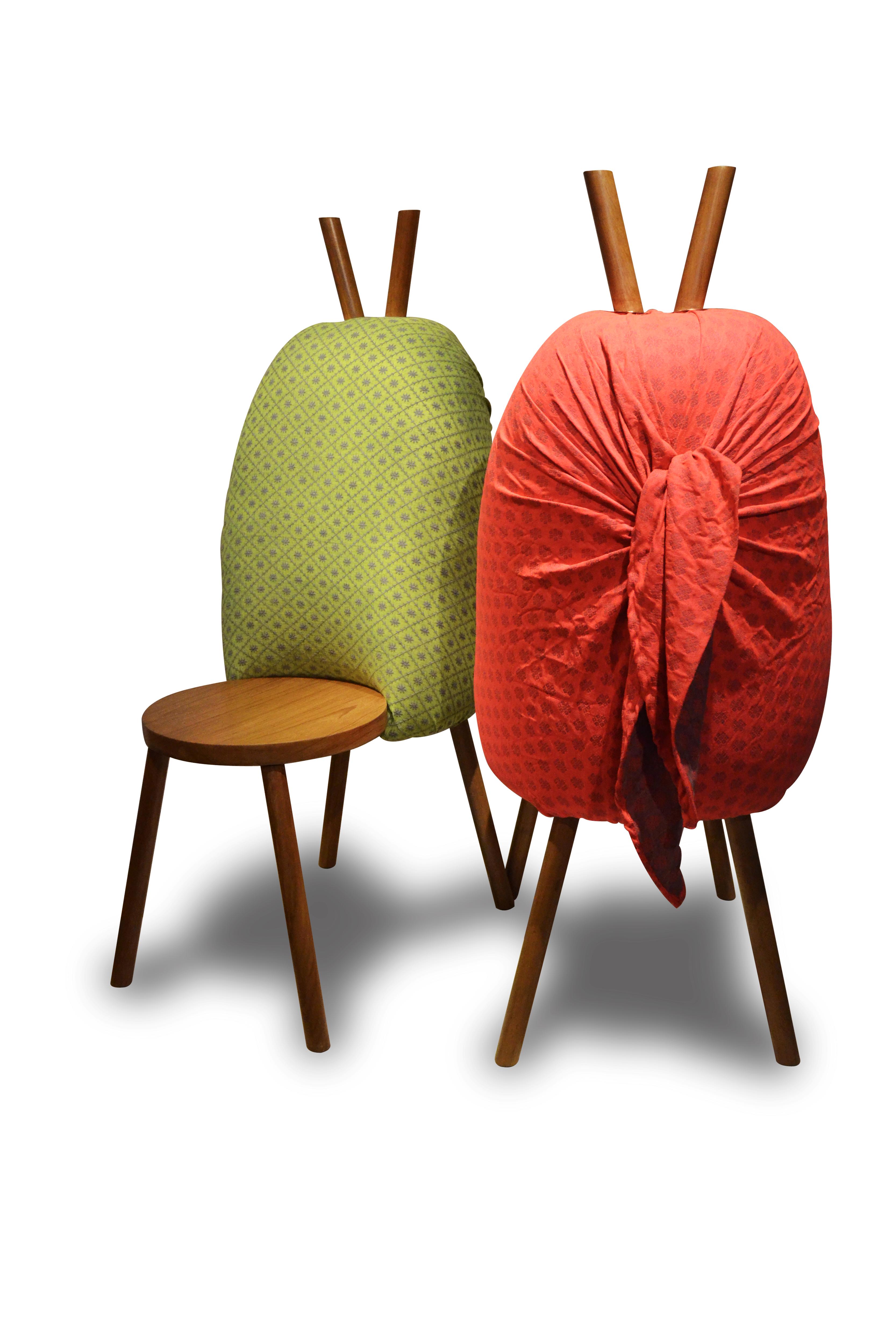 Gunjan Gupta
One of India's designers quickly gaining a global reputation is Delhi-based Gunjan Gupta, who rose to fame with her Golden Throne line. In this collection, she wrapped chairs in thin sheets of gold and silver using warq, a traditional craft practised by artisans in Jaipur and Udaipur. Her recent collections make use of Indian street aesthetics including bori (jute sacks used to store grains) in a sofa seat and the potli (laundry bundle)in an overstuffed chair back. Then there is the gadda (mattress roll) that becomes a daybed. The Subodh Gupta-esque bartan chair uses differently-sized aluminium and brass cooking pots for a 'functional installation'. These will be part of a collection showcased in Milan in April and Art Basel in June 2014—another feather in the cap of the young designer who curated India's first Design Exhibition for the Experimenta Design Biennale in Lisbon in 2009.
Lekha Washington
This Mumbai-based actress also designs 'odds products' under the label Ajji. For now, the range includes one-off pieces that add a splash of colour and fun to a room. Ajji products are not just visually playful, they also have funky names such as the Pink Sink—a chair that does not look like one, it's just a loop of moulded stainless steel covered in bright-pink stretched lycra, which most people think wouldn't support their weight, but it does and is comfortable too. The Dot looks like a circle of bright fabric mounted on the wall, but it is actually a wall-mounted chair.The Drop, a dramatic piece shaped like a water drop suspended from the ceiling, again is a funky chair.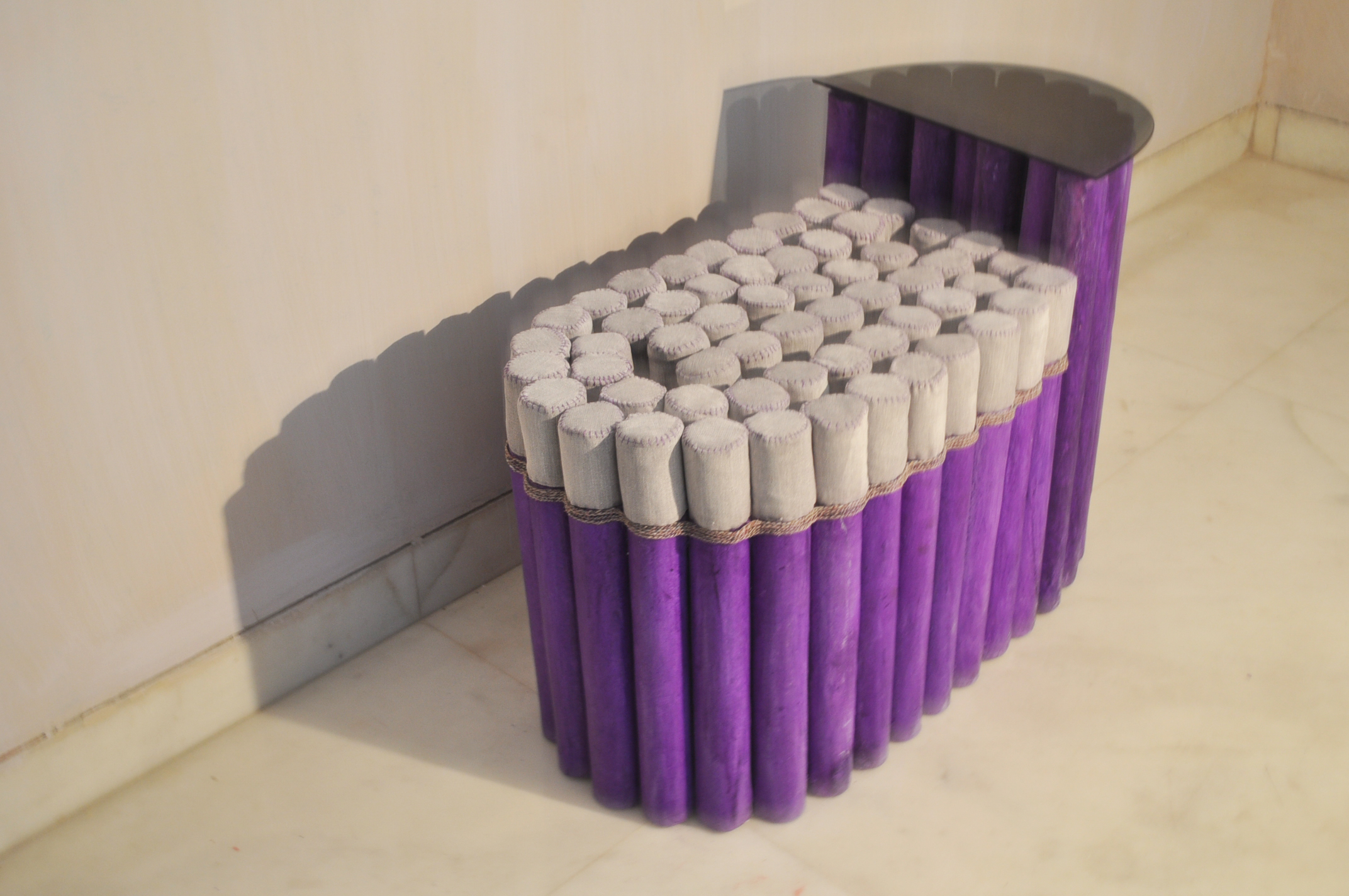 Spriha Chokhani
Papier mâché is a common raw material for craft. It's easily available, soft and malleable when wet, and quite strong when dry. These properties make it ideal for crafting furniture, as this Guwahati-based artist discovered. Chokhani, who runs a design house called Pulp Factory, makes everything from bookcases to stools, with brightly-coloured papier mâché shoes on their legs. The stools are made of papier mâché cylinders, covered in satin cloth in various colours, tied together in a stack and covered with a layer of foam–they are hard and soft at the same time.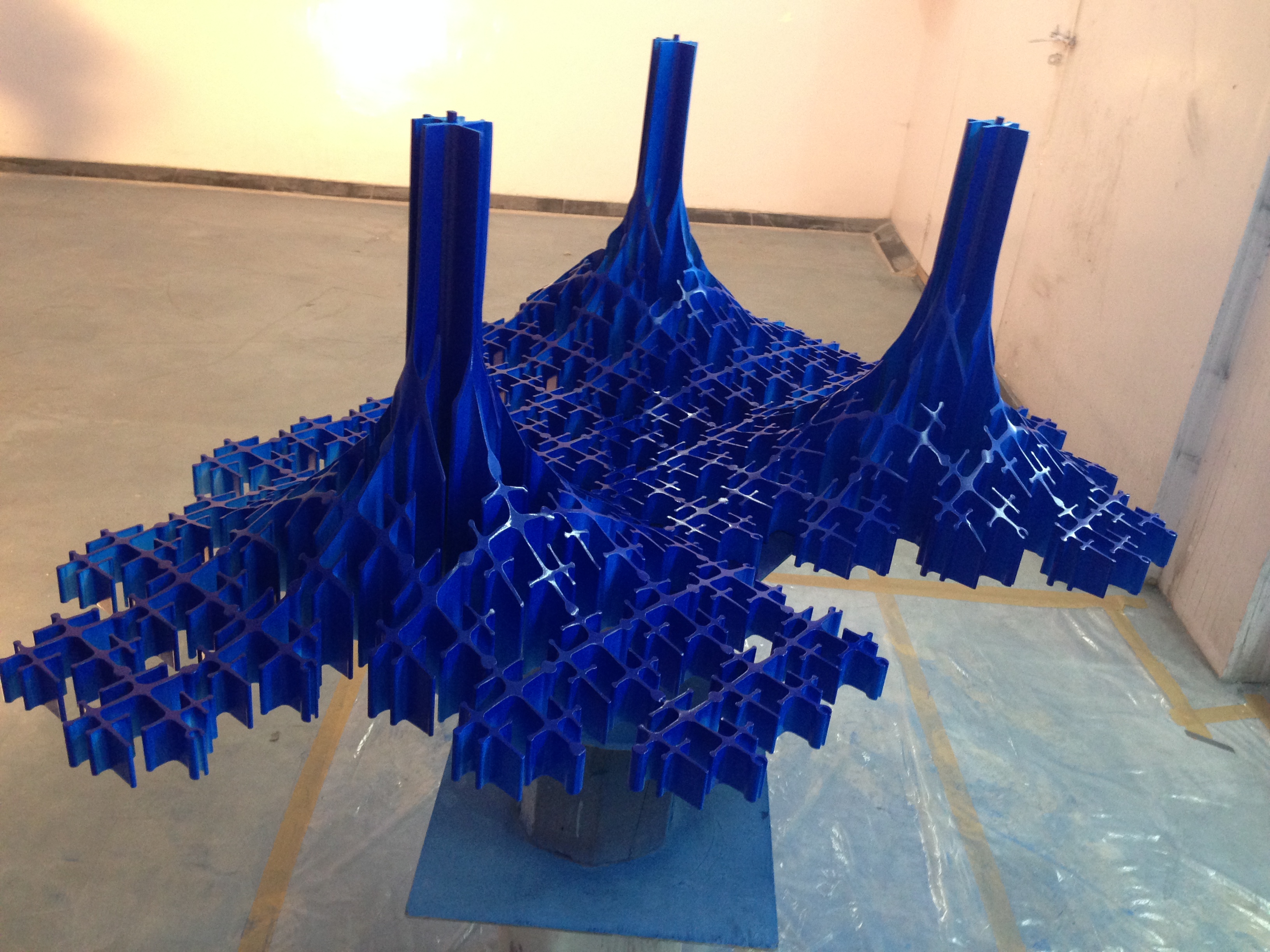 Ayush Kasliwal
Is it a table? Is it a jigsaw puzzle? The Extrusion Table by Jaipur-based Kasliwal is both. Showcased recently at the Made In...India show in New Delhi, the table is made of little aluminium pieces that fit together like a jigsaw puzzle and can be rearranged into different, funky shapes. The individual pieces are made of aluminium and fashioned in an industrial foundry. They are dyed and the top and sides are polished to a high sheen by artisans in Jaipur. The resultant sculpture is a work of art; a signature piece that will invariably spark conversation and is testimony to how industrial process and handcraft can be harmoniously combined. In just seven years, Kasliwal and his wife Geetanjali have acquired a global reputation for their furniture and lifestyle products, fashioned using craft techniques such as beaten brass, stone and wood carving and mirror work, giving new life by the choice of unusual materials and processes.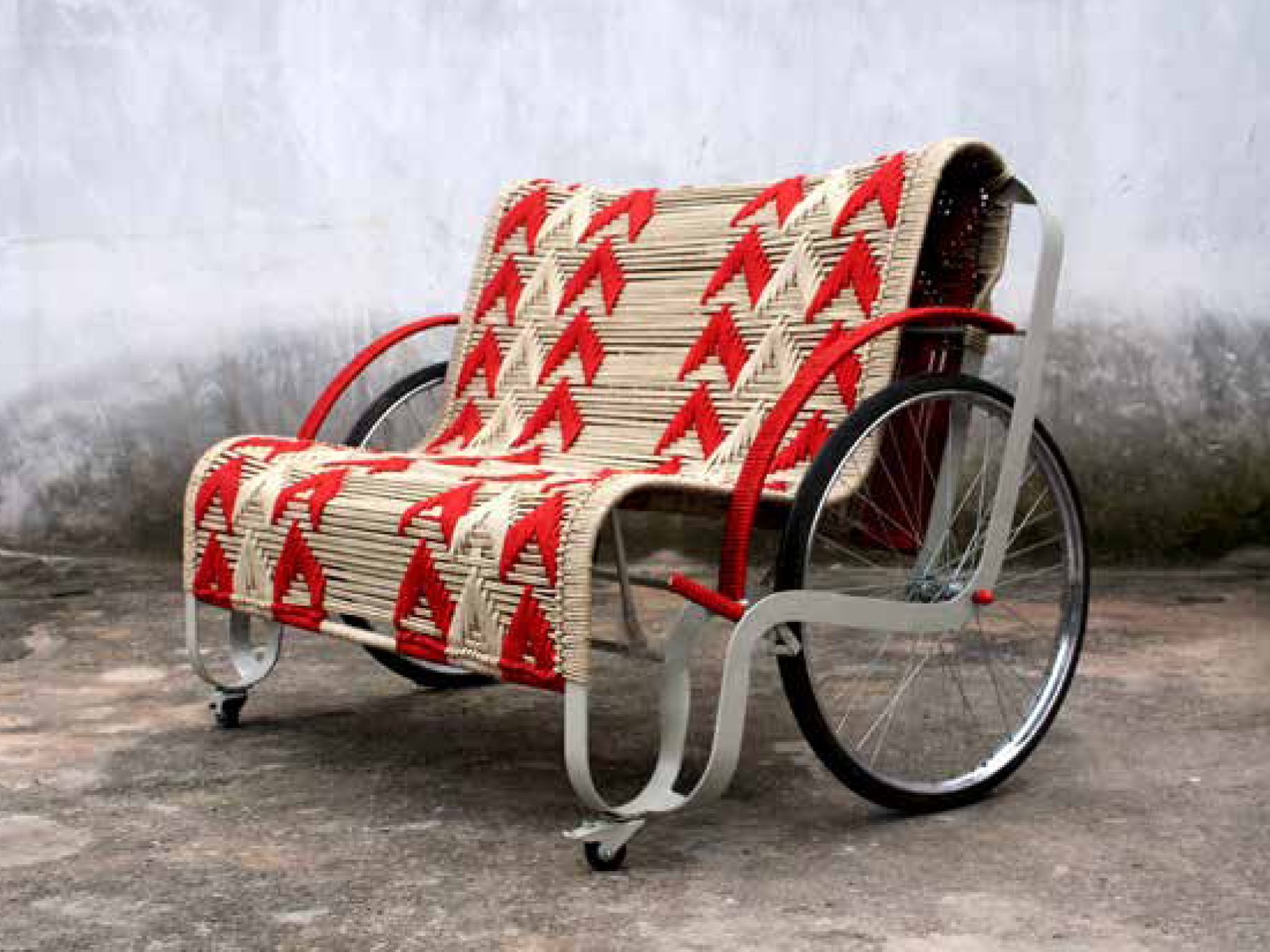 Srishti Bajaj
Delhi-based Srishti Bajaj feels that true design is not just about surface embellishments, but about aiding and simplifying the way we do things. For instance, one of her designs, called the 'half-pint glass', is meant for those who want to create the impression that they are drinking more than they actually are. Shaped like a semicircle, drinkers can hold the glass with its rounded surface away from them so that those facing them can see always full glasses. She has also come up with an entire range of sofas, side and dining tables, and a daybed that uses the frame of the thela—the humble pushcart on which vendors ply their trade. In tune with the chic street aesthetic, the seats and trays of the pieces are woven jute fibre—similar to the chairs in the government offices of yore. To create neat and intricate patterns Srishti had to look up an old artisan; one of the few who still practise the art.