The writer-professor on the inspirations behind his new book, No Country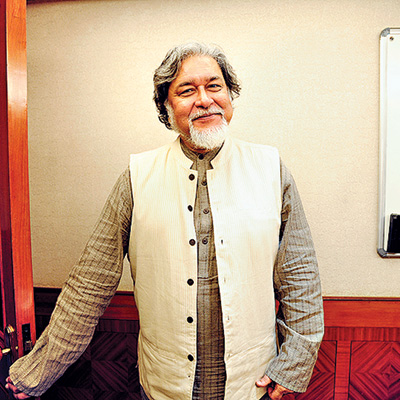 The agony of wanting to belong, to find one's identity can be all-consuming. This book is for anybody who stepped out of home and left for someplace else," says Indian-American writer Kalyan Ray – born in what is now Bangladesh, raised in Kolkata and now dividing his time between the US and India – about his second novel No Country, a narrative born of experience.
On the occasion of his book launch in Mumbai, Ray, who is married to award-winning Indian filmmaker-actor Aparna Sen, spoke of the circumstances that mould his work. "Riots, political upheaval and aching poverty uprooted my family from East Bengal from where they came to Kolkata as paupers. I often think it's a miracle I made it as professor of literature in the US given my circumstances."
No Country is a gripping tale about history, family, fate, and friendship. It spans two centuries and three continents, from an in-the-throes-of-famine Ireland to colonial India to modern-day upstate New York.
Ray points out how a chance encounter as a nine-year-old began the process for his book. "A strikingly good-looking, pale-skinned woman would come to teach a neighbour. This Irish nun spoke of acute poverty back home. What stayed with me was her lilting flawless English as she spoke of 'running from pillar to post for food.'"
Soon young Kalyan found Ireland on an atlas. "I found it both enraging and fascinating that Indians and Irish were under English rule," he explains. Perhaps, a reason why, sections in Ireland in No Country are most vivid; his characters labouring through a grimy, gritty existence.
The professor in Ray enjoyed the research – he spent six months reading nothing but mid-19th-century Irish pamphlets and newspapers to get a proper sense of the era. "I've guarded against stereotyping the Irish. My focus was the smouldering anger against English occupation," he says.
No Country also visits the Jallianwala Bagh massacre of 1919 and Partition in 1947. "I felt like an actor learning new parts for each of these voices. I guess I saw the novel as an epic where ordinary characters were crushed into roles they never thought they'd have to play."
Wife Aparna Sen, Ray's first reader, sums it up beautifully. "Though shoehorned in history, No Country is at once a love story, a murder mystery and a journey of self-discovery. The way Kalyan makes you feel and empathise with each characters is what makes this book exceptional."
She should know.