The recently held Paris Fashion Week saw a coming together of India's best: couturier Manish Arora whose clothes shone, decked as they were with designs by Amrapali Jewels.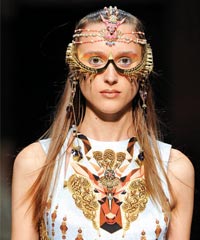 India Enchanted — a mind-blowing collection crafted by Manish Arora and Amrapali Jewels bedazzled the international audience at the Paris Fashion Week, just a few days ago. The collection was a fabulous union of Manish Arora's cutting edge sense of style combined with that of Amrapali's finesse in crafted fine jewelry.
India Enchanted is inspired by the decadence of our Royal Indian lineage. Bold and bright in character, tigers and antelopes are adorned with hand painted enameling and vibrant gemstones, bringing alive the magnificence of Indian heritage.
Antique jewellery from Amrapali's archives were fused with an incredible contemporary pastel colour palette, bringing to life traditional pieces like the hand mirror and utility belt, through the use of 18 carrot gold plating and traditional meenakari settings of stone and crystal.
Faceted structures are incorporated into ornate jewels, demonstrating the high the level of precision and meti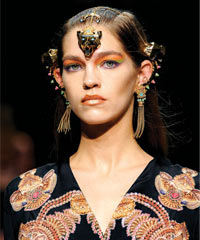 culous craftsmanship required to create this superbly unique collection.
Erstwhile creative director at Paco Rabanne and a distinguished member of the French Federation of Prêt-à-Porter in Paris, Manish Arora is a well-reputed name in the fashion fraternity. He has created some exceptional pieces of works though unique collaborations with some of the biggest names in the industry from MAC cosmetics, to Swarovski, Disney, Pommery Champagne and many other unique initiatives.
Manish Arora's collections are also a massive hit with some of the biggest names on the international celebrity circuit including Rihanna, Lady Gaga, M.I.A and Katy Perry to name a few.
Amrapali's creations on the other hand, have a phenomenal track record of being incredibly popular amongst some of the most powerful people in the world, from the Queen of Bhutan, to the Ex Prime Minister of Israel, to top international celebrities like Brad Pitt, Angelina Jolie, Rihanna, Halle Berry, Jenifer Lopez, Beyoncé, to even Bollywood celebrities including Bipasha Basu, Priyanka Chopra, Rekha and many more.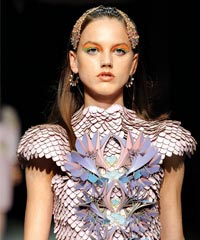 So when the best minds in the industry put their heads down in a collaborative effort to create a collection, one can only imagine that its incredible beauty and creativity will just blow your mind. The collection was unveiled and very well received by the international audience that attended the Paris Fashion Week in full support.