From eating and sleeping onboard to cruising the waters of Andaman and exploring remote dive spots, Sunil Bakshi talks to Avril-Ann Braganza about the concept of liveaboards
Have you been scuba diving and loved it so much that you almost left a piece of your heart in the sea, when you had to get back on board and return to the shore? How does a 3-11 day-stay aboard a marine vessel with an all-you-can-dive schedule sound to you?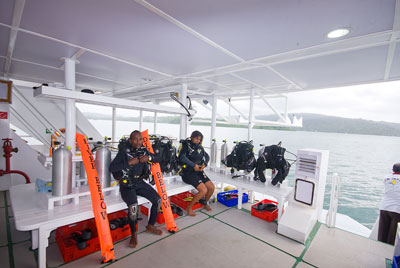 Eat, Sleep and Dive!
Climb aboard Infiniti, India's first-ever liveaboard, a 130 feet boat on which you can eat, sleep and dive. Sunil Bakshi, a passionate diver and the brain behind Infiniti explains, "Internationally, liveaboard is a well-known concept; Maldives has over 100 liveaboards while Thailand has over 65. The Indian waters have much to offer and through the liveaboard, divers can explore beautiful, pristine and remote diving sites that are inaccessible to smaller boats."
From three to 11-day trips, extensive journeys can be undertaken and unknown dive spots which are 80-100 nautical miles away from the shore can be explored. "Being a tropical paradise, the crystal clear waters of the Andaman Islands have a lot on offer; different species of marine life, fish of different sizes and vibrant colours, and exotic coral," says Sunil, while Aman Mehtani, an industrialist from Pune tells me excitedly, "Night dives and the opportunity to spot specifically nocturnal marine life, the different breeds of fish and a beautiful skyline which I find difficult to describe... The experience was just fabulous. I can't wait to go on this year's trip."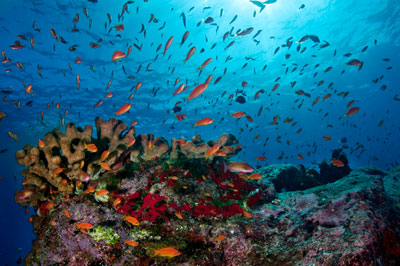 You can spot fish of every colour in the clear waters of the Andamans.
Photo Credit – Mr. Umeed Mistry
From exploring a World War II Japanese cargo shipwreck (for which you need to be certified) lying at the bottom of the ocean and underwater caves, a refuge to sharks and other beautiful sea creatures, to wall diving (the ocean floor slopes and then suddenly drops down like a cliff with coral growing on the vertical wall) and discovering the unusual underwater topography when lava flows and solidifies once it touches the ocean; these are just a few things on your itinerary. The volcanic Barren Island with its black sand and the striking contrast of green, yellow and orange fish in its waters, Passage Island with its vibrant coral, Cinque Island with its soft coral and the remote island of Narcondam with its extinct volcano and giant tuna, hammerhead sharks and breathtaking coral formations are some of Sunil's favourites. Apart from discovering these hidden beauties, trips to North Reef Island, Duncan Island, Invisible Bank, Button Island, and Sisters Island are in store depending on the number of days you have at your leisure.
"I have travelled to several international diving destinations such as Mexico, Mauritius, Maldives, Kenya, Thailand... but India has some of the best diving spots and I would love to showcase India's treasures to the world. Currently our trips have a good mix of national and international enthusiasts. Scuba diving is growing in India," he tells me with pride in his voice.
So what are you waiting for? Dive away!

The minimum age for a passenger aboard the Infiniti is 12 years. You need to be healthy and heart patients are not advised to try it. A medical certificate is required before climbing aboard.