Who says fine jewellery is only for women? If chosen well, a hint of metal and sparkle can add dynamism to the most modest of males.
Real men don't wear jewellery! Say that to the muscular heroes of the bygone era—Egyptian kings loved their gold jewellery, and so did the Roman and Greek gods with their aesthetically beautiful baubles. But somewhere down the line, the notion that jewellery belongs only to women and not men, began to set in.
Today, eons later, men are still a little wary about picking up jewellery for themselves. Other than the standard wedding band, men don't tend to experiment much with anything that is remotely sparkly. While it's true that some jewellery styles don't bode well with men—it is high time men understand that wearing the right kind of fine jewellery adds sophistication to the entire look. So is there a formula for the right jewellery for men? We decode it for you…
Rings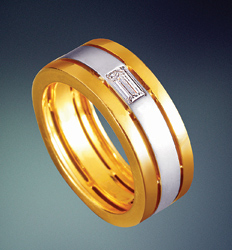 Ring in white and yellow 18 K gold with a white baguette diamond in the centre (Mahesh
Notandass)
These are, easily, the most preferred (and safe) jewellery that men go for. But the trick is to choose a ring or a wedding band that's sleek, understated and of a premium quality. Don't go overboard with too many rings flashing on each hand.
Cufflinks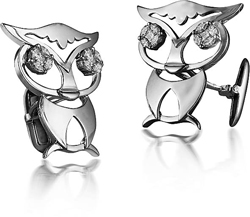 Quirky owl-shaped cufflinks (Varuna D Jani)
Cufflinks are more popular with businessmen and professionals but they can also be incorporated into personal affairs such as weddings or traditional festivals such as Diwali. With cufflinks, you can play it down for work keeping it elegant. For personal occasions, you can go all out and experiment with the metallic sheen and vibrant jewel tones. Remember, coordinating your outfit with the style and look of the cufflinks is absolutely critical.
Pendants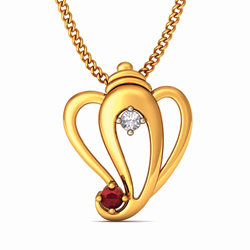 Stylistic Ganesha charm pendant (bluestone.com)
These are yet another category that most men steer away from. Thick chains are a complete no-no for men, as are chunky pendants. While it is understandable why men prefer bulky jewellery, the 'gangsta' look doesn't go well with the ladies! Once again, sleek chains and underplayed pendants work well to create a polished look. If you have to wear pendants for religious purposes, opt for the trendy ones.
Lapel pins and tie clasps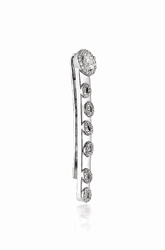 Diamond-studded tie clasp in white gold (Varuna D Jani)
Unlike cufflinks, these are easily shown on a suit so be very critical about the style of pin or clasp that you select. A classy tie clasp paired with a chic tie can set you apart from the rest. Lapel pins, although a bit uncommon, can be experimented with but try to keep it minimalistic and classy.
Bracelets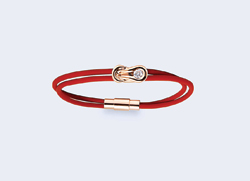 Bracelet featuring the 'love knot' (Forevermark Encordia)
Bollywood may have inspired quite a few men to wear the chunky silver bracelet centred on a turquoise blue stone a la Salman Khan, but aping can take you only so far! Slim, leather bracelets with tiny diamonds and a hint of metal is much more appreciated. Keep it sleek and sexy!