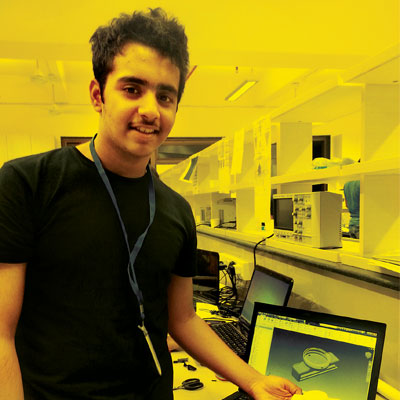 Here's a list of young achievers that have made it big already:
Akrit Jaswal
At the age of seven, he performed a surgery on the hands of a burn victim and qualified for admission in a medical university in India. With an IQ of 146, he is considered the smartest person of his age in India.

Jason Fernandes
He is the founder of US-based technology company SmartKlock. He is attempting to create a WiFi/bluetooth connected desktop that will dynamically pull social media and other updates from the Internet

Sushma Verma
The 13-year-old finished her high school at the age of 7 and graduated from university at the age of 13. Now, she has enrolled in a master's degree in microbiology

Sanjay & Shravan Kumar
10-year-old Sanjay Kumar and his 12-year-old brother Shravan launched a mobile application company in Chennai to become the youngest CEOs in the country

Aditya Joshi (Std VIII) from Pune has conceived a spray which can make gloves and socks waterproof when needed. The layer can be peeled off when not needed

Usman Hanif Patel
At the age of 6, Usman Hanif Patel from Jalgaon designed a wind operated ceiling fan
But is India ready to nurture young talent?
Experts hint that one out of a thousand Indian children is gifted. Keeping that figure in mind, India ought to be brimming with thousands of super talented kids. And yet, where are they? Few and far between hit the headlines. Is India ready to nurture the young geniuses or is their brilliance suppressed and finally killed by the ordinariness of a system that is not geared for the great? Patricia Mascarenhas reports
Let's start with the story of 15-year-old teenager Angad Daryani, who built his first humanoid robot at the age of eight. Angad has been called a number of things — child prodigy, little genius, the inspiring teenager — but he can best be described by one word: maker. He is passionate about building things, from improvising on existing software to making customised hardware.
At three, Angad's parents noticed his interests so they bought him assembling kits which he used to put together helicopters, ships and other objects within a few hours. "That is when we realised his talent and potential," says Angad's father Anil Daryani.
In class six, he built a remote-controlled hovercraft by watching YouTube videos and joined classes for the Homi Bhabha Science Competition. By 13, he was building his own version of the open-source RepRap 3D printer. "I felt that I wasn't learning anything fundamental in academics which would help me reason out stuff," says Angad, who opted to be homeschooled, adding that he needed time and encouragement, which the school could not provide.
Now 15, he owns a company that sells DIY kits and Shark Kits that builds everything from portable speakers to headphones and power supplies. He's also working on 'SharkBot', a modified version of the RepRap which he will sell to other 'makers' in India, making it India's first home-grown 3D printer.
"SharkBot Desktop 3D Printer is India's cheapest, most robust and reliable 3D printer, designed entirely from scratch, unlike other Indian 3D printers in the market," says Angad. It will cost around Rs20,000 and will be available all over the country in around two months. If he has his business plan in place, he could well make it to Fortune's billionaire list.
Exploring the potential of a child is a long and difficult process and often requires the encouragement and understanding of parents and teachers. "All the teachers and friends have been very supportive of Angad till today," says Angad's mother Kanchan Daryani.
The real test lies in being able to recognise talent. "If parents recognise the talent in the early stages, it becomes a win-win situation. When they notice their child's talents and encourage his or her development and are willing to buck convention, only then will the support pour in from society," she adds.
Being gifted doesn't exclude you from challenges. "It took me a while to settle down during my study time at my teacher's place as I was confined to a small room alone or at the most with one more student," says Angad. His list of woes include the lack of a social life, change in curriculum, the stigma of being a 'school dropout', missing school friends as well as sports — especially football — which he always enjoyed. To top it all, his mood swings and indiscipline of flexible timings were the biggest tests.
His dream of building continues. "What I do is different. It's not something that others can't do. It's just that they haven't done it yet," says Angad.
Every now and then, we hear stories about exceptional children with special gifts. "About 4 to 10 per cent of kids are gifted and their thought process is well beyond their age," says Shahnaz Vakil, teacher, Cathedral and John Connon School, who teaches potentially-gifted children in an after-school enrichment programme. While these figures are startling, many are not even aware of the term 'gifted'.
There's no perfect definition for the term 'gifted child'. The ones who fall under this category are a diverse group of exceptionally intelligent children. Some are particularly proficient in math or science, some have precocious language skills, others excel in music or athletics. "Whatever form their talents take, gifted children are always passionate about their interests. They focus their energy on the topics that engage them, often to the exclusion of other activities," says education expert Usha Pandit, founder, Mindsprings.
But for every such story, there are countless other stories that will never be told. Very often, these gifted children go unnoticed and undiscovered, to the extent that their exceptional talents are submerged and forgotten.
Jeanette Fernandes, the mother of Jason, one such gifted child, reminisces, "Our initial reaction to Jason's talents was to wonder why he didn't put that kind of effort to learn his schoolwork," she says adding that they were angry and upset because his teachers were full of complaints about his 'wayward dreamer's mind'. At that time Jeanette was unaware about his problems with learning disabilities. "He talked like a genius, but failed to demonstrate that in his written tests," she adds.
Although India still struggles to provide all its children with basic formal education, support for gifted students tends to either be seen as a secondary priority or is not acknowledged at all. "His teachers were clueless and failed to realise or nurture his gifts. Instead, they were restrictive and disapproved of any form of free thinking or complex questioning," says Jeanette, who continued lauding his talents.
While other kids were reading comics, Jason spent his time taking apart and reassembling computers without written instructions. He started his first software company at 14, when his first program was chosen to be featured on CHIP Magazine's national CD. "At 15, he was answering and solving computer problems for the readers of Chip Magazine in the Dr Chip column. Little did the readers know that 'Doctor Chip' was a mere boy of 15," she adds.
Like Angad, Jason too was unhappy in school so his parents moved him to National Open School (NOS), where he could go through the motions of formal education and still have the time to spend on his interest.
Gifted children have different needs. "The social and emotional development of a gifted child is not at the same level as his/her intellectual development," informs Usha Pandit. If their abilities are not utilised properly, they can end up performing like an average child, or even below average. "Because they learn quickly or are already ahead of the curriculum they get bored easily, and that's a recipe for misbehaviour," says Vakil.
The current system leaves a lot to be desired. Many schools lack programmes for gifted students and when they do exist, they vary widely in quality. High-ability learners have the same right as all children to appropriate education. "A child needs support and guidance to achieve his/her potential. Supporting and encouraging gifted kids is exactly where home and school collide," says Gregory Lobo, psychologist.
Jinna Bordoloi, research associate, Gifted Education programme, also agrees, "They need opportunities to develop their abilities to the fullest, and these opportunities may be different from those available in the mainstream education system," she adds.
There is a need for collaborative and sustained research based practices. "There is a lack of unified effort and more often than not, the ones from underprivilged backgrounds are unable to realise their capability. The spirit of competition does not exist when they compete with mediocre students," warns Lobo.
However, India is slowly starting to realise that gifted children are not just a benefit to a school or community but to the country as a whole. There are agencies and departments working to locate and encourage gifted students in order to promote the awareness of gifted education. In 2010, the government started a program called PRODIGY, which stands for Promotion of Development of India's Gifted Young. "It supports high-ability children by working with them directly; by educating parents, teachers, and educators, and by associating with interested individuals and institutions to expand the outreach and diversify the methodologies of the project," informs Bordoloi.
Along with academic support and recognition, they also need to be nurtured emotionally to accept their gift. "They need to feel understood and supported. We need to explain that intense feelings are normal and help them to use their intellect to develop self-awareness and self-acceptance," says Lobo adding that parents need to exercise appropriate discipline. This will help develop a sense of security which in turn leads to the development of self-discipline and a feeling of emotional competency. In this way, gifted children will be encouraged and empowered to express their unique selves to the world and use their gifts and talents with confidence and joy.