British author Philip Hensher is no stranger to controversy, and is quite forthright about his views, be it on homosexuality, politics or the future of literature. He covers them all in this chat with Amrita Madhukalya.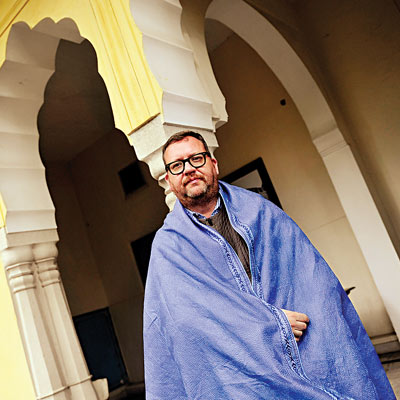 Section 377 is "rather backward", says British author and journalist Philip Hensher, who believes social attitudes towards homosexuality have changed in his country and would hopefully change "decisively and permanently" over the next decade in the rest of the world.
"Section 377 is rather backward. But that's how things are, I suppose — three steps forward, two steps back," said the Kitchen Venom author as the gay community in India protested the Supreme Court's decision to uphold the law under which homosexuality is a criminal act.
Hensher, 49, has come a long way since he gave up a job as a clerk in Britain's House of Commons after professing his interest in then MP Gordon Brown to a gay magazine. "Social attitudes in Britain have changed rapidly in the last few decades. I'm hopeful attitudes will change in the rest of the world decisively and permanently in about five to 10 years," he told dna on the sidelines of the Jaipur Literature Festival.
The last day at the festival was damp and cold. But there was a silver lining to those dark clouds, almost all sessions shifted indoors, leaving space only for those deeply interested. Between rain-soaked sessions, sitting across the English journalist-novelist discussing Indian politics and a mutual love for ink was a warming experience.
He may have left the world of politics quite unceremoniously but says he is fascinated by politicians. "I'm fascinated by politicians as a class of human beings; they are unusual. I have always respected that they, as a class, are overwhelmingly trying to improve the world. They're not in it to make money, despite what people say."
He is also deeply interested in the political process. "Voting should be made compulsory, even if it is just to say 'none of the above'."
All his manuscripts are in longhand, he said when asked about his declaration in The Missing Ink — a tribute to the disappearing art of longhand — that "ink runs in our veins".
"A surprising number of novelists still submit manuscripts in longhand. I think more clearly and steadily if I'm forced to think with pen on paper. There's so much of your personality that goes into handwriting. It's a great pleasure to receive a handwritten note from a friend or a relative. I knew of fewer and fewer people who were writing with their own hand, and I wanted to make an argument in favour of that."
Hensher, whose books include the Man Booker-longlisted The Northern Clemency and Scenes From Early Life, a witty look at Bangladesh's nationhood through a biography of his partner, says that he lets an idea sit inside him till it takes form. "Sometimes, it can be a very long time. I just finished a novel that a friend of mine tells me, I was talking about in the 1980s when I was in my 20s."
Not surprisingly, Hensher is very protective of his craft and his community of writers.
He was dragged into a controversy late last year when he refused to work for a Cambridge professor without compensation. "We have had a wonderful tradition of giving people the opportunity to express themselves and make a living by imaginative work. That's disappearing now. It's a very irregular and unbalanced approach. Because these people who are founding magazines and asking people to write for nothing are still paying for the web designers, for electricity bills and the plumbers."
"The idea that you should write indefinitely with no reason to expect payment in the end can have a really bad affect on literature. It's going to lead to situations where literature is only being written by independently wealthy writers."
Hensher's next book, The Emperor Waltz, a novel about three different historical settings, will be out in July.