It's the piece that is last to be put on, much like an artist who adds that final touch to his artwork with a grand flourish of the brush. It's the piece that is the first to be noticed as you saunter around in a crowd full of eyes. The cynosure of all beauty—the conversation starter is what we are talking about today. A conversation starter is a statement piece that speaks volumes about your personality without you having to shout out. We look closely at popular conversation starters to help you achieve the perfect look.
Flamboyant cocktail rings
Oversized rings in the shape of a meteor are a permanent fixture on the red carpet and are the most common conversation starters. But whether you are strutting down a glazed marble floor or serving cocktails in your backyard, a cocktail ring can come in handy to express your style. Rings that feature vintage stones like the Maori greenstone or an influence from a different culture like the Egyptian cartouche are easy conversation starters.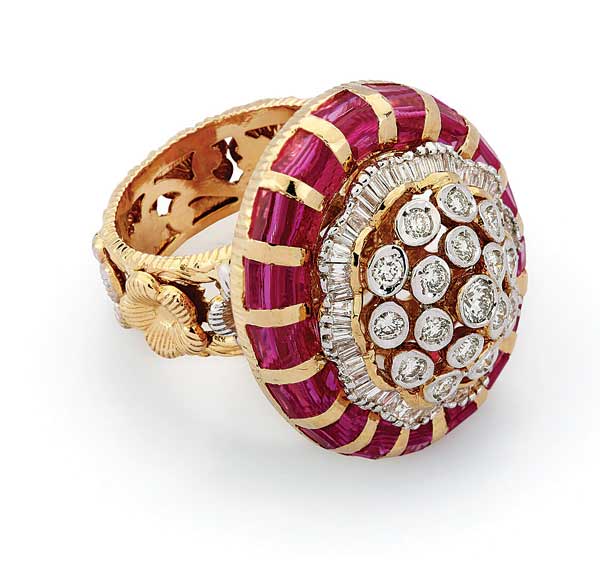 Ring crafted in diamonds and ruby set in 18 K hallmarked gold with a gold polish Jet Gems
Jewellery designer Pradeep Jethani of Jet Gems puts in lot of thought while designing cocktail rings, "While designing I think about what kind of diamond shape will set well with the stone, what basic shape should the ring have to suit different fingers. The design has to be bold, big yet feminine," shares Jethani.
Spectrum of bangles
Imagine that you walk into a sunny, laidback brunch donning a simple white tee paired with a flowing skirt or a pair of jeans. What can take this outfit to the next level is a set of bangles in colours of the spectrum. Remember, the idea is not to distract everyone with the clattering bangles but to let their unique elements speak for themselves. Unevenly shaped but vibrant-looking gemstones are a great element in a bangle or bracelet.
Showstopper earrings
Overdoing jewellery is a crime! One accessory is enough to make heads turn. "The most important thing to remember is that the focus needs to be on just one piece of jewellery. You can wear all your necklaces, earrings, bracelets together for your wedding but for other occasions, keep it neat and simple," shares Eisa. Tip: Pare down your outfit to an elegant strapless dress but up the oomph factor by wearing a pair of stunning earrings. Just ensure that your outfit is either of a solid colour or a classic fit.
Classy cuffs
Cuffs are a great option to gets the eyeballs! Heavy diamond-encrusted cuffs are the usual suspects so try something different. Go for a bold cuff with a clean-cut design in metals like gold or silver. The natural sheen of the metal is enough to make an impact. Electric blue and neon pink are also great if you're going with the casual look.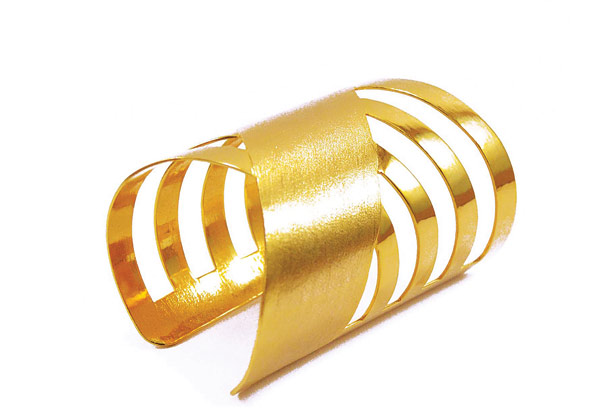 Cuff in gold (Wanderlust Jewellery)