How to rock contrasting prints together? Read on to find out...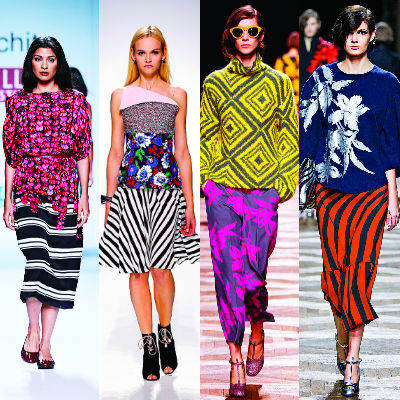 Seeing bloggers, fashion editors on the streets of Milan, Paris and London pulling off clashing prints combo effortlessly is a delight! But how many of us can mix prints without looking like an upholstery material? It takes an inherent strong style confidence to rock myriad prints combo in one ensemble. Designer Sanchita Ajjampur clashed stripes with florals at her Wills fall show while Dries Van Noten combined geometric prints with florals in the brand's fall 2014 outing. At the recently concluded Dior cruise show in New York, Raf Simons showcased one-shoulder dresses which had stripes offsetting florals. We spoke to some designers to at least get the basics right.
Blending is important
Designer Arpita Mehta says, "If your print is already busy then opt for a softer colour. However, if it's not busy then go for a bold one. One element has to be powerful and bold."
There's no formula
Designer Nimish Shah of label Shift says, "The trend of clashing prints is more for fashion pros. There's no formula or a textbook rule. Try to pair two common colours in the prints and blend them say a hint of navy or play with colours of the same family. For instance, pastels with pastels and neutral with neutral colours. Combos like stripes with florals or checks with florals or stripes with stripes are quite safe. Experiment within your capacity. Even when celebs wear a brand like Kenzo on streets, they carry off the brand pieces as it is."
Clashed yet harmonious
Designer Nachiket Barve feels that mixing prints requires real fashion confidence.It can go both ways - totally right or wrong. "The look has to be clashed yet harmonious. You can contrast with different scales of prints like from minute to large ones. It also depends on your body type and personality. Pairing monochrome with wild colours or tanned with corals is a great idea. But don't look like an upholstered sofa from the 80s. Also, the choice of the fabric is crucial. The same clash can look great on a matt cotton but not on satin."
Not too many contrasting colours
Designer Shruti Sancheti says, "When you are clashing prints, layer it in such a way that one colour offsets the rest of the prints. Also, the colour family is important. Too many contrasting colours can backfire too."