Christmas is the time for giving. In a world that exonerates the virtues of I, me and myself, it's heart-warming to know that there are people who believe in selfless acts of giving of themselves, their time, and their energy, making Christmas a 365-day event.
Sharing one's good fortune
A Pune couple brought in their silver wedding anniversary by gifting education to three young girls, finds Anam Rizvi.
While it is a given that children look forward to stockings full of gifts and goodies for Christmas, for the girls of the Pune-based Noronha family, expectations are a tad different. The family has their own kind of celebration.
"I made sure that my daughters understood that buying a new dress is not how you celebrate Christmas. As a teenager, I would bring home orphans to celebrate with my family," said Maya Noronha. This year the family is planning to go out with their help's children to enjoy lunch with them." It's these little acts of sharing that make Christmas that much more meaningful.
************************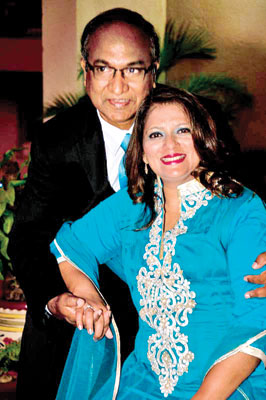 Maya and her husband Frederick Noronha
Last December, Maya and her husband Frederick Noronha celebrated their silver wedding anniversary. With a guest list of 100, they decided to spread the cheer with others less fortunate. "We didn't want gifts but we knew that our friends wanted to give us something.. So we mentioned in the invitation that although presents were not required, but if friends insisted, they could donate money to an orphanage in which we had opted to educate three young girls," explains Maya. This kind of gifting has a three-way infusion of gratification. The couple feel good, the guests feel good and the choice of charity benefits from the goodness.
"We have three daughters and we have provided for them and educated them. My husband and I believe in the joy of giving and thought, why not help these three young girls?" she adds. Maya and her daughters, Erika, Denise and Simone, visited the girls in the orphanage. "We sent thank you cards to all those who had contributed along with the pictures of the girls, so that they knew that their contribution had been for a genuine cause," says Maya. The couple was surprised by the enthusiasm their friends and family displayed at the suggestion. "Though my guests were surprised at first by our initiative, they were very supportive when they realised that they could contribute for a good cause. With their kind cooperation, we were able to accumulate sufficient funds to provide the girls' boarding and education from standard one to ten," says Maya who is a teacher.
"People believe that if you give you are blessed. Instead, one should give for the joy of making another person happy. Give even when it hurts. Share even when you don't want to share," is Maya's belief. As we rush through the wedding season, the couple's initiative is a worthy reminder that celebrations can be opportunities to do so much more than just indulging in revelry.
Indians: Generous givers
Source: 2013 World Giving Index released by Charities Aid Foundation
More people in India give money to charity than in any country in the world
An extra 81 million people in India gave money to charity in the last year, boosting donor numbers to 244 million.
Number of people volunteering in India soared with an extra 71 million people giving their time to help others.
The boost in giving and volunteering has pushed India up from 133rd to 93rd in the World Giving Index.
The gift of oneself
The determination to save their loved ones and see them lead healthy, happy lives is what gives most organ donors courage, find Anam Rizvi and Amrita Madhukalya.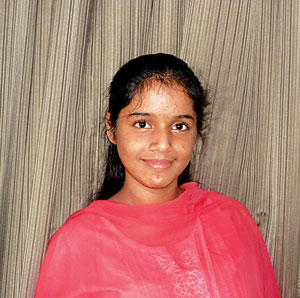 Sarah Kazi
Sumaiya Kazi's seven-year-old daughter Sarah was a sickly child from infancy. She suffered from jaundice and had several surgeries. Looking at her daughter's suffering, Kazi, 46, was ready to do all that was within her reach to help her. In 2008, when the doctors declared that Sarah's liver was damaged from jaundice, Kazi stepped in to donate her liver. "I never let my daughter behave like a patient and ensured that she led a normal life. But, I kept asking myself, when will I see my daughter recover?," says Kazi. "People are afraid of organ donation, but with my brother's support I decided to take this step. I believe that if someone is in pain and you can do something to help them, then you should do it," she adds.
Organ donation brings along with it both emotional and technical challenges. In India, a donor needs to be related by blood to donate an organ to a patient, and must provide documents to prove it. Interviews with hospital authorities and, at times, with state officials are also part of the process.
"It was painful then, but Sarah and I are fine now. She is healthy and no one can tell I am a donor, because I lead an active life. My daughter, too, happily agreed to the operation because I was the donor," says Sumaiya, for whom the selfless act in itself was the reward.
************************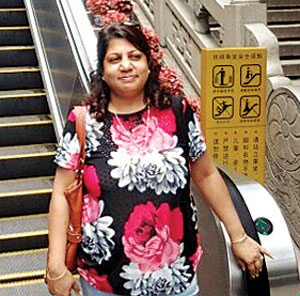 Preeti Chawla
For 45-year-old Preeti Chawla, organ donation was the last resort when doctors told her in 2008 that her then nine-year-old son Ayush Chawla was suffering from acute liver failure. "He had been unwell for a while, but tests revealed that his liver was damaged, and that he was suffering from a rare disorder called Wilson's. It was painful for a mother to see him go though all that at such a young age," she says. It was the lack of suitable donors in her family added with the urgency of the situation which prompted Chawla to donate part of her liver to her son. "Friends and family dissuaded me, telling me to think about my older son. But the option of doing nothing was worse," she says.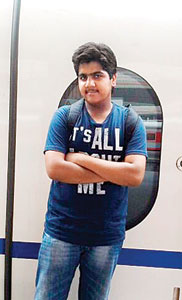 Ayush Chawla
The surgery on November 9, 2008 was the first case of a successful liver transplant on a child in our country. Ayush, who is 17 today, is preparing for his higher secondary finals. "It took Ayush six months to recover, and I was up and running in 3 months," says Chawla.
Fortunately, most of us do not have to chip in with an organ to save the lives of our loved ones but, we can always pledge our organs to someone who needs it after we die. In India, cadaver donations can take place between strangers. "Many people pledge organs, but not all of them actually donate. Some are found unsuitable, while the family members of many do not fulfil these wishes," says Sudhir Dewan of Mohan Foundation, an organisation that has been facilitating donations in various cities.
In this season of gifting and sharing, organ donation can be the most selfless gift of them all.
************************
Manohar Kakwani, 63, donated his kidney to his daughter in April. This wasn't easy, because, having undergone a bypass surgery in 1998, he had to prepare for six months to ensure that he was physically fit to donate. He had to follow a strict diet and walk religiously for 45 minutes every morning. "My daughter Shilpa was a patient of juvenile diabetes. She was undergoing dialysis and her condition was worsening every day. We were desperate to help her. I underwent tests and an angiography to get a clearance from my cardiac surgeon," said Kakwani. The clearance gave both father and daughter a fresh breath of hope; a lease of life for the daughter and a sense of relief for the father.
The daughter, Shilpa Kakwani Ali is a fashion stylist. Having gone through the process herself, she felt her experience as an organ recipient could help others. She is setting up a support group for people who have undergone kidney transplants to help people understand and accept organ donation. She has just one request to make to the authorities. "I know of several cases where people have died because they have not received organs on time. Though unrelated donors are not allowed, exceptions can be made for people who are in dire need and have little time."
One man's vision for justice
A visually-impaired lawyer in the Delhi High Court fights for the rights of the disabled and those on the margins of society, reports Manisha Pande
The idea of a deaf person driving on the chaotic roads of India — where honking is part of driving etiquette — may seem impossible, even outrageous. In a landmark judgement, the Delhi High Court, however, thought otherwise. It ruled that people with hearing disabilities be granted a license once they clear the driving test, which is the same for everyone.
Interestingly, the case for the right of the hearing-impaired to drive was made by a lawyer who is visually-challenged.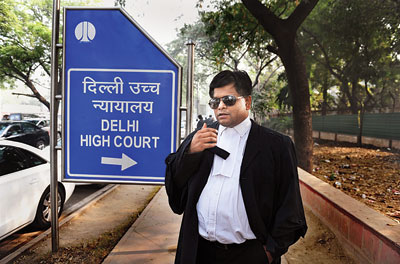 Pankaj Sinha is visually challenged and has been practicing in the Delhi High Court for over six years
"The judgement was a pivotal one in my career," says Pankaj Sinha, who took up the case on behalf of the National Association of the Deaf. "I had to quash many myths and misconceptions in my argument," he says. Sinha even went for a little drive with a deaf person to see that it is entirely possible. "While vision is imperative to learn driving skills, hearing is not." he says. The 32-year-old lawyer has been practicing in the Delhi High Court for over six years. Much of his focus has been to further the rights of the disabled. Among some of his recent victories is getting the Delhi University to make all study material accessible to visually-impaired students before introducing the four-year undergraduate programme.
He also filed a public interest litigation to get the government to create posts for sign language interpreters in public spaces, like railway stations. "We don't realise this but a deaf person has an extremely tough time trying to do something as simple as buying a bus ticket. The PIL wants to change that with professional sign language interpreters to help them communicate and get access to public services."
Part of The Human Rights Law Network, Sinha also takes up cases pro bono on behalf of the underprivileged. Currently on his plate are cases related to forced child marriage and sexual harassment and torture of a 50-year-old woman and a 15-year-old girl in police lock-ups.
Sinha's assistant guides him through the corridors of the High Court up until the courtroom aisle, after which his legal acumen does the talking. Does impairment become an impediment, one asks. "There are times when I can sense people's lack of confidence no matter how hard they try to conceal it. But, at the end of the day, I get a lot of clients through word of mouth -- people who have seen me argue and for whom I have won cases."
The courts may not be fully equipped to accommodate someone like Sinha. Evidence in most of the cases, for example, are only available in hard copy. Not making much of his impairment, he asserts there are challenges but ones he will surmount. There are times, too, when he feels an added pressure to prove his ability but Sinha adds that the Bar, on the whole, is very supportive.
How tough is it to get people to acknowledge the rights of the disabled given the sparse mainstream discourse on the topic? Sinha remains hopeful and is level-headed about change and the time it takes. "There was a time when women weren't considered fit to vote, but things changed. I think people's perceptions towards the disabled are slowly changing." His own parents, he says, weren't very happy about his choice of career and thought it would be too challenging and risky a life. "They wanted me to become a lecturer and get a secure job but I wanted to be a good criminal lawyer."
Clearly, Sinha hasn't let anything come in the way of his ambition and in the process, is giving so much more of himself to society.
Landmark Victories
Fought for the rights of the hearing-disabled to drive and get a licence after passing the test
Got the Delhi University to ensure that all study material is made accessible to visually-impaired students before introducing the four-year undergraduate programme
Challenged the central postal life insurance in which a disabled person is charged more premium and given less insurance money.