Leona Rodrigues, a hula-hoop instructor from Mumbai tells Avril-Ann Braganza the benefits of hooping
It's almost 8 pm and there's a slight nip in the January Mumbai air. It's a usual day at Bandstand, Bandra; people clicking selfies under the street-lights, joggers doing their thing, and street vendors trying to sell a steaming cup of chai or roasted nuts to passers-by trying to keep warm in their jackets. And then there's Leona. Her LED hoop lights up the evening. It looks so easy until I give it a shot and disturb the peace as I drop my hoop every two seconds. But Leona looks calm and focussed as she hoops to the music (she has going on) in the background. "Don't worry, you will get better with practice," she encourages me. A flow art, the benefits of hooping are also similar to the benefits of yoga. "It helps you de-stress, makes you more flexible and helps you meditate," Leona explains. "And then once you get the hang of it, you can also hoop dance. I never thought I could dance but hooping also led me to dancing," Leona gushes proudly.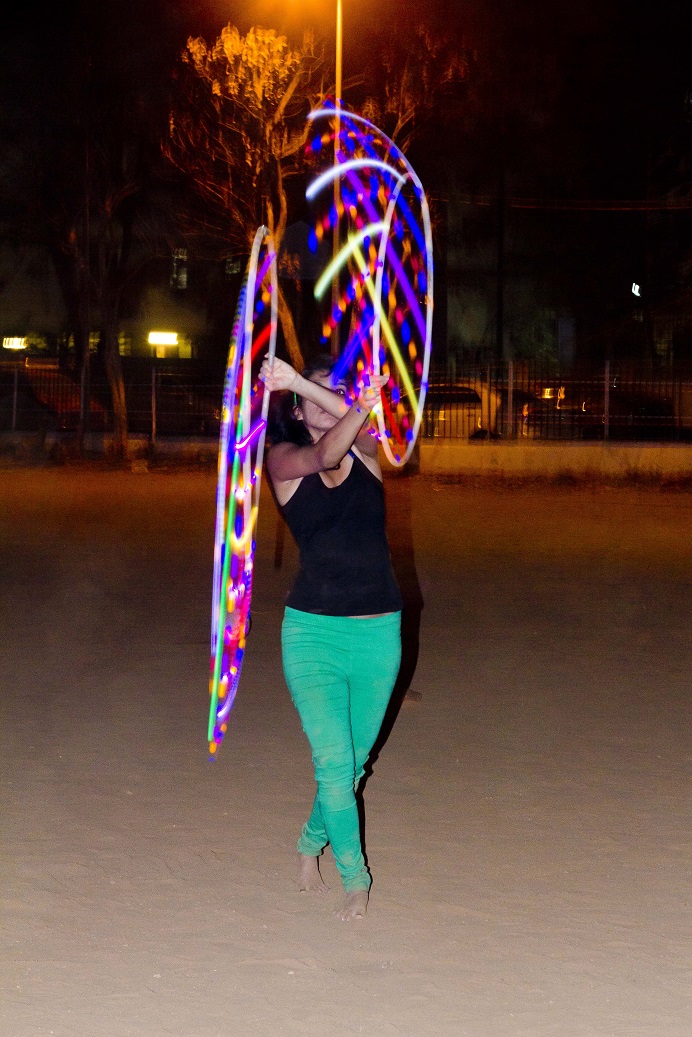 Image Credit: Dhanesh Maindan

Quite a trend in the U.S., U.K., Australia, New Zealand and in parts of Europe, hula-hooping is now picking up in India, and especially in Mumbai, Delhi and Pune. A hooper for the last four years, Leona advocates hooping for fitness. "Hooping tones your muscles–abdomen, chest, shoulders, neck, knees, calves, thighs and hands. You can hoop anywhere. Even the forehead. The continuous body movement makes for a good aerobic workout and on the plus side, it's a fun way to stay fit and to feel empowered." And you don't have to wait for ever to see results. Gazala Khan, a 40-year-old advocate who has been hooping four times a week for almost two months sees a noticeable difference in her waist. "I've lost three inches since I have started hooping. I maintain a diet and alternate my workouts: one day it's weights; another day, hooping; day three, something else... but hooping is different; it's relaxing." But for Leona, it's not just about the exercise. It's a passion! From hooping with fire to hoop tricks, the girl eats, sleeps and breathes hula-hoops.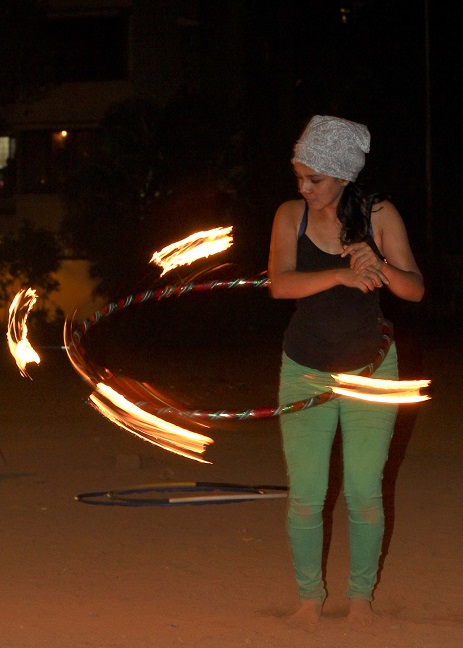 Image Credit: Dhanesh Maindan

So what do the docs say about it? Kripa Gopalan, a physiotherapist, recommends hooping to strengthen your back and abdomen. "It's a mix of many forms of exercise; stretching, toning, and requires coordination, stability and balance when trying to manoeuvre a hoop. It's a good way to develop and maintain core stability."
The best part about hooping for Mahua Kamat, ex-band member of VIVA, "is that you can pick it up at any point in your life. You can hoop anywhere and at any time–at home, on weekend trips... It frees you and at the same time strengthens your body. You don't need to know steps, but you can just let go once you get the hang of it." So what are you waiting for? Hoop away!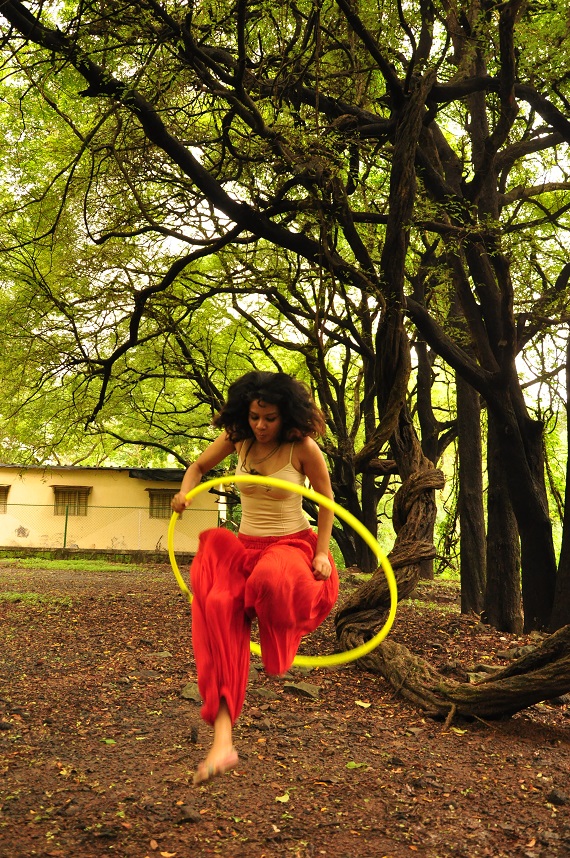 Image Credit: Anselm Matyres

Remember
You should start with a big and heavy hoop (250 g to 400 g) and then move to a lighter one, once you get the hang of it. The bigger and heavier it is, the slower it rotates around your body and therefore the easier it is for you to control it.
Wear clothes that allow as much contact with the hoop as possible. Bright, happy colours energise you. Clothes that make you feel attractive and comfortable boost your hooping confidence.
Fabrics that have a course surface like linen, cotton, hemp are good options. Women should consider wearing a pair of cotton shorts and a cotton-blend well-fitting ganji or a sleeveless top. The more contact the hoop has with your body, the easier it is to control the hoop. For men, cotton shorts again and something sleeveless in cotton.
Go barefoot all the way…you have the best grip and the most contact with the ground.
Get rid of: belts, buckles, jewellery, scarves, jackets and anything else that may come in the way of or get entangled with the hoop.

Did you know?
What does Catherine Zeta Jones, Michelle Obama, Olivia Wilde, Kelly Osbourne, Marisa Tomei and Liv Tyler have in common? They hoop to stay fit.