Mullets and beehives come and go, but looks like braids are here to stay. After Hrs explores the various styles...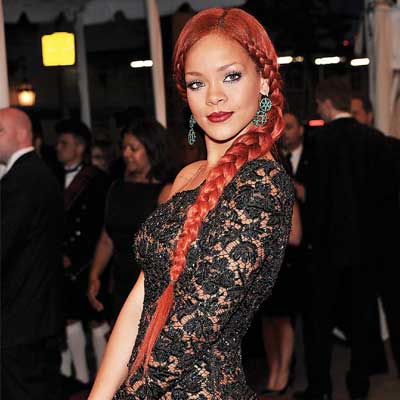 No more a symbol as boring as grandma's choti, the latest trend on heads right now is the braid. We've rounded up the most beautiful plaits, so go for a twist or a fishtail braid rather than a traditional plait. Fashion stylist Pria Agni says, "Braiding is the best thing to happen in hairstyling, because not only does it look great but also keeps you cool as the hair is away from your neck and face."
Fishtail
Sport a chic yet casual look with the fishtail braid. To make this braid, you just have to divide your hair into two halves, than part it down the middle. Then pull a thin strand from the outer of one half and add it to the other one, pulling beneath the rest of half. Do it until you reach the bottom of your hair. At the ends, tie it up with a cute ribbon or band. Celebrity stylist Mrunal Yungad suggests adding some mousse for a neat look. Round faces can flaunt this hairstyle best!
Milkmaid
Loosely tie French-braided pigtails and crossing them across one another at the neckline. The braids can be easily held in place by bobby pins. Says Pria, "Sport this look with vintage gowns or saris. Mastering this hairstyle will mean you'll practically never have to wash your hair again. Milkmaid braids are best done on unwashed hair because shampoo strips hair strands of their natural oils and texture, making it a challenge for updos to stay put."
Over the shoulder
The easiest of the lot, grab all your hair over one shoulder and braid straight down. If some hair falls loose, it looks really organic and intentional. If you know how to do a normal French braid on your hair, do the same but start from the temple level on the side closest to your parting. "A headband and some bobby pins can help contain any awkward layers that don't feel like behaving," says Pria.
Fringe Braid
Try this when you are having a greasy bangs morning. French-braiding your bangs from the front section closest to the part and tying them off once they're out of your way is a great option over shampooing to get one more day out of your style. Women with any kind of face shape can try this braid. Western wear short dresses and even formal attire go best with this look, points out Mrunal.
Full crown
If you don't want to worry about getting your hair in the way for the rest of the day try the full-crown. Those with short hair can braid their hair using this style. Pull majority of your hair forward and begin braiding these three strands together. As you braid, follow along the crown of your head and add a little hair to each strand as you braid around. Once you've braided around the front of your head finish the braid and use an elastic band to secure it. Pin the braid in place, tucking and pinning any loose pieces.