With yards and yards of difference between majuri (labour), karigari (artisanship) and kalakari (artistry), and not much to protect our traditional weaves from extinction or to promote the exquisite possibilities they present, the looms that weave luxury may well be still after the current generation of artisans calls it a day. Presenting three Indian weaves that are too exquisite to lose and too intricate and skill-demanding to meet economics of scale.

Patola, Patan, Gujarat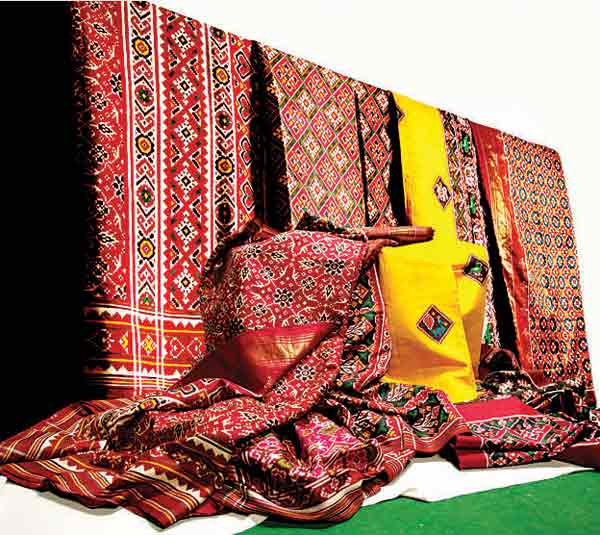 Photos Courtesy Patan Patola

Crafted by the master weavers of Patan, Gujarat, the double ikat designs of the patola feature a dyed warp and weft. Red (maddar), blue (indigo) and black (iron filings, tannin or jaggery) are the colours typically seen in the graph-based designs of the patola. Green is often hand-painted on. With 3 people taking about 75 days to dye the silk yarn that produces the geometric patterns typical of patola and 2 people weaving about eight inches a day, time is the luxury here. Scarcity of the yarn of Chinese origin and the sheer skill involved in creating a thing of beauty, only adds to its exclusivity. Elephants, tigers, parrots and peacocks often feature in the intricate designs of ceremonial cloths for the royal families of South East Asia, which were thought to be invested with talismanic powers. The Salvis of Patan are said to be one of just two families that still use traditional techniques to weave these saris. Will the next generation succumb to the lure of opportunities in other spheres with our lack of recognition of artisanal value?
Creation takes: Over 100 days
Own one In: 1-2 years
It'll cost you: Rs 2,50,000 – 3,50,000
Available at: Patan Patola Heritage, Patolawala Salvivado, Patolawala street,
Patan – 384265, North Gujarat; 091 9898775748, www.patanpatola.com

Paithani, Aurangabad, Maharashtra



Salman Ansari

"I think wearing cotton is a luxury," insists Meera Mehta designer of many an intricate Paithani. "Luxury is not always time and intricacy, it could be simplicity. A single line and a dot could be aesthetic," she says as she shows us sari after sari that has been hand-dyed and hand woven. The paithani and paithani brocades feature silk yarn wrapped in beaten silver and dipped in gold. Some of these are woven with upto 200 bobbins creating a single line of a pattern, some with less. But that does not matter, feels the designer, who thinks that luxury should be defined by the level of aesthetics, artistry and artisanship involved. The law of inverse applies here; the finer or smaller the design, the longer it will take to weave. With the creation of a Paithani sari taking between 2 months to over a year, patience is undoubtedly a virtue. A virtue that we hope more people will grow to appreciate before museums become the sole custodian of exceptionally designed and crafted weaves, and skills that have taken years to fine-tune fall victim to commercialisation.
Creation takes: 2 months to over a year
Own One In: You'll be a lucky soul if this rarity is in stock when you want it
It'll cost you: Varies drastically with intricacy
Available at: Meera Mehta, Fort Chambers, C Block, Tamarind St., Fort; 0 91 22 22650905; meerumehta@hotmail.com

Jamdani, Bengal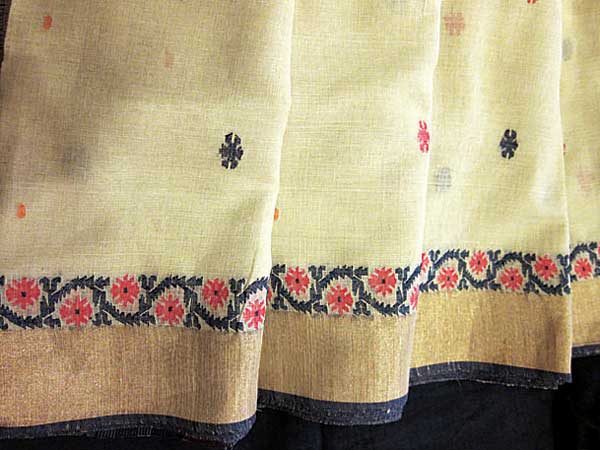 Photo Courtesy Artisana

The weavers of Bengal have long been known to weave pure fine count jamdani (hand spun khadi in both warp and weft) into works of art. Made from long-staple cotton woven early morning when the dew increases the moisture content in the air, this "embroidery on the loom" as Ruby Palchoudhuri, honorary general secretary and executive director of the Crafts Council of West Bengal, who is attempting to revive Jamdani. The designs are created by moving a supplementary weft shuttle back and forth to define each motif creating patterns (tapestry weave) whilst the cloth is being woven. The unassuming jamdani often sports a muga silk (Assamese silk) natural gold border, which is reportedly worth it's weight in gold. The dhakai muslin, famed for it's ability to pass through a ring is woven using the same technique. With finer counts (finer thread in greater numbers per inch) requiring greater skill and rumours that only three families in Bengal currently weave the traditional way, we can only hope that jamdani will survive the sprinting pace of development and the preference for glitzier and more glamourous fabrics unscathed.
Creation takes: Approx 2 months
Owe One In: 6-8 weeks
It'll cost you: Rs 20,000 - 40,000
Available at: Artisana, 13, Chowringhee Terrace, Kolkata - 700 020; 0 91 33 2223 9422; www.artisanaccwb.org

Radhi Parekh
A Visual Communications graduate of the National Institute of Design (NID), Radhi Parekh spent two decades across three continents, first illustrating children's books, then multimedia games, and finally creating global online software solutions, before founding ARTISANS' in Mumbai's art precinct Kala Ghoda, in 2011.
ARTISANS' represents work at the convergence of art, craft and design, connecting artists, craftspeople, designers and buyers through dialogue, exhibitions, lectures and workshops.
Radhi who thinks karigars and designers "co-creating" is the road to sustaining India's art, craft and design heritage, advocates a "people-centered design process" at NID, and nurtures the creative entrepreneurship programme at ISDI Parsons Mumbai.