With summer officially here, getting rid of unwanted body hair can be a task. Experts give the lowdown on the various treatments available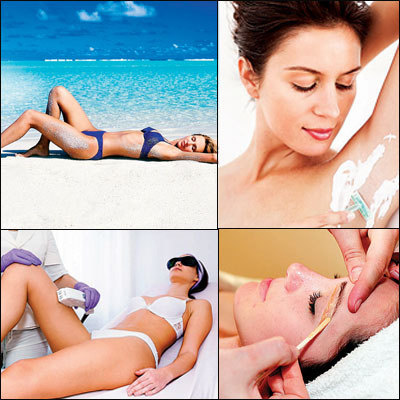 As the temperatures begin to scorch, more and more women are opting for sleeveless tops, short dresses, mini skirts and bikinis (for beach vacations). Hence, hair removal forms an important part of a woman's beauty routine this season. There's nothing more embarrassing than unsightly body hair and today, there are a number of choices to opt from – such as waxing, threading, shaving, depilatory creams or laser hair removal. Each comes with their own pros and cons, different levels of pain and budget restrictions.
CHOOSE THE RIGHT TECHNIQUE
Dr Sangeeta Amladi, head medical services, Kaya Clinic , says there are a number of hair removal techniques that have been prevalent over the years and work best for different body areas. "Due to the fast growth of hair in the underarms, popular treatments include waxing and shaving. However, shaving causes the hair to grow back thicker, and one would need to wax once almost every 15 days, which is painful and time consuming. Permanent Laser hair reduction is another popular solution which is effective and long-lasting. It is easy, painless, and saves you the trouble of waxing or shaving every few days. As for the arms and legs, depilatory creams, waxing and shaving is popular. These creams are relatively easier to use, and cause no pain. However, they can get messy. Plus the skin is exposed to chemicals more often," she explains. If facing excess unwanted hair, consult a dermatologist as it could be a sign of an underlying hormonal imbalance.
MOISTURISE THE SKIN
Lasers are useful for removing unwanted hair from the face, legs, arms, underarms, bikini line, and other areas. They can selectively target dark, coarse hair while leaving the surrounding skin undamaged, says Tisha Kapur Khurana, beauty expert/ executive director, Bottega di LungaVita. "Those who still prefer waxing and may face redness post treatment, can moisturise with a tea tree or lavender lotion or aloe vera gel as this has a soothing, healing and antibacterial effect. It's good as a solution against undergrowth and you can use it until the redness is minimised. Rubbing ice cubes is a common way of soothing skin. But don't apply them directly on the skin. Those with sensitive skin should avoid sun exposure for at least 24 hours before or after waxing. Ideally soaps, perfumes, or make-up should not be applied to the waxed area for at least 12 hours after waxing. Also, do not shower in the two hours prior to a waxing service for risk of infection as the pores usually open after a shower," says Tisha.
ENSURE THE TECHNICIAN IS TRAINED
Ruth Awungshi, head therapist, The Palms Spa says, "For the bikini area and chin, I recommend electrolysis hair removal as it is eventually permanent. Although the process is more lengthy than laser removal - because the therapist works follicle by follicle- the effect is better. Unwanted hair on the arms can be removed by waxing or laser as it drastically reduces the hair growth rate and leaves the area silky smooth. Hot wax is best on coarser hair on the legs and for small, tricky areas like eyebrows. As for the back, laser or waxing is the best. If one shaves, the hair grows back almost instantly which would leave it prickly." Another popular treatment is the Brazilian bikini wax. "These are quite painful to go through but helps keep the area hygienic and there are ways to combat the cons of this type of a wax. Firstly, one must make sure the technician is well trained in the process. Secondly, always make sure that the technician is wearing gloves. It is vital that they do so, as it could otherwise result in infections in the said area. Lastly, use hard wax as it does not require a waxing strip and leaves your labia area damage free."