While most awards are won for expertise in various fields, the trend is now moving in a new direction thanks to internet sensation Grumpy Cat.
For the first time in history, a cat has bagged a lifetime award for being nothing but a 'cat'.
Yes, you read it right.
Internet celebrity Tardar Sauce aka 'The Grumpy Cat' bagged "THE FRISKIES" Lifetime Achievement Award in New York on Wednesday.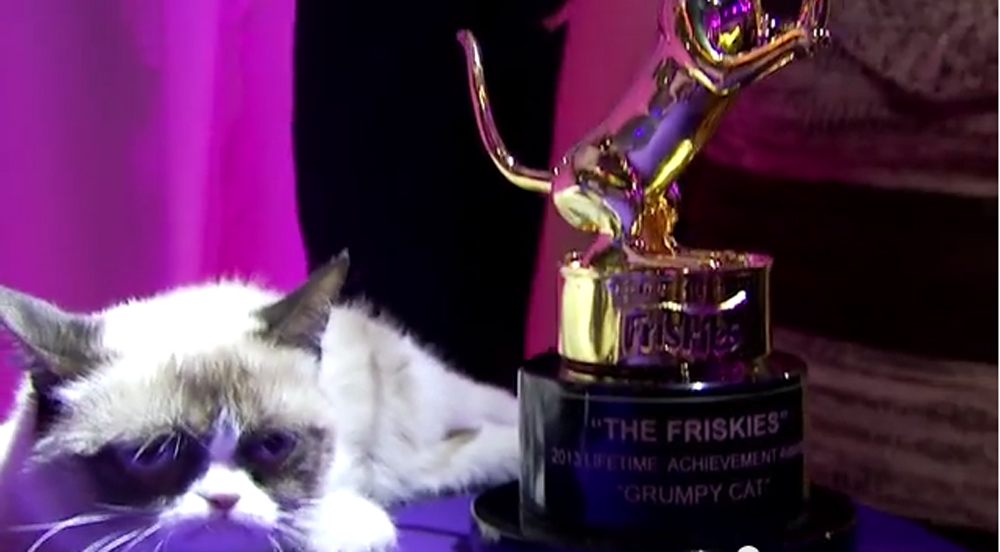 The one-year-old female cat, who has -- more than 1 million likes on her official Facebook page, around 1 lakh Twitter followers, and also has her own Wikipedia page -- is famous all over the Internet for her grumpy expression which her owner, Tabatha Bundesen says is due to a feline dwarfism which is also the cause of her short feet.
The shows host, comedian Michael Ian Black and Angela Kinsey, presented the "catuette," a gold-plated cat-shaped statue, to the owner of the cat, Phoenix resident Bundesen, who was accompanied by her teenage daughter Chrystal, and her brother Bryan Bundesen.
The cat focused award function honoured those cats who have lent their talents to the ever growing internet era of hilarious cat videos which managed to bring a smile on everybody's face.
The judges of the show, Will Braden, Abbie Moore and Mick Szydlowski also selected 12 other cat videos which become an online frenzy in the past year.
Friskies awarded $25,000 in cash prizes for the best Internet cat videos of the year and 330,000 total cans of Friskies to 20 cat charity organisations nationwide.
The female cat got famous when her meme was posted to social news website, Reddit by her owner's brother, Bryan on September 22, 2012. Since then, Grumpy Cat has acquired celebrity status.
She also has her own website which consists of apps, merchandise and memes of the cat for her lovers.
Watch the highlights of the event here.