This fall is all about bold mouth, smokey eyes and contoured make-up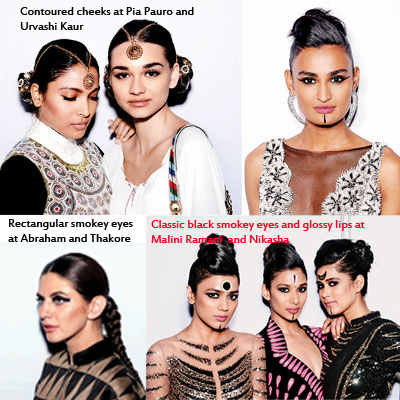 Internationally fashion weeks may have been about a pared down make-up and out-of-the-bed textured tresses but in India, it's always been about drama, enhancement and shimmer. We may gush about the NY, Paris and Milan look books but our Indian ensembles definitely need stronger accents when it comes to make-up and hair. You can't kill an embellished Tarun piece with a non-make-up look. Can you? "When you are trying to pull off a traditional Indian outfit, the undone hair looks out of place," says Rod Anker, owner Monsoon Salon.
Cleaner eyes yet glam
Mickey Contractor Mickey Contractor, Director of Makeup Artistry, M.A.C India, who kept the eyes throughout WIFW cleaner, says that he sees the look at Tarun's show picking up this fall. "Even though Tarun did easy-to-wear pieces, his brief was glam. So we opted for neutral eyes and skin with dark deep wine mouth. The overall look was inspired by the 90s Bollywood. However, we made it modern and dramatic. I see this look definitely getting picked in fall. The hair was poker straight tucked behind ears."
You can hate smokey eyes but can't ignore it
Make-up artist Rod Anker, who did the make-up for Masaba's show at WIFW says, "As much as most make-up artists hate smokey eyes, it still has a place because it takes the attention on the clothes than the models. It doesn't pigeonhole the look and keeps it fairly simple. As far as the eyes are concerned, we have seen a lot of pastels. Masaba's look was very simple - just a side braid, clean and structured which worked beautifully."
"Every fashion week sees pulled back slick hair but it's good to see more and more established models cut their hair which leads to variations. So this fall is about more natural movement so even if it is straight hair, it has more texture to it. Hair was mostly natural and undone – it wasn't over styled. We have done naturally polished looks as well and avoided too much trickery," he adds.
Slick back hair and contoured skin
For designer Abraham and Thakore's show he came across a reference image of rounded smokey eyes but Mickey made it rectangular because he felt that would have gone better with the line. "I recommended a stronger line. The show fittings got over in 20 mins. We opted for extreme mouth and contoured skin and the eyes got prominence. For Namrata Joshipura, we did overtly contoured cheek bones which went with the theme however we didn't go the punk way. The models' faces looked robotic. We used graded blushes like dark brown and orange and highlighted the corners with gold. We contoured the cheekbones by putting the darkest colour around the cheekbones and used a highlighter to keep it shiny and glossy. The hair was slick back with a V parting," says Mickey.
Opt for matt lips with overtly done up eyes
Mickey says, "At Malini Ramani, we went for the classic black smokey eyes. We used a skin colour pencil inside the eyes and went for nude glossy mouth. The hair was twisted in the front and tied at the back into a messy knot."
However, Mickey doesn't see graphic eyes prevalent at Wills as a fall trend. "The dark lip trend is already on. Since most Indian outfits are embellished, we need the dramatic make-up to go with it. Shimmery lips and cheeks will be huge this fall."
How to do smokey eyes:
Mickey cautions, "All lines have to blended and you can't have sharp edges. Start with little and blend it more and add as much as you need to. Using a white line inside the eyes is a great idea since it makes the eyes look bigger."