Dainty jewellery has its place in a jewellery box but it is the bold and the edgy that is grabbing eyeballs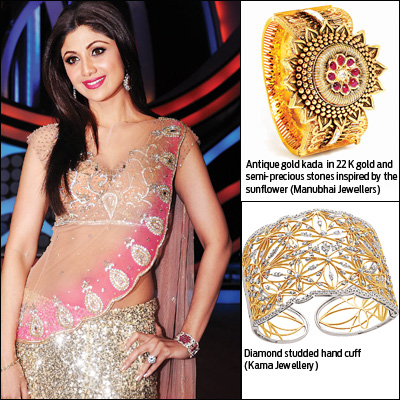 What do Cleopatra and Wonder Woman have in common, apart from drop dead gorgeous looks? They sport bold, unique jewellery, especially arm cuffs. If that isn't cue enough for you, we'll get right down to the basics of this wondrous piece of jewellery.
Arm cuffs have long been associated with princesses and queens in regions like Asia and the Middle East. "Cuffs have been a style staple since the time of Cleopatra, why should it change now," says jeweller designer and Gemologist Janhavi Kamani of Wanderlust Jewellery, "Cuffs have been a steady trend throughout spring and summer. And as we are seeing fall and winter collections, a new fun way to wear cuffs is over your shirt or sweater rather than under or at the end of the sleeve."
Wear your style
Whether your personality or outfit demands an edgy spiked cuff, or a twisted (no pun intended) snake cuff, the key is to incorporate the jewellery with the overall look and the effect that you want to create. Cuff styles that are gaining popularity not just overseas but also in India, are ones that sport a lattice weave, and bold cuffs with clean-cut lines.
Experiment with match making
Coming back to the classic beauties, Cleopatra and Wonder Woman, who show that a cuff can be made the centrepiece of your entire look. A trend in vogue is to wear matching cuffs on either arm. While some may think that this will make you look like a warrior princess, you can easily ignore the naysayers by completely owning the look that you create. Tip: Pair your matching cuffs with a silk or chiffon evening gown and strappy metallic sandals.
Take it a notch above
Cuffs aren't only meant for your wrists! Cuffs worn higher up the forearm are quite chic and have been popularised by the likes of Selena Gomez. You can even take that a notch above and wear your bling on your upper arm à la Rihanna. Pair it with a sleeveless outfit, a casual nonchalance and you'll be ready to get the show on the road.
A touch of goth!
The gothic look is certainly not for the faint-hearted but if you're willing to experiment, this look can be toned down for the general milieu. Rhinestone cuffs are the way to go, if you're not up for leather. Better still are cuffs in onyx with matching gemstones and slim chains that are more suited for the Bohemian woman. As the thumb rule suggests, keep your outfit low-key but chic, and up the ante on the arm candy!