Heritage, royalty, lineage and privilege—these sports need more than just the luxury of time and space, finds Rama Sreekant.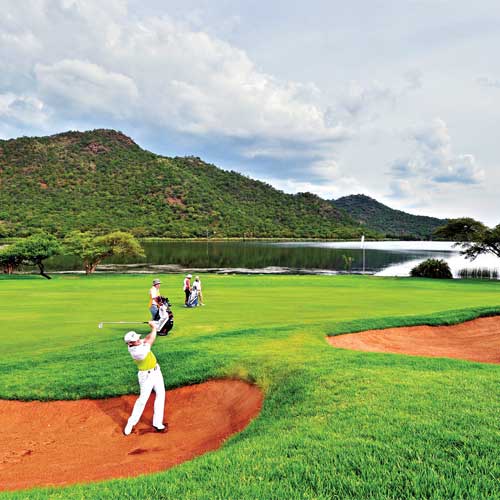 Golf

Getty Images
The Sport: It involves a set of 14 clubs, which are technically designed using expensive elements such as tungsten, carbon fibre, beryllium, copper and steel. The game is played on golf courses spread over 150 acres of landscaped and manicured greens including water bodies, sand bunkers and finely mowed green putting surfaces.
At a Premium: The sport is expensive because of the vast expanse of land required to create a world-class luxury golf course. Golf courses outdo each other to provide luxurious ocean- and mountain-view settings.
At the top end, golf clubs can cost Rs 15-20 lakhs for a complete set of 14 clubs. The greater the customisation in the fitting for a player and the more precisely crafted the clubs, the more expensive the game becomes. Clubs can accommodate only a limited number of members.
Since most international level golf clubs, in India, have been around for a long time, membership is virtually impossible to attain. For some top-class golf clubs, membership fees are as high as US$1 million (Rs 6.5 crores)!
Dressed to play: Golf attire is about functionality and style. Well-fitted and colour-coordinated outfits are important to project that you are a serious and committed golfer. Most clubs have strict dress codes; such as shirts for men must have collars. Jeans and running shorts are not permitted.
(Inputs by Rishi Narain, Founder and CEO- RN Golf Management)
Polo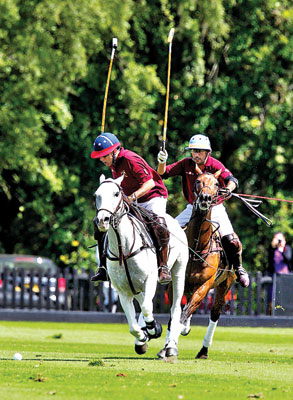 Getty Images
The Sport: A blue-blood sport, polo has been patronised by the royals. The British took the game to England and thus was born the modern form of polo. The sport combines the strength of the horse and the skill of the rider. Each team consists of four mounted players.
At a Premium: The maintenance cost of the horses, the groom, a practice ground and a playing field of 300 yards by 200 yards is extremely high.
Each player requires four to six horses to play. The horse tack and riders' kit, which includes long boots and high-class helmets, are at the higher end of the price range. While the cost to saddle one horse is about Rs 20,000, a horse can also be hired for Rs 10,000-15,000 per round. A player usually requires four horses, which can cost him between Rs 40,000-60,000. It costs approximately Rs 30,000 per month to maintian a horse. A broken (half-trained) horse requires about a year to be trained as polo pony.
Dressed to play: The basic attire of a player is a protective equestrian helmet(usually of a distinctive color, to be distinguishable at the considerable distance from which onlookers are watching the game), riding boots, white trousers, and a coloured shirt bearing the number of the player's position, gloves, wristbands, kneepads, spurs, a face mask, and a whip.
(Inputs by a member of the Royal Salute Maharaja of Jodhpur Golden Jubilee Cup)
Equestrian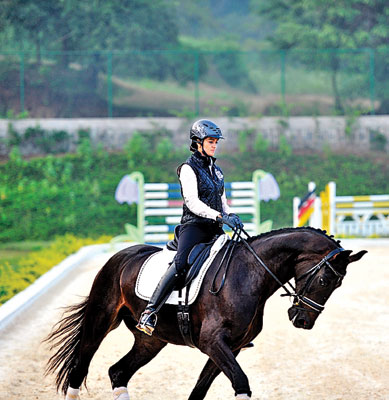 Pic: Rajneesh Londhe
The Sport: The equipment in equestrian sport is the horse. The most important part of the sport is the saddle. Custom-made saddles are essential, as each horse has a special conformation and the saddles are fitted taking into account muscle structure, so as not to hinder the movement of the horses.
At a Premium: Equestrian sports deal with a living sentient being. Training, breeding, scientific analysis and evaluation of every movement that the horse is expected to perform are what make this sport a luxury.
For nice young dressage horses (4-6 years old) with good gaits and great temperament the price varies between Euro 15,000-50,000. For high-quality young dressage horses the price varies between Euro 50,000-200,000. Top quality young dressage horses cost between Euro 400.000-1 million or more. A schoolmaster dressage horse (14 years and older) costs between Euro 125,000-200,000. While saddles cost anywhere between Euro 1,000- 5,000; the cost of riders boots vary between Euro 500-2,000, the cost of maintaining a horse ranges from
Rs 8,000-45,000 only on feed, while a groom costs Rs 10,000.
Dressed to play: A tail coat, top hat, white shirt, stock white gloves and boots.
(Inputs by Shruti Vora, professional equestrienne)