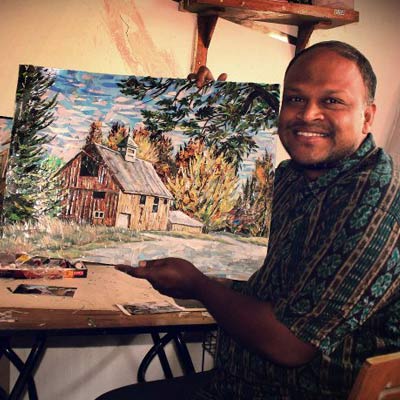 Mumbai based Odiya deaf-mute artist Sriharsha Shukla has delved into the world of arts since an early age. Being hearing impaired however has not stopped him from being visually creative. He has in fact devised new ways of letting his ideas speak.
A graphic designer and Patachitra artist by training, Sukla is adept at a traditional form of art (Patachitra) as well as painting oil on canvas.
An artist does not have boundaries when it comes to expressing his work. And thus Sukla's canvas is not limited to his computer screen or even the walls of beautiful temples of Odisha. Sukla has even provided background art and animation for several Bollywood movies.
But what probably has made him stand apart is his lifelike collage paintings - where he uses the technique of collage work to create landscape and portrait art.
Looking at his work, it would be hard to say the art work was created by the mere use of paper. This eco-friendly technique of art has found him many new fans and admirers.
Potential collage painters need not look too far as Sukla also conducts workshops teaching young people as well as adults this fun way of capturing people and places.
Here is some of his work: