The rigorous discipline of Parkour, the global fitness craze, has found many fans in Rampur. It is also opening myriad doors for the 'Rampuris', says Gargi Gupta after talking to practitioners of the military training regimen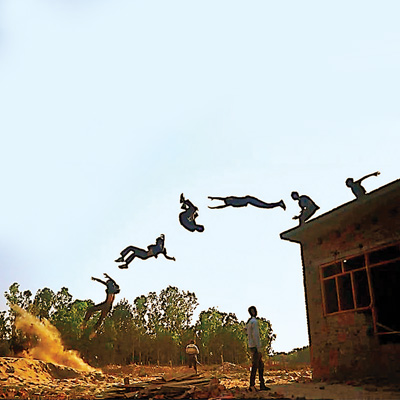 Parkour, the French military obstacle training regimen that has grown into an international fitness craze, has found an unlikely place to put down roots in India --- the Uttar Pradesh town of Rampur, best known for the deadly 'Rampuri' knives that were a favourite of goons in the 1950s and 1960s.
Mohammad Al Attar, a Kuwaiti champion-exponent of Parkour, also called free-running, has been so impressed by Rampur boys' talent that he travelled to the town in mid-July to conduct a three-day workshop. His interest was sparked after as many as five contestants from Rampur made it to the finals of an all-India competition held in Mumbai last year, organised by Red Bull, an Austrian brand of energy drinks that promotes extreme adventure sports such as air-racing and ice cross skating. Needless to say, Mujahid Habib, the winner, is a native of the small town in northwest Uttar Pradesh with a population of less than four lakh.
Parkour has gained a foothold in Rampur mainly through the efforts of 21-year-old Mujahid, who is now a fourth-year student of architecture at Delhi's Jamia Millia Islamia. "He was in class 8 or 9 when he saw me doing gymnastics and pestered me to teach him some of the tricks," reminisces his older brother Tabrez. "I was always jumping around and running, trying to emulate the stunts that I saw in Jackie Chan films," adds Mujahid.
In fact, so obsessed was he with practising his back flips and front flips that Mujahid failed in his class 9 examinations. No wonder, his schoolteacher mother and lawyer father were opposed to his interest in the sport.
But Mujahid got over that setback, and kept up with his studies even as he continued to practise the moves that he saw internationally-renowned Parkour athletes perform on videos posted on YouTube. Soon, he was making his own videos with a handycam, and posting them on YouTube.
That brought him to the attention of Bollywood fitness trainer Ziley Mawai, who was choreographing a song for Yashraj Production Ladies Vs Ricky Behl. Mawai got Mujahid and the Rampur boys to execute the Parkour moves that were part of the song.
Mujahid's achievements attracted others to the sport, and today Rampur has a Parkour group called Leonine with 25 members -- all boys between 14 and 25. Parkour is a social sport with practitioners working together, egging and challenging each other to improve their skills. Mujahid is mentor to this group which practises on the sandy banks of Kosi river that flows past the city, at construction sites, at an old, abandoned cold storage on the outskirts or out on the streets early in the morning.
It's a motley crowd -- Aman, its youngest member is a class 9 student, the son of a tea-shop owner and one of six brothers and sisters, while Firasat Khan, the oldest, runs a business getting embroidery done on contract by women in villages around Rampur. Another member, Hassan Khan, 21, is a haafiz (someone who has memorised the Quran), whose grandfather ran the famous Akhara Sohrab Khan in Rampur. "I don't practise during Ramzan. If I get hurt, there would be a problem," he says.
The boys all get their inspiration from film-stunts, especially those by Jackie Chan and Akshay Kumar. Firasat broke his leg trying to emulate Akshay Kumar's leap from a three-storey building in Rowdy Rathore. Injury, of course, is a part of the game, since the boys practise and perform without safety gear. Aman is out-of-action with three stitches on the nose after he hurt himself executing a 10-feet jump. While Leonine is an open club, Mujahid has a few rules for members -- "No smoking; No damaging other people's property or practising on the road; and no bunking school because education is important."
"Parkour enhances your imagination," says Hassan. "It makes you look at a place with new eyes, wondering how you will negotiate it. It has also taken us to places that we would not otherwise have entered." He can say that again.