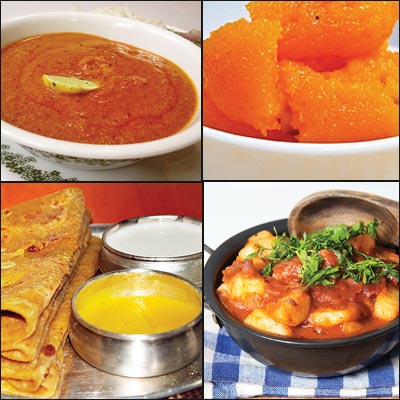 Pushee Moorjani's mother grew up in Sindh. Back then, most men travelled abroad for business purposes and women would meet regularly in an attempt to kill their boredom. One group activity they indulged in was making papad. This usually happened at a friends' house — the host would knead the dals into a dough and keep it for 12 hours. The next day, all her friends would come together with their rolling pins and roll out paper-thin papads while gossiping and joking amongst themselves. When the men returned from their travels, the papads were either roasted or deep fried and served as appetisers.
This story, accompanied by a recipe for Papad chi Bhajji, was Moorjani's entry to a project called #BestKeptSecrets, started by food blogger and cook Perzen Patel, 26. "I realised the reason people liked food blogs was because of the stories behind the different recipes put out. That was what made it interesting and that's how I approached my food blog. I decided it would be nice to curate people's food secrets," says Patel who also goes by the moniker of Bawi Bride.
Patel sent out a message on social networks on January 13 and closed entries two days later. The short deadline was because Patel was just testing the waters — this was a "pilot project".
#BestKeptSecrets invited people to send in their family's secret recipes, going with the 'regional food' theme, along with a story on what made it special. Patel received 35 responses, 16 of which were selected and readers were asked to vote for their favourites. The top 10 entries will now be curated into an e-book which will be released next week.
Patel started blogging after getting married in June last year, a time when she also realised that she didn't know how to cook much Parsi food. "My mum would dictate recipes over the phone which I would invariably end up losing. The blog started more as a way of me curating these recipes," she says. A month into her blog and Patel was getting catering orders.
Patel's favourite #BestKeptSecrets dish is an old family recipe for red curry. "My Mamai would make this for me when I was a child, every Saturday when I visited her. She left me the original recipe scribbled in Gujarati with my mum who gave it to me. It is something I will always associate with her," she says. She also has a blogpost on a recipe for kebabs that her grandfather used to make, and also taught her.
Some of the other entries that have found their way into Patel's e-book include Soni Khandilkar's memories of making puranpoli on moving to Muscat post marriage, Elson Sequeira's musings on eating pork for breakfast, lunch and dinner because it's something that Mangaloreans love doing, Pooja Vir on how a simple potato dish helped her newly-wed mother keep up the Punjabi tradition of cooking a dish for the new family on the first day and Bakul Kodilal on a Saraswat fruit chaat that was made in the good old days when gas was scarce and kids were hungry all the time.
Patel has been buoyed by the response she received for her pilot project and now plans to develop it further. "This is not a one-off project. I wanted to try this for a month and see if it was something people were interested in. Going forward, I want to keep collecting stories and recipes and will probably publish them... it will be my own version of Chicken Soup for the Soul," she says with a smile.