After Hrs tells you how you can spice up your party menu with figs.
It's that time of the year again, when fruits and vegetables are in abundance. And aside from strawberries, among the season's fresh produce is figs. Vendors lining the markets have cardboard boxes of figs, some firm and some ripe enough to appear bursting with the goodness.
If you pick up a box, there's more you can do with the figs than just gobble it down like you would.
Perhaps, we should insist, it deserves more than just the-everyday-fruit treatment.
Read on...
3 minute rustles
Stuffed Figs With Honey and Almonds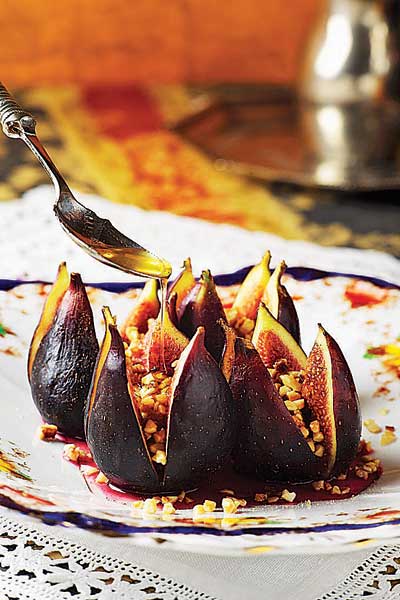 Pic courtesy: Corbis
Cream, even bacon would make for some other interesting options for stuffing figs. Just make the incisions, stuff it with almonds. A dash of honey on top gives it a good balance in terms of taste, and also gives it a glazed look.

Shortbread Cookies with Figs and Thyme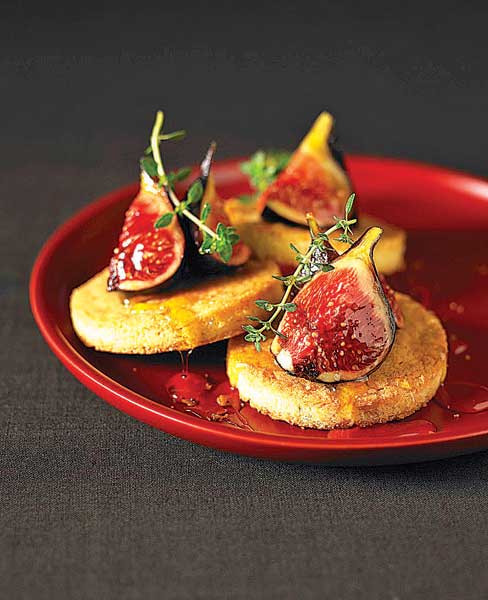 Pic courtesy: Corbis
This one's perfect to pair with wine for a small, cozy party, when you don't want to send too much time in the kitchen. Pick up shortbread cookies from the bakery, slice some figs to place on top like a pate, and place a sprig of thyme. Sprinkle some salt.

Fig Sandwich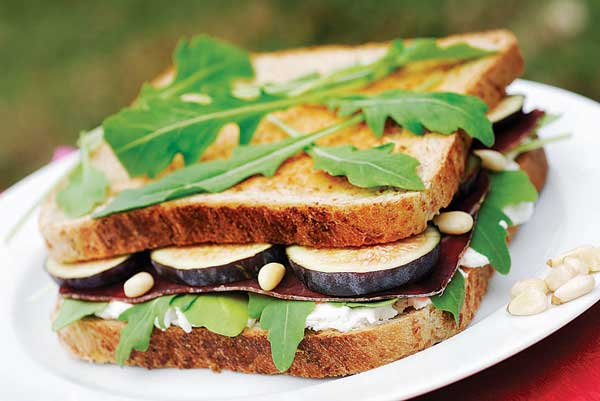 Pic courtesy: Corbis

In some circles in Delhi, apple sandwiches are a legend of sorts for the kids born in the 80s. We are told that it was mostly the Punjabi moms who were zealous about their children's health. Taking from that, we think fig sandwiches would make for an interesting addition for your kids' birthday party, or a slumber party.
Toss some in the main course
San Francisco-based blogger couple David and Luise (who go only by their first names on their blog) are vegetarians and have many healthy, easy-to-make recipes. One that attracted our attention was their Fig and Walnut Spaghetti recipe.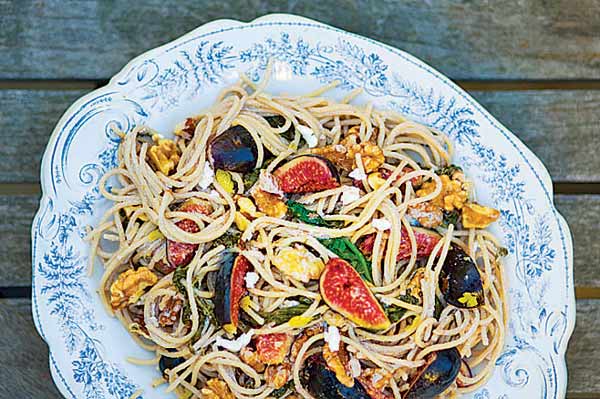 Pic courtesy Green Kitchen Stories
Fig and Walnut Spaghetti
Boil the spaghetti (for two persons) al dente, as per the instructions on the package, and set aside when done. Add one tbsp olive oil to a large frying pan on medium heat. Add two cloves of garlic and let it sweat for about 30 seconds before adding 2/3 cup of white wine and lemon juice from one small lemon. Stir around, add one big bunch spinach and 125 gms goat cheese while stirring. Let it simmer for three minutes before adding the spaghetti and 100 gms roasted walnuts. Stir for 30 seconds, taste it and add salt if needed, make sure that the spaghetti is covered in the goat cheese/wine/lemon cream then turn off the heat. Add five, fresh and ripe figs, cut in quarters and gently fold them into the pasta. Serve on a big plate or in a bowl with some extra goat cheese and lemon zest over it.
Cut out a fig flower
This one's real easy. Make two diagonal cuts halfway through the fruit. Next, gently peel the skin away, but only halfway. And now use the blunt side of the knife to curve the peel away from the flesh, and voilà! This fig flower can make for a lovely centerpiece for a fruit salad.