Meet four Indian women soccer players who are wild about the World Cup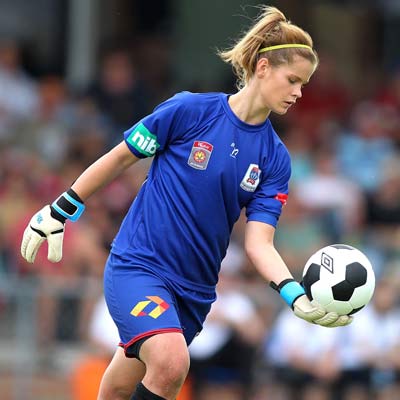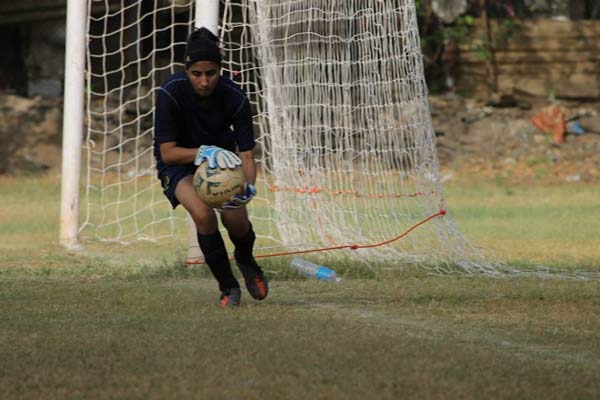 "My body clock has gone haywire," laughs Sanaya Anklesaria, 25, who has watched every single FIFA 2014 match, this far. Luckily the young coach and active player of Kenkre FC, doesn't have to wake up early and stay awake during the working hours of most conventional job holders—her husband (who watches the matches with her) for one.
The naturally athletic girl, whose birth order meant she was sandwiched between two brothers, saw no reason she couldn't play football if her younger brother could. Who cared if she was the only girl on the field, she played with the boys. Her school didn't have a team, she played for local clubs.
She has represented Maharashtra thrice and captained the team in 2008. Two years ago, when she stepped into coaching studs, she didn't think she would be as comfortable in them as she is now, but that's another story. The stopper-back, who was an ardent Brazil supporter at the start of FIFA 2014 is beginning to think that the Netherlands has more than a fair chance of winning.
She attributes the mushrooming of football academies all over the country to the frustration of good players, who would like to see their kids receive proper training. "Sadly the governing bodies don't seem to be doing anything to further the sport themselves, nor do they supporting the people that are," she tells us, going on to list women players with tremendous potential but insufficient backing or exposure. "Oinam Bembem Devi, the captain of the Indian Football team may be 40, but she has the agility and the speed of a 16-year-old. If striker Ngangom Bala Devi gets her feet on the ball, you know that there is definitely going to be a goal. And Dangmei Grace, who captains the under-19 Indian team, is the fastest thing on the field. You have to watch them in action. Their speed and power is scary. You won't think they are women."
"Womens' football in India has a very long way to go," admits the girl, who has learned a lot through the Asian Football Confederation's 'C' Coaching Certificate course, and is proud to be doing her bit for the game.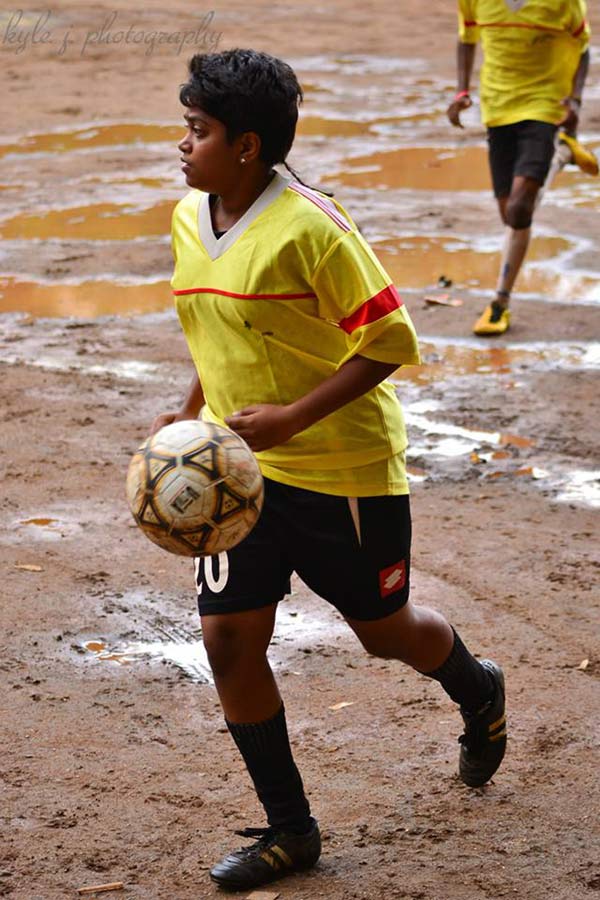 "By the end of the day I'm drained," says 22-year-old Tracy Gonsalves. Not that she's complaining. Whether or not her friends and family manage to stay awake to watch the matches, she's glued to the very end and is supporting Netherlands, England and Germany (in that order).
The only one in her family who plays football, she has no family legacy to propagate or to live up to. Post-athletics football training, when she was in the fourth and fifth standards piqued her interest enough for her to join her school team in the seventh standard. And she's been playing ever since.
She played at the Open Nationals last October, after receiving an unexpected call just two days before the team could leave for Orissa. But, "there is no proper system. They don't always hold inter-city tournaments where they watch us play, before selecting randomly at the district level. And when we attend camps, there are so many changes and things happening under the table, that teams don't get enough practice to play well together. Losing 11-0 and 18-0 is not a joke," says the girl who has walked away from many a camp, but hasn't stopped loving the game.
The Bandra Packers womens' team she belongs to has members aged 15 to 35 and plays football matches in Mumbai and its outskirts, based on their budget. Tracy, who has a D Licence from the Western India Football Association (WIFA), works with the Imperial International Sports Academy and imparts training in football and fitness. While she was training the girls football team at Jamnabai Narsee last year, this year she's working with Don Bosco's International School, Matunga on football and fitness. She intends getting a higher C Licence eventually and even doing a Grassroots Course that will enable her to train toddlers aged 3 to 6. She's happy coaching and "plays simply for the joy of the game". She isn't even considering playing professionally simply because, "we all know you can't go very far".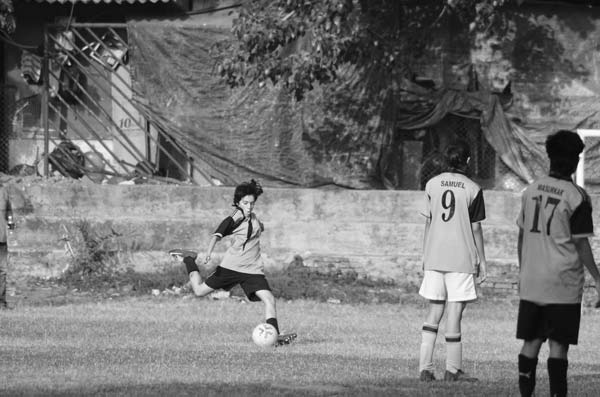 "I've come to Goa to watch the games with my friends," says Juhi Shah, who was hard at work in Mumbai just a few days ago, catching as many games as she could with her mum, whilst recording the rest, and posting live scores (part of her job description). "My friends in Bombay were too busy. Besides Goa is crazier about football than Mumbai. The bars in Mumbai close too early to watch the late-night matches," says the 21-year-old, who hopes to one day be a FIFA referee.
Why not a player? "That does not offer a great future," is the blunt response of the girl who has been playing football since she was twelve years old has has played for Maharashtra for around nine years. When Juhi joined Mumbai University, it had no women's team. Women's football at university level comprises merely a single week of knock-out matches, but the university still seemed reluctant to put forth a women's team. It was only when the girls got put a team together and found a coach that the ball started rolling. By the time she was in her third year, the team had qualified to play at the all-India level.
Juhi, who works for Q Sports Media, and is currently pursuing an MBA in Sports Business Management, plays for Mumbai-based team Bodyline Sports and has a Category 4 referee certification from the Bombay Referee Association, which qualifies her to referee local matches. The All India Football Federation's (AIFF's) attempts to encourage women referees meant that she recently got an opportunity to referee at the Senior Women Nationals in Assam. "It was a great opportunity to work and bond with senior women referees," she tells us. "Mumbai has just two or three women referees. There are far more women involved in football in the Northeast, where women give up studies to take up police jobs", says the girl, who has been working hard on her fitness levels and is confident she will referee a FIFA match one day.
We're curious about which team she is backing this year. "England looks good only on paper", says Juhi, a strong supporter of the Netherlands.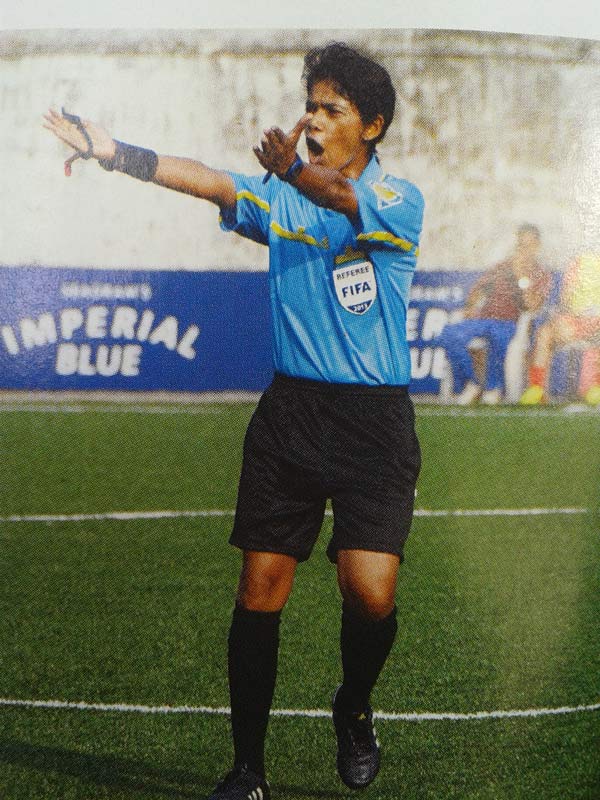 "I set the alarm and wake up even for the 3.30 matches," says Maria Rebello, who has played for the Indian Women's Football team seven times (including in 1998, when Women's Football was finally introduced into the Asian Games) and even captained it in 2001. The young girl who used to scrawl Maria Maradona on her school books and picked up the Argentine legend's skills of juggling the ball on the back heel and shoulders, remains an ardent Argentina supporter. "They are playing better this year than last," she insists.
The FIFA-certified referee, who has been qualified to referee matches at the international level since 2007, became an Elite referee in 2010. She also has a 'C' category coaching licence, but prefers being involved in the game on the field as a referee, rather than shouting instructions from the sidelines. "I knew very well that there was no money involved in women's football. My passion for the game is the only reason I'm in it," says the girl, who grew up playing with the local Goan boys and didn't know girls played until her brothers suggested that she try out for the state selection. She qualified at the first shot and there was no stopping her. She played for as long as she could before transitioning into refereeing because, "This was the best way to stay connected with the sport."
While Maria may have started her refereeing career too late to be part of a World Cup match, her goal now is to encourage the young girls now in her charge to accomplish what she couldn't. "45 is the official retiring age for FIFA World Cup referees, who are often fitter than players and undergo a rigorous two-year training; but I don't think they ever select anyone older than 42," she tells us. She continues to train daily, whether or not there is a tournament coming up, and is the first female referee in the I-League.
As much as she loves refereeing, "the best part of the game is always when you step out onto the field to play for your country and hear your national anthem playing". But, "Football in India is not picking up too well. The Middle-Eastern teams of Jordan and Iran started after us but their ranking is higher. If the AIFF introduces the Women's I-League next year as planned, the Indian Women's team will be in 5th position within five years. It is far better than the national men's team."