What does fasting food do for your soul? At the just-concluded Jain period of Navpada Oli, Pooja Bhula finds out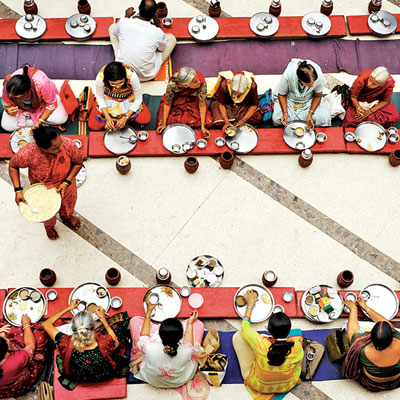 Had you visited a Jain temple between April 7 and 15, you would have noticed many more worshippers than normal, particularly during lunch when devotees would sit cross legged on the floor for the fasting food being served. It was Navpada Oli, a nine-day devotional period. Of the hordes, some fast the entire length of this holy period, while others don't. My colleague and I ate until we were full, but unlike our usual fare, which would leave us feeling slightly unwell and probably craving a snooze, the food cooked in water made us feel as light and energetic as before.
From a religious and spiritual perspective, each day of the nine-day devotional period is dedicated to the adoration of the nine levels of being, from the highest Arihanta Pada (one who has conquered his soul by conquering his karma) to the lowest Tap Pada (one who observes true austerity through fasts as prescribed in Jainism). Ayambil (a special kind of fast observed during Oli) along with the rituals, puja and prayer is aimed at helping you strengthen your will power and conquer the desires of your tongue, so that you can better align with your soul. It also facilitates ridding yourself of your bad karma and the toxins from your body. The theory 'A healthy body is the key to a healthy mind' explains this best.
Those following Ayambil can only consume water from 9.30am to 6.30pm and eat a light lunch. The rationale behind what to eat and what not to is based on a combination of Ayurvedic science and the pillars of Jainism. As per Ayurveda, the body generates a lot of pit (bile) during summer leading to acidity. Therefore ghee, oil and masalas should be avoided; meals must be cooked in water alone with only rock salt and pepper for flavouring. As it falls in the post winter transition period, when people are susceptible to colds and coughs, fruits as well as jaggery and sugar are to be avoided. Vegetables are disallowed at this time because Jainism, based on the pillar of non-violence, believes that all living beings, including plants, have souls and one must minimise harm during fasts.
Consequently, all meals are prepared using only certain cereals, lentils, legumes and pulses that are believed to have the least amount of life. Moreover, the benefit of simple food cooked in water is that the body absorbs the nutrients directly and far more easily, thereby leaving you fresh rather than lethargic.
Observed twice a year, the next Oli will be six months later in October, another period of seasonal transition and weather change.
Recipe: Dal Pudla
Ingredients
100 gms split green moong dal
100 gms yellow moong dal
100 gms white chauli dal
100 gms urad dal
Rock salt, to taste
Method
Wash all the dals two or three times and soak in water for about an hour. Then grind it till
it takes on the consistency of dosa batter and add rock salt to it. Spread on a flat pan like you would do a dosa and cook it on the highest flame. The colour will slightly change once it cooks and you should be able to remove it easily. But in case it sticks, add a little gram flour to the batter.