With a celeb-approved look that has adorned many an ear, it is clear that ear cuffs are here to stay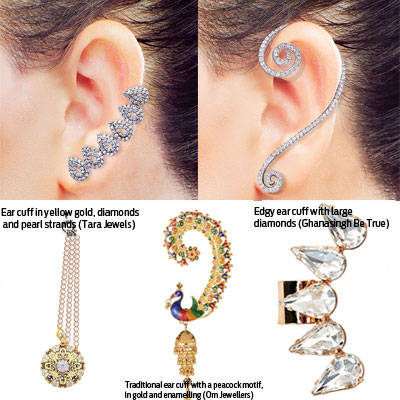 The '90s have not made a comeback with the awkward grunge look and the super matte brown lipstick but a convenient mini trend from the '90s has come back for good. Yes, we are talking about ear cuffs, which were simpler back in the day but are here now in a blingier, brand new avatar.
While the trend seems to have originated with Rodarte showcasing their dragon ear wraps last year, Indian tastes seemed to have been piqued only this year. With stars like Miley Cyrus, Jennifer Connelly, Emma Watson, Jennifer Lawrence, Rita Ora and the current reigning queens of the runway, Miranda Kerr and Cara Delevigne sporting these magical ear wraps, could we be far behind? On the home turf, Vidya Balan, Sonam Kapoor and Jacqueline Fernandes have embraced this bold yet chic piece of adornment.
Slow on the uptake
While the high street has been quick to cash in on the burgeoning trend, jewellers in India are taking a cautious approach. But what we have seen brewing on the work desks of some of India's leading jewellers is promising. "Recent trends have seen a splurge in demand for ear cuffs. It's considered to be very trendy and chic, giving the wearer a classy and elegant look," says Bhavin Jakhia, MD, Om Jewellers, "Ear cuffs with jhumkas and studded uncut diamonds are the latest addition, which I feel will attract both unconventional and conventional buyers."
A new take on tradition
Traditionally, women in India used to wear ear cuffs that were connected with their earrings, or even pinned to their hair. "Off late, trends with different inspirations and motifs have proved that ear cuffs don't have to extend all the way up the ear to add some drama to your outfit," says Prerna Makhariaa, Manager Product Development at Tara Jewels, "Ear cuffs can also be worn if one doesn't want or like to get their ears pierced."
The sky is the limit
Ear cuffs have seen an entire gamut of experimentation, whether they be tiny, fragile hoops with dainty, dangling pearls, which many of us remember wearing in our childhood, or a full-on statement piece. But for starters, focus on an ear cuff that aims for middle ground. "This avant-garde ear cuff from Gehna is breaking new ground in jewellery design. The design is such that it will carry an everyday outfit with élan and at the same time add a classic edge to evening wear," explains xxxxxx. Ear cuffs look best with hair pulled back, thereby framing the face with an ornament. Slender designs with universal motifs like flowers and petals are a much safer bet, if you're not going for the edgy look.