Foodies Joanna Lobo, Deepanjana Pal and Aniruddha Guha sniff out Mumbai's must-visit holes in the wall.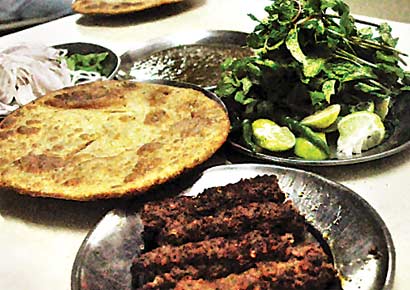 Sayeed seekh kebab centre,
Grant Road
The first thing that greets you when you enter Sayeed Seekh Kebab Centre is a loud burp. Sayeed isn't your typical neighbourhood eating dhaba. It lies deep in the congested lanes of Kamathipura. Look up and in the far background is the city's famous skyline. A little lower, at eye level, are sequestered rooms within which music and dance combine together as entertainment of a different kind. Sayeed is known for its seekh, beef and chicken, turning out beaten and meltingly soft varieties for the last 45 years (beef seekh for Rs48 per plate, chicken seekh Rs80 per plate). There are vegetarian options too, paneer and its brethren finding their way into rolls (vegetarian roll Rs12). Small bowls heaped with pudina (with the stalks), lime wedges and chillies are first served. Another plate comes with a pudina chutney, probably made from the ingredients served in the first. The beef seekh is tender and lightly spiced. The chicken seekh has an unusual flavour, is juicy but not as tasty as the beef. The parathas are served last, round and crispy on the outside but soft on the inside
.
Bong Bong, Pali Naka,
Bandra
This newest addition to Bandra's 16th road is somewhat literally a hole in the wall. There are four tables inside and two tables outside. You sit nestled against the person next to you and there's something about the little eatery that inspires chatter. If not anything else, the food Bong Bong serves is a conversation starter. Their fish fry is just the right combination of crunchy exterior and a flaky, fishy stuffing. The prawn pulao is a touch dry and none of the gravies match it. But it is fragrant and you'll soon find yourself forgetting the dryness and spooning mouthfuls almost compulsively because of the neat balance of spice and prawniness. Have the Kosha Murgi (chicken curry) with paratha and order the papaya chutney. Leave a little bit of paratha to have with the chutney — it's a delicate and delicious balance of sweet and savoury. Round off the meal with baked rosogollas.

Raju's
Juhu-Versova Link Road
Situated bang opposite Banana Leaf, Raju's started out as a mobile restaurant that served the spiciest tandoori chicken and kheema pav, before taking up the space between two car repair shops. Venture in only if you are fine with working up a sweat, literally, and okay about shedding a few tears with all the spices wafting around. We recommend you try the sheekh kebab made up of highly questionable meat and the bheja masala. If you eat to your heart's content (which includes at least a starter, eight pavs and two main courses), chances are you'll be paying something under Rs300. Snobs needn't bother.