Catch a massive range of pops in the city offering creativity, entertainment and giving back to the society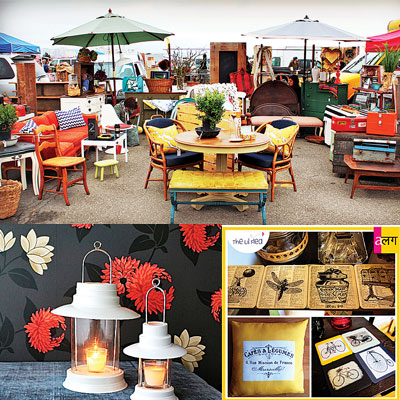 Gone are the days when the term 'curated' was associated to organizing art shows in museums and art galleries. Today, the term is being extended to organizing a flea market too. Take for example, The Lil Flea is a series of pop-up stalls that will be curated by different individuals across various categories that will see some of the city's creative professionals under one umbrella for two days. There will be 75-80 pop-up shops selling all kinds of things from clothes to accessories to home decor and furniture to quirky gifts. This will be supplemented by 20 food pop-up shops with curated food ranging from top chefs to experimental cuisine by home chefs to street food. There will also be a host of fun workshops where people can learn how to make dream catchers, or hula hoop dancing or baking, jewelry making or pottery.
This will be further supplemented by around 7-8 up and coming song writers and musicians who will be performing at different slots like Clayton Hogermeer, Ayush Shrestha, The Filter Coffee and more. One of the highlights of The Lil Flea will also be its pop-up cafe which will not only have a host of food stalls but also a lounging space where visitors can relax and listen to live music. The cafe will also screen in two slots during the day some award winning and acclaimed short ?lms which are being put together by The Shamiana Film Club.
And what's their reason for doing so? "The Lil Flea is our attempt to pay respect to creativity and also a way to get together on one platform Bombay's coolest artists, mavericks, outliers, designers, chefs and start ups to create a thriving community that can help make our great city's art & creative scene that much more happening," informs Priyanka Punjabi, co-founder of The Lil Flea, who is an MBA and a designer. The other co-founder being Alankar Jain, who is an ex IITian and an entrepreneur. The Lil Flea team consists of 10 full time people working for The Lil Flea. The team of full timers include IITians, MBAs and designers. They have been preparing for this for the first time for around four months, with active work starting since December 2013.
The intent of The Lil Flea team behind doing the event is to also give back to the society in a sweet way by using this platform to support a few social causes, with initiatives like garage sale for charity and an art auction for Dignity Foundation. The Welfare of Stray Dogs, a Mumbai-based organization, will have a stall with adorable little puppies for adoption.
WHEN & WHERE: April 5 to 6, 10 am to 10 pm, Reclamation ground, Bandra (W)