The book as a technology lasted for over 500 years. Soon, books may no longer be printed, but downloaded straight into your Kindle or Kindle App. Team dna explores the phenomenon.
A young kid asked his mother: "Mom, was I born or downloaded?" Soon book lovers will be asking similar questions: Did you buy or download a Lee Child book?
The paper is fast giving way to pixels and various other digital dots. The book, which lasted from the Gutenburg days, is fast giving way to electronic books. Bookshops are closing down as the brick-and-mortar model of selling books has collapsed with cut price sales happening on various e-commerce sites. Now, the printed book itself is in danger of becoming an exhibit in a museum of the times.
We tried to figure out the changing reading habit by talking to six people across the country who have made the transition from paper to screen effortlessly. They don't miss sniffing the smudged ink on the printed page, don't miss turning the page to the 100th and putting a bookmark as proof of their advance through a new story and don't miss the book's weight in their hands, since the gravitas is the same.
Jeffrey Samstad director,
HBN-India, Schneider Electric, Bangalore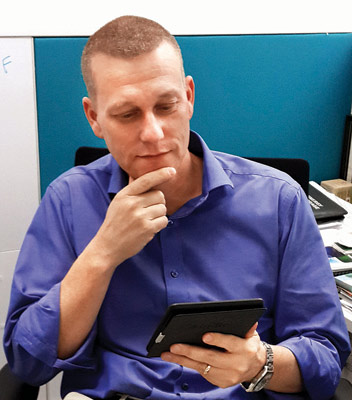 Using a Kindle is definitely easier than reading a printed book. One can read it in any light condition, adjust text size, highlight text for later reference, buy new books anytime and anywhere, and carry many books in one small device. The only issue with my Kindle is that I can't resize graphics (zoom in) and read data charts in magazines. As far as buying e-books are concerned, I get them mostly from Amazon but that requires a good WiFi or 3G connection. I have bought them even while sitting on a bench! I still like to wander through bookstores, but only to get ideas of what to download. However, we still buy printed books for our young children. But I stopped buying them a few years ago. They seem too old tech now, with problems like high costs and damage to trees.
Ruchi Mahana,
communications consultant,
Delhi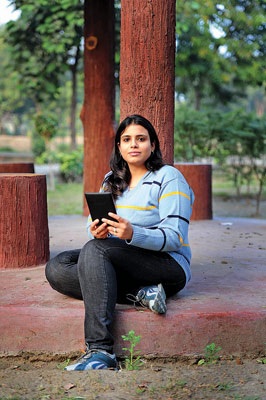 Photo: Manit/dna
I have been using the Kindle e-reader for over a year now. The move from paperbacks to the Kindle Paperwhite has made reading easier. I travel a lot for work and read daily on the go. The Kindle is so light and easy to carry. The screen display light is also a blessing since you cannot read a paperback when there is no light. E-books are cheaper than paperbacks and easier to purchase. I don't think I will ever go back to the printed book. I've had extensive debates on this subject with a friend who firmly believes that the feel of holding a book in your hand cannot be compared to reading it on a digital reader like Kindle, but I beg to differ.
Monika Manchanda baker,
Food blogger and consultant at Sinamon, Bangalore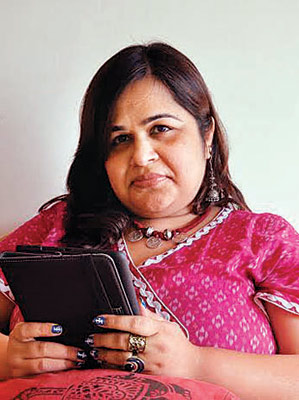 When I started reading e-books, which was about three or four years ago, it was tough. E-reading is much more comfortable than the hard copy. I don't have to lie down in awkward positions to read a 1,000 page book. Now, I always have at least three to four books in my e-reader that are being read or are next on the list so there is no fear of running out of books while travelling. Slip the Kindle in your handbag and you are good to go. I also have a Kindle app on my iPhone — for days when I forget the Kindle — which syncs beautifully with the Kindle. Another big advantage e-books serve is that they take away the physical space problem. However, instant gratification has to be their biggest attraction.
Ankan De environmental consultant, Shillong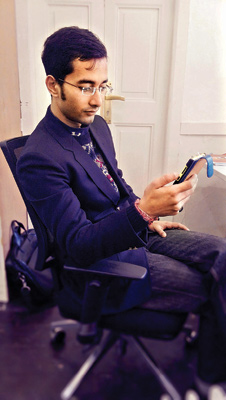 With the advent of standardised formats, it is becoming increasingly lucrative to switch to e-books, given that one has the freedom of choosing the font size, font type, background, monitor highlights and notes in one place. One can instantly look up word meanings and share passages with friends. I shifted to reading e-books around 2006 when I stumbled upon a bunch of invaluable books which were in the PDF format. In the academic context, I find that reading on an e-book reader is more convenient than reading stacks of papers, which have environmental implications and are also hard to manage. Nothing can replace a person's appreciation of texture and high quality print. Also, books always remain with you and you never have to worry about them running out of charge!
Gaurav Kumar founder, Little Florist (Mumbai)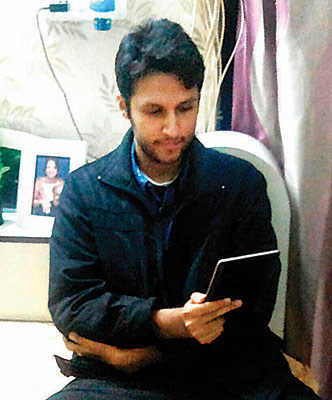 I made the transition to e-reading very recently. I had bought a Nexus Tab and one day, on a whim, downloaded the Kindle application. I'm an avid reader and storage of books was a big problem for me. I was completely amazed by the convenience that e-books offered. Not only do I find the e-reading experience better, but buying books online is cheaper. The biggest advantage, however, has been portability. Besides, because of a ready-to-use Internet connection, I can promptly download a book when I feel the urge to read. You can adjust the lighting and also increase/decrease font size, not to mention reading in the dark. No more holding up a heavy book while lying down. For someone like me who loves the feel of hard copies, I'd never thought that I would make the switch. But now, I've become a complete convert.
Ninad Raval, director, Product Design, Mumbai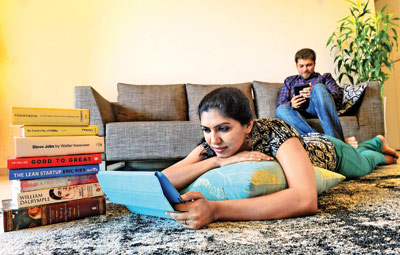 Ninad & Neha Raval e-reading at their residence in Malad
Photo: Puneet Chandhok/dna
My Paperwhite Kindle is my constant companion. I shuffle through more than a book at a time and my reading has doubled since I made the switch. The only time I buy books from a bookstore is when I have to gift them to someone. The switch, however, didn't happen overnight. I bought my first e-reader about two years ago, but since the earlier models didn't come with inbuilt light, I didn't take to them completely. Paperwhite is backlit and allows you to read in the dark. I particularly like the 'bookmark' feature that allows me to see all the pages I mark in the book and the 'highlighting' option that you can use to mark interesting bits and passages on the page.
Advisory:
How to access digital books
Where and how to buy e-books?
If you have a Kindle or a Kindle app on your PC, you can go to amazon.in and search for a book. Along with the print edition of the book, you will find a Kindle edition for a slightly lesser cost. Click on it, pay up, and it will download into your Kindle or Kindle app. You can buy books from Amazon only if you have a Kindle or the app. The download of a normal paperback will take less than 30 seconds through whispernet, the Amazon virtual highway.
Why is Kindle or any e-reader easy on the eye?
Kindle or other e-readers have no backlighting, like your computer screen. It is this backlighting that hurts your eye. Also no normal programmes run on the system making your battery last — it could last for a week and, in some cases up to two weeks of daily reading. Thus, they are ideal for people with visual disabilities as fonts can be enlarged to suit their needs.

What is the technology and files used?
About 1,000 books can be stored in your e-reader, if not more. Most e-readers use a file format called e-pub. An e-pub file is only one-fourth the size of a PDF file of the same matter. Most e-readers can also be used to store books in the PDF format. This is not ideal for pictorial books because visual files do not show up well. The fonts are called e-ink, a proprietory digital font which uses pixels.
Is the entire process of ordering, storing and reading easy and worth the trouble
of buying an e-reader?
Once you have registered with Amazon, you can use the same login and password for ordering from Kindle. From the Kindle home page, you can go to the Kindle store, click on the book and it will store in your library. Amazon stores your credit card details (unlike other e-commerce sites) and will ask you which card to pay through if you have more than one credit card. The biggest advantage is that you can read the books before the print edition reaches book stores in India.
And now, payments in rupees are possible — unlike dollar payments till last year — since Amazon has an office in India. Many rare American and British e-books can be ordered from amazon.com (not amazon.in) with rupee payments.