M Fareed, Business Head, Trident Automobiles, says customers are Chevrolet's best friends and brand ambassadors.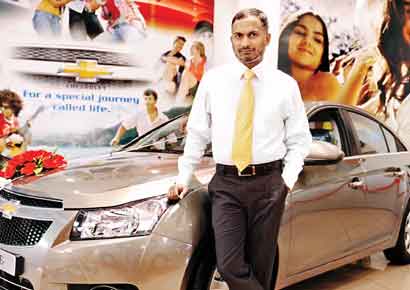 If one advances confidently in the direction of his dreams, and endeavors to live the life which he has imagined, he will meet with success unexpected in common hours.
This dictum by Henry Thoreau has been a muse to Trident Automobiles, which is in the business of selling Chevrolet cars.
"We don't just sell cars, we sell people their dreams," says M Fareed, Business Head, Trident Automobiles.
"A car and a house are two things that people yearn for. For years, they try to save money and when they finally buy it, the joy that they experience is indescribable. By offering a car that's truly world-class, we, at Trident, are able to partake in their happiness," Fareed says.
Trident set up its first Chevrolet dealership in Bangalore in 2009. Since then the dealership has grown and, today, Trident has five showrooms and three service centres across the city. Preparations are in full swing to open a fourth service centre in the city.
Fareed, who has been with Trident for more than a decade, has been and grown with the automibile industry and is fully aware of its challenges.
"Chevrolet was a late entrant in the Indian market, and being a foreign brand, people were skeptical about buying the car. There was lot of reluctance to trust the brand. However, by offering excellent service, we succeeded in proving to the customer that Chevrolet is indeed a quality car. So trust plays a vital role when it comes to selling cars," he says, adding that in 2012, Trident sold over 250 cars.
For Trident, after-sales service is an important factor. "Our interaction with the customer doesn't stop after selling the car to a customer. Once the car is sold, we follow up with the customer and find out if its functioning is smooth. This attitude has won has many reference customers. Our customers are our best friends and brand ambassadors," Fareed says.
The dealership, which banks on excellent customer service, believes in training its staff. Considering that attrition is a major challenge, Trident treat its staff as internal customers and try to keep them happy.
"Once our employees are happy, sales happen by default," he says. Fareed, who is an avid reader of theological books, borrows most of his leadership skills from religious teachings.
He says: "I love theology and the Holy Scriptures. Much of my leadership qualities is acquired from these religious books. I believe in truth, transparency and taking care of my colleagues and customers."