Hand-painted lettering has virtually disappeared from commercial signboards, but now an effort is on to digitise this vintage typography.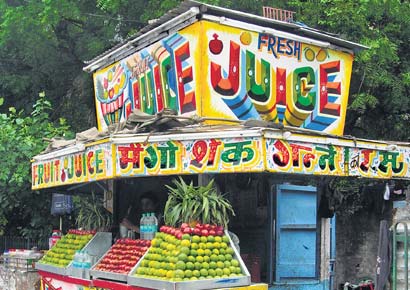 A few weeks ago, flex banner printer, Subhash Chavan had a curious visitor. Twenty-eight-year-old Hanif Kureshi walked into his shop at Chandni Chowk and asked for something no one had requested in almost a decade.
After all, hand-painted lettering, which used to be the distinctive feature of commercial signboards, had virtually disappeared from the scene. "We stopped painting years ago. Then, out of nowhere, Kureshi came and requested my father, Charan, to paint the English alphabet and punctuation marks in his signature style," says Chavan, and you could imagine him shrugging at the other end of the telephone line.
Handpainted Type is Kureshi's pet project. He visits artists across India to archive the charming, vintage fonts that once dotted the streets of the country, but are now almost extinct. Kureshi gets the artists to paint the lettering on a cloth banner and his Mumbai-based partner, Sarang Kulkarni, then digitises the fonts.
The typography will soon be up for downloads at a nominal rate, and half of the proceeds will go to the artists.
The Fruit Juice style
Charan, now 65, is credited with inventing the Fruit Juice Style type which, even today, can be found on most fruit juice stalls in Delhi, Chandigarh, and Jaipur. His son Chavan remembers how people would flock to his father's shop. "Our clients had to wait for 2-3 months, because we had so many orders for signboards. Every family member, including the women, sat up till 2am to fill colours in the letters."
Chavan's voice goes flat when he speaks about the work he does today. "It's not about art any more; it's about keeping your head above water. My father had the choice of switching to computer printing, but he refused to work with the technology that had replaced his art."
Kureshi's project website handpaintedtype.com is a time machine of sorts, taking you back to a time where the painting of signboards with their intricate lettering was an art form. Sipping beer in a restaurant and dressed in a velvet jacket, Kureshi recalls his childhood aspiration to be a street painter. "I thought the only way to stay in touch with colours was to intern with the street painters, which I did when I was 10 years old. Later I went on to study fine arts at a college in Baroda and got hooked to typography. That's when I learnt that fonts had names — back home, the street painters gave them random, local terms."
Among the contributors to Kureshi's project is Umesh Baldania, 27, who is a creative director at ad agency Publicis. Like Kureshi, he assisted street painters in Dhoraji in Gujarat till the age of 14 before going on to study fine arts. "I enrolled myself at the Baroda University because I thought it would make me better at typography and give me an edge over the other street painters in my town of 2000 people," he chuckles.
A vinyl age
Baldania has a partner in Gujarat who still runs their old painting shop. He doesn't get too many hand-painting jobs, however; so he mostly lives off the commission he gets by facilitating computer-designed banners. Baldania says his first love is typography and still designs new fonts as a hobby. When he goes back home for holidays, he loves taking on the odd painting project his partner may have landed.
Not every artist, says Kureshi, is an enthusiastic contributor like Umesh. "Many artists flatly refuse to contribute to my project, including my first painting teacher who taught me typography in Gujarat. I don't blame them - they've seen how vinyl banners have made their art redundant. They point at these banners and show me how they don't measure up in quality or style. What can I say to that? I can't really conjure up business for them…"
In Mumbai, 56-year-old Balaram Patekar, an erstwhile sign painter, doesn't know how to react when told about Kureshi's project. "It's surprising that something like this is being done now. It hit us really hard back when we all went out of work, you know. Decades ago, most hand-painted signs of the cigarette brand Charminar and Maharashtra lottery across Mumbai were done by me. I refuse to touch the computer — not even for the money."