When Selena Gomez sports a bindi at her concert, is that cultural appropriation? When Indians use Ching's Secret in their kitchens, is that cultural mis-appropriation? Sarina Lotlikar wonders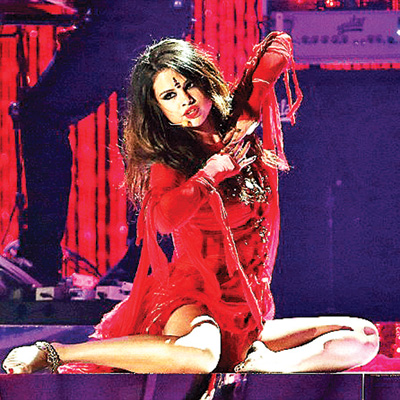 You've probably had the song 'Come and Get It' by Selena Gomez playing in your head on repeat some time. The enticing earworm that harmoniously weaves tabla beats and Indian chants with electro-synth catapulted Gomez to the Top 10 of the Billboard Hot 100. A departure from her Disneyesque style, the song catered to western obsession with the exotic.
Unsurprisingly, her 2013 MTV Music Awards live performance where she donned Indian attire and a bindi sparked a controversy. Gomez carried her 'Indian' theme to other performances and Instragram as well. Outraged Indians took to Twitter with the #CulturalAppropriation hashtag, expressing disapproval with Gomez. "A bindi is not a costume" said one user, while another urged Selena Gomez to "leave bindis for Indian women."
Pop star Katy Perry is in the eye of the storm after similar 'charges' of cultural appropriation were levelled against her earlier this month for appearing on stage as a geisha. Perry consistently brushes the accusations aside, but Rajan Zed, President of Universal Society of Hinduism, thinks the outrage is somewhat warranted. "Our cultural symbols have a well-defined meaning and purpose. They have sanctity and spirituality. They were not created just for Hollywood or corporate use to add dramatic effects," he says.
Yoni Ki Baat, the South Asian adaptation of The Vagina Monologues, addresses this very concern. In the play, Leema John, an Indian-American from Minnesota, performs a monologue about 'cultural appropriation' with the lament: "Someone asked me if I was a bindi or 'face-paint kind of Indian," Off-stage, Leema has an almost similar take on the Selena Gomez controversy. "Selena Gomez is taking the tabla and bindi and making it her own so that she can make more money and sell more records,," she says. Her co-star Aarushi Agni from Wisconsin adds, "When they take our bindi and make it a mere fashion statement – a 'face gem' – it gets divorced of its cultural significance".
Cultural appropriation is rampant in pop culture. Madonna's early hits borrowed heavily from Latin and gay ballroom culture, while her controversial photo shoots involved a variety of ethnic adornments. In 2006, Gwen Stefani drew the ire of the Japanese by using 'Harajuku girls' as accessories to her performances. Lady Gaga offended Muslims in late 2013 by strutting around in a burqa-inspired wardrobe. However, no performer is as polarising as Miley Cyrus. In addition to making twerking (a quintessential dance move of African-American women) her signature move, her performances have included her spanking and objectifying African-American dancers.
But cultural appropriation is not limited to the entertainment industry. Yoga, for instance, is appropriated by much of the West – so much so that it's considered a vital part of the 'hipster lifestyle'. Texas-based company RiceTec was granted a patent on basmati rice in 1997 – the outcome of which was a brief diplomatic crisis between India and the US. RiceTec eventually withdrew its patent, but the issue is still fresh in the minds of cultural appropriation critics.
Separating appropriation from a healthy exchange can be tricky. Anita Makuluni, a Caucasian who is married to a Malawai national, reckons that cultural appropriation is not always malicious. "Maybe cultural appropriation is just a side effect of sharing. I see things you see through my filter; sometimes my filter enhances it, sometimes it contorts it," she reasons.
On the same lines, Leema John clarifies that not all Indians agree with her. "A co-star in the play who is also Indian didn't think there was anything wrong with Selena Gomez's performance." Aarushi Agni also adds that many peers approve appropriation as a 'soft power that has made its way into mainstream America'.
Cultural education, instead of indignation, can alleviate some of these problems, says Rajen Zed. "Corporate executives should have training on the bases of all religions, and public high schools should introduce the concept of world or comparative religion and culture," he suggests.
But victims of cultural appropriation can be perpetrators as well. Aarushi Agni points out that Indians themselves are guilty of this. "Priyanka Chopra wrote a song about being 'exotic'," she points out.
Many Indians appropriate Che Guevera shirts, tribal tattoos and Chinese characters without understanding their cultural significance. The Ching's Secret sauces advertisement has a jingle in mock Chinese accent and music with the tagline "Ching's Khao, Noodles Banao". We may find this stereotyped appropriation of Chinese culture amusing, but others are not as amused. Taiwanese-American Alice Chang, for instance, finds it offensive. "You have basically taken a culture that is thousands of years old and put its name on a cuisine when it is just not the same," she says.
Let our flaws remind us to engage in healthy cultural exchange instead of mere outrage.