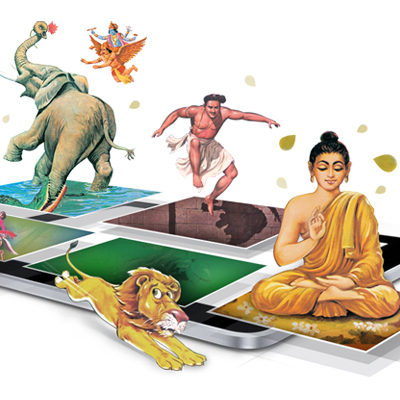 One of India's oldest and most loved comic series Amar Chitra Katha (ACK) is now available to digital readers in the form of a new free app. Amar Chitra Katha Pvt. Ltd. have launched 'ACK Comics' , their official digital comic app through which readers can access the timeless tales. Previously available on Windows 8, ACK comics is now available on iOS and Android platforms
Speaking about the benefits of global reach through the ACK comic app, Future Group's Group CEO Kishore Biyani said "Amar Chitra Katha is one of India's most cherished icons that has created and preserved values and belief systems for generations of Indians. Through its digital presence we would be able to cater to the new generation of Indians. It will also be a perfect vehicle to globalize Indian values and beliefs, that make Indian culture so unique and so fascinating." Future Group has bought a stake in Amar Chitra Katha Pvt. Ltd.
Celebrating Free Comic Book weekend on the 3rd and 4th of May, ACK Comic app users can download ACK's ten most iconic comics for free. This means the users can get started with the ACK's most popular titles- Chanakya, Ashoka, Akbar, Jawaharlal Nehru and Babasaheb Ambedkar, Birbal, JRD Tata, Subbulakshmi, Ganesha- and also a special title on DhyanChand
Manas Mohan, COO Amar Chitra Katha, spoke about the Free Comic Day opportunity, "Amar Chitra Katha is known to be one of the biggest storytellers and is one of the most popular comic book series amongst Indians and NRIs. We are very excited about the launch of ACK Comics, Amar Chitra Katha's first digital comic store app on Free Comic Book Day. Digitalization of Amar Chitra Katha was the next step towards making our comics available to the net savvy Gen Z. With the launch of the ACK Comics App, we can now reach out to millions of readers who can access the vast treasure of Indian storytelling on their fingertips. Every title has been painstakingly renewed to provide a superb digital reading experience."
ACK comics app is a gateway to the entire range of Amar Chitra Katha digital comics that can be accessed on multiple devices through a single user account. The digital comic is available in a flip-book mode as well as panel-by-panel mode which is convenient for smaller devices. Shubhadeep Bhattacharya, Business Head - Digital, Amar Chitra Katha Pvt. Ltd., said, "The app has been designed to give users a great reading experience with newly re-coloured and digitally re-mastered comics that look great on digital devices. The app also connects the readers with the ACK editorial team and the larger ACK community."
The ACK Comics app has been developed by App9 Digital Studio, the digital division of Ninestars Information Technologies Pvt. Ltd.